Silas Nash Book 1: Hush Hush Honeysuckle: Chapter 32 (A)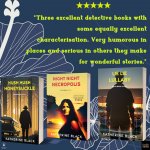 Thu, 14 Sep 2023
1 likes
They drove away, discussing the fact that they were out of options. It wasn't Max, and it wasn't Finch. That left them with nobody. Every time they had a suspect lined up for it, the evidence shot them down in flames and left them a pile of smouldering ash.
'I was sure it was Finch,' Brown said. 'Amanda Keys even wrote his name in her blood. She wanted you to see that. I think Finch is lying, and we must have missed something.'
'It's not him, Brown. We'll check the latest alibi against his previous statement, but he's clean. I'm sure of it.'
Nash indicated and turned onto Abbey Road. It was getting late, and the rest of the afternoon would be taken up with speaking to the managers at both of Finch's jobs. He had to clock in at the candle factory every day, and they already had his recent time clock cards in evidence. They could be cross-checked against his hours at the second job. The rest of Nash's day would be in the town's security control office, where the twelve town centre cameras were monitored twenty-four hours a day. 'We'll take Bowes and Lawson with us,' he said. 'It'll mean going through every one of his shifts and painstakingly tracking his movements.'
'Isn't that the Finch kid?' Brown pointed at a kid on a bicycle.
'Looks like it. He's going hell for leather, and see the way he's glancing around, shifty little bugger. What's in that pillowcase over his shoulder? In a town of fake designer backpacks, it's a strange thing for a young lad to be carrying around. Change of plan, Brown. Let's see what he's up to.'
'Are we going to pull him over?'
'That would be a very stupid thing to do. I'm always telling you, think ahead, Molly. If we stop him now, we won't know where he was going.' Nash slowed the car and maintained a distance where he could keep the boy in sight.
He hadn't heard anything from the officers protecting Jones at his Ulverston house for hours and was waiting to get in the car to check on them. He used the radio to speak to the surveillance team parked outside the house. 'Alpha to Kappa Three. Lawson, how's it going out there? All quiet? Over.'
'Yes, boss. No movement for a couple of hours. We think he's been unwell today, he hasn't invited us in like he usually does, and when he came to the doorstep earlier, he looked sick. We offered medical assistance, and he declined. We think he's gone to bed early.'
'At six o'clock? Have the back-of-property team had any contact?'
'No, he hasn't been near the garden at all.'
'Do me a favour and give him a knock, will you? Just to put my mind at rest. If he gives you any grief, put him on to me.' While Lawson knocked, he rang Jones on his mobile. It went to voicemail.
'Alpha. There's no reply here.'
'Gain entry, Lawson. Repeat. Use the key he's given you and gain entry.' He waited for what seemed like an age. He was keeping the kid in sight but had a bad feeling about Max Jones. Lawson thumbed the mic as he moved through the house looking for Jones, and then he muttered, 'Bastard.' Nash guessed what had happened before Lawson came back on the radio. 'He's gone. The slimy toad's given us the slip. I don't know how because we've never taken our eyes off the house.'
'Save the excuses for your report, Lawson, and just hope he's still alive.'
'He's never going to learn. Doesn't he realise the taxpayer's shelling out thousands to keep him alive, and he treats it like a big game?' Brown said.
If this was Jones playing stupid games again, he'd bang him up in one of the cells overnight to teach the prick a lesson. 'Get boots on the ground. I want everybody looking for Jones. I want to keep an eye on this kid. Look where our little explorer's going.' It looked as though they were heading towards Jones' townhouse in Barrow. Interesting. 'I think we may have hit two birds with one stone. And talking of birds, it looks like our little Finch has had a bollocking from his dad, so he's going for some tea and sympathy at Uncle Max's. Carter must have rung Jones from home, and that's why he left the Ulverston pad. I'll bet he's meeting him here.'
The kid had pulled up outside the Barrow house, and Nash was surprised to see he had a key. He let himself in and pushed his bike into the beautiful old tiled hallway. 'What the hell's going on here?' Nash said.
Nash and Brown pulled up outside, and Nash was glad of his gym sessions when he jumped out of the car to grab the front door of the huge townhouse before Carter had finished putting his bike in the hall and coming back to shut it. The boy tried to hide the pillowcase behind his back.
His face was a picture when they followed him in. 'What are you doing here, Carter? Is your Uncle Max in?'
'I don't know. I was just coming to feed his goldfish.'
'What's in the pillowcase, son?'
'Some food and stuff for a film with Uncle Max. He's meeting me later.'
Nash heard a bang followed by a muffled cry coming from the top of the house. Somebody was in trouble. He listened, but everything had gone quiet upstairs. All he could hear was the low hum of a television set in one of the two ground-floor flats. The kid looked undecided about what to do and glanced at the front door. Nash could tell he was thinking about making a run for it. Carter still had the set of keys in his hand to let himself into the flat at the top.
'Grab the kid,' Nash said.