Silas Nash Book 1: Hush Hush Honeysuckle: Chapter 33 (B)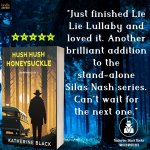 Sat, 16 Sep 2023
Carter shuffled into the room. He was standing on his tiptoes behind Brown and had a butcher's knife to her throat. What the hell was happening? Brown was supposed to be reading the kid Goldilocks and the Three Bears or something.
He pushed her forward another step. 'Sorry, boss. He got the blade out of nowhere, and I didn't expect it.'
'Sorry, Boss,' Carter mimicked Brown. 'For God's sake. "He's just a stupid kid, Mr Detective, and he tied my hands with cable ties before I could stop him. I even put my own hands behind my back when he asked me to show him how we get the bad guys." She's so stupid. I'd be a better policeman than her,' Carter said.
'Go on, Carter,' Fiona shouted. 'Slit her throat. Do it and be the most famous boy in your school, honey.'
'Put the knife down and let my officer go, son. You don't want to do this,' Nash said.
'I do, Mr Nash. I'm ten, and it's another example of people being invisible. I'm only a kid, so people don't see me, and I can do anything I like. That's why I was thinking about how to kill my sister when I was pushing her on the swing. You'd take notice of me then, wouldn't you?'
The SWAT team had released Max, and the boy didn't seem to notice. Max hobbled towards his nephew. Carter tightened the knife at Brown's throat, and several points of blood leaked from underneath it like the blood from Max's forehead.
'Get a chair,' Carter said.
Nash nodded, and a chair was brought over. Carter told Brown to sit.
She twisted and tried to kick him. He let out a bellow and moved the knife to her upper arm, going in hard. He sliced through Brown's bicep, and her cry of pain rang through the house. While she grabbed her arm, he moved the knife back to her throat. 'I'll kill her. I will.' His voice was loud and shrill.
There was a knock at the door.
'Hey, lady, are you okay in there?' They heard the officer posted at the door asking the neighbours to go back into their flats and stay there.
'It's our friends from earlier,' Linda said. 'They helped us carry everything upstairs. I told them it was a guillotine to kill Max Jones. And we all laughed. He just saw tits and arse. Maybe if the brain was more visible, we wouldn't be as invisible.'
'Shut up,' Nash said.
'If this wasn't over, we'd take another woman next, and we'd expose her brains to show society that we do have them. And the men, well, we'd go down the predictable route of cutting off their disgusting genitals. I wish I'd thought of it earlier.'
'I said shut up. Take them away.'
A man appeared at the door and was headed off by one of the officers before he saw anything.
'Come on, dude. I'm your uncle Max. What the hell have those two witches got you into? This is beyond crazy. You're a good boy, Carter. This isn't you, buddy. We've always been mates, haven't we? I'm listening to you now.'
'So am I, son. Carter, is it? I'm listening and would love to know how you fit into all this. I'm Silas. It's a silly name, I know—I blame my parents. I'm the Chief Inspector for Cumbria, so I'm a pretty important guy, too. Just like you.'
'Slit her throat, Carter,' Linda screamed.
'Get them the hell out of here,' Nash shouted.
Fiona twisted in her handcuffs and tried to get to him. 'Do it, my beautiful boy.'
The SWAT team had Fiona and Linda cuffed and on their feet. 'I said get rid of them.'
'No, I want them to stay.'
'If they go, Carter, this is all yours, and you won't have them interrupting you all the time.'
'I need them to help me.'
Nash gave the officers the nod to take them. Linda and Fiona were dragged out of the flat and downstairs to waiting vans. There were too many people about for it to be safe. Carter started to cry, and Linda screamed and ranted as they carried her down the stairs to where a crowd would have gathered outside.
'You don't need them to help you kill that lovely lady, do you?' Nash said. 'You know she's called Ms Brown, don't you? That's a real person. What has she ever done to you? Carter, it's a very bad thing to kill somebody, you understand that? Molly has a family that loves her and wants her to go home tonight. And it's not as easy as you think, all that sinew and muscle to cut through.'
'I don't want to talk about it no more.'
'Why not, Carter?'
The boy looked at the floor. Nash had to decide how to play it and whether to go in like a kindly granddad or be harsh. He went for the middle ground, but his tone wasn't gentle.
'Come on, lad. Answer my question.'
'I don't want to get into trouble.'
'Well, son, I can't lie. You're in a bit of bother. But tell us the truth, and we'll do everything we can to help you. I can't believe a nice young lad like you really hurt anybody.'
'I did, and I can prove it, too.'
'I find that hard to believe. Are you trying to be brave and take the blame for Aunty Linda and Aunty Fiona?'
'No.'
'Tell me what happened.'
'It was me. I killed them all.'
The room went silent, and the only noise was the air moving and the sound of the traffic a long way below.
'No, you didn't. That's impossible. You're just trying to be good and take the blame for Aunty Fi.'
'I killed every one of them. I did the killing bit on them all. Aunty Fiona said I took their lives. She and Linda set up the scenes. I'm not big enough to do that yet. I'm only little. When I'm older, I will.'
Max was holding Nash's jacket around him, and Nash was shocked at how emaciated his legs looked after just a couple of weeks. He stumbled. 'Mate, you don't know what you're saying.'
'I do, Uncle Max.'
'Put the knife down, Carter, and come and give me a hug. I think we could both do with one.'
'If you keep talking to me as if I'm daft, I'll kill her now, Uncle Max. I'm clever, but only Aunty Fiona and Linda saw that. Everybody else just shouts at me and tells me to get down or go to bed.'
'I'm sorry for that, mate. I'll never shout at you again.'
'No, because that thing in your head will have exploded by then. You'll be dead, and I won't even remember you.'
Nash said, 'Carter. Molly's bleeding a lot, and she's getting very tired. That's because she's in shock, and we need to get her to a hospital. I don't believe you killed anybody, and I don't think you want her to die.' There was no narrative in the room. Even the spiders in the old house had taken to the rafters and weren't coming out. Everything was still. The only movement was the passage of time and the spread of blood from Molly's arm. Her neck was cut, too, but that was just a surface wound. They had to keep it that way and get her out fast.
Blood.
Of course, right at the start of the investigation, a sample of blood had been found on the body in the hotel room. They hadn't realised the connection at the time, but it was a child's blood that they'd dismissed as being irrelevant. One of the tests had come back with blood that proved to be from somebody between the ages of five and twelve. They'd had the result from that tiny droplet of blood on Robert Dean's shirt for days, but the investigation hadn't brought anything into the open.
'I killed the old teacher first. It was scary because I hadn't done it before, but I liked it. It made me feel funny in the tummy. But a good funny. And Aunty Linda said I can remember that feeling next time.'
Nash thought back to the autopsy report and Bill Robinson's words. 'It was as though he didn't have a lot of strength and had to perfect his technique.'
Nash felt sick.
'What will happen to him?' Jones whispered to Nash so that Carter couldn't hear.
'Initially, I should imagine he'll be sent to a secure facility for assessment rather than going to youth offenders.'
'And then?'
'After that? Who knows. He's reached the age of culpability.'
'What? At ten years old?'
'I'm afraid so. It was set during the Bulger trial in the early nineties.'
'He's very sick, isn't he, Nash?'
'Yes, he is.'
'No, I'm not.'
It was as though Jones was working through something and needed confirmation. Nash was a seasoned detective, he should have seen it, but there was so much going on. He was preoccupied. 'It's been an ordeal for you, Max. Let's get this over with and get you to the hospital to be checked out.'
'Sorry. I'm feeling queasy,' Max said. 'Is it okay if I open the window? There are too many guns around to do anything without asking.' Nash nodded, and Jones opened the old-fashioned sash window all the way up. An instant breeze gusted into the room, reminding them that it was winter, but it was as though the cold wind had cleansed the atmosphere. Max was freezing, and he shivered. There was a trail of blood dripping down his leg from beneath the jacket.
'Can somebody find this man's clothes?' Nash said. 'And where the hell are the paramedics?'
Carter was still talking, and his young voice sounded like a nursery rhyme in a horror movie. 'Then I did the lady, but she wasn't up in the air when I killed her. She struggled a lot, and Aunty Fiona had to help me a little bit by holding her still, but I managed to strangle her all by myself.'
It was as though the kid was talking about a science project he was working on. Nash was appalled and fascinated.
'And then there was the man in the hotel. I put the injection into his leg. It was like being a real doctor. And then I got to sneak into the security man's room and stop the cameras. I don't know what I like best, being a doctor or being a security man. When he was in bed, he didn't drink the hot chocolate. I snuck back in and drank it, and it had the works, marshmallows and squirty cream and everything. I put the sticky flower in the room, but I don't like the smell of it.'
Nash remembered Amanda Keys. She'd mentioned a little boy at every reading. She even told them about the blood when he held up his cut finger in her vision. She said he was playing in the hotel corridors. It showed just how invisible a child in a hotel could be. Nash was furious that they missed so much that was right in front of their noses.
An officer came into the room, 'We've just had a call from the station, sir. The boy,' he wagged his head towards Carter, 'has just been reported missing.'
'Right, I'll speak to the parents shortly.'
'Missing. But I'm not missing. I'm with Uncle Max. Will I be in trouble?'
'No, son, it's all right. I'll talk to your folks and tell them we're just clearing something up here. But you can give me the knife, and it'll make everything better.'
'Maybe I should go home now. I don't want Mum and Dad to worry about me. I'll get in trouble when I get in.'
'Good idea. Come on. I'll take you home. Just let Molly go, and we can do that right now.'
The boy was confused, and he was tired. His arm was shaking. Along with the confession, this was what Nash had been waiting for. He gave the nod, and the men took him down.
'Look, before you take him, can I just have a minute with him? Just one minute. I'll get him to be compliant and tell you everything,' Max said.
'One minute, and then we have to go, Max.' Nash couldn't imagine what Max was going through. He expected he was happy to be alive, only to have to go through the lead-up to death again very soon. Life was unfair.
The women were in custody. The boy was cuffed and ready to take away. Nash couldn't feel any pity for the child inside the monster that was confused and crying. Was the child inside the monster, or was the monster inside the child?
It was over.
He felt like weeping for all the injustice in the world as Jones bent to his nephew. Everybody had relaxed muscles that had been tense for over an hour. Too late, he realised what Jones was going to do.
Jones gave Carter a big hug. Tears were streaming down his face. 'It's going to be okay, little man. Everything's going to be all right. There's nothing to worry about.'
'Am I in trouble when I get home?'
'No mate, you're not in trouble. I'll make it all right.'
He straightened and picked the boy up. The most natural thing in the world for an uncle to lift his nephew up for a cuddle.
And then he was heading for the open window. One step, two, before Nash or anybody else in the room realised his intention.
'The window,' somebody screamed. Jones launched himself through it to the flat roof. He was a dying man who could barely lift the child. Nash guessed it wasn't as easy as he'd imagined clambering out of the windowsill.
There was a felt-roof porch over the window of the flat below. It was old, and part of it gave way. Jones tried to throw himself and the boy off the third-floor roof and was taken down by officers grabbing his leg. He tried to throw the boy off, but Carter caught the edge as his fight-or-flight instinct took over. Jones was dragged back into the room, and the boy was helped in by two other officers. Max threw himself on the floor. 'Let us go. Please just let him go. It will be better for him this way. I love him.'
Nash looked around the room. Only four officers were still there. Molly had been carried down already to the waiting paramedics. It was still a murderous situation and too risky to let them in the flat, so an officer she'd never met before had carried her down with all the tenderness of a lover. Two officers he knew, and two he didn't. Nash put his hand up to speak, but one of the other men stopped him. He was a seasoned officer of about forty, drafted in from another division as an extra body.
'It's okay, sir. Don't say it. We get it. The last three minutes never happened.'
Nash felt a tear brimming in his eye, 'Thank you, men, I appreciate it.'