You understand, I think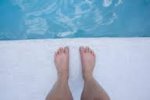 Fri, 28 Nov 2014
1 likes
You understand, I think
We should not relay dreams
no one wants to listen
to each others' circuits.
I was at a sports complex
carrying a holdall 
I paid £6 for a ticket.
Entered the turning metal machine
the steam bacteria of the changing room,
walked between a lot of women,
my holdall scuffing their skin.
The surfacing and slap of bodies
in liquid, made me self-conscious
so I took my own cubicle, quiet slid the lock, 
banged my elbow removing my knickers
breathed with my forehead against plastic.
When I was ready, my hair capped,
someone led me lightly by the elbow
past great pools of turquoise
to two deep pits,
the water depths, 
dark bruised eyelids.
They tell me both 
sharks, under-stimulated
have been left too long in pits.
Between is a tiled strip.
I have to walk across it, 
or something snaps.
I helium hysteric and weak kneed
step out and balance,
on the curb of everything
and I don't know if this is waking or not,
but I think, maybe I should not find the centre,
or look straight ahead,
but slip
in an indiscriminate direction,
let them feed.