autumn's observers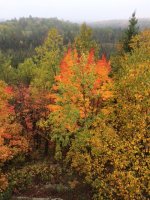 Wed, 16 Sep 2020
Autumn's Observers
A slow dance with the breeze
A subtle twitch in the leaves
Hues of buttery yellow smeared
by cutting, knife-sharp winds
Across woodlands canopy.
Dancing to stronger tunes,
the slow, elegant waltz of summer fades
as a mazurka slowly builds pace
tree-tops  throw themselves
back and forth, elegant and wild.
Grips loosened as parent lets go
Child tumbling in free fall, floating
Graceful and gently caressed by soft
Fragrant autumn air, each leaf must
make its own way in this world.
Transformation! We all change, evolve
Become something new, each cell shed
potential for another life to begin.
Trees know this, the masters of time,
of long slow conversations with earth,
understanding in perspective across eons.
Only the mountains can answer back,
thrown around by fires molten whims,
eroded and renewed, hourly standing
solid and fragile. The observers of creation.
this is a poem from my most recent collection Gaia's Angry Daughter