Camp Echo - Chapter 13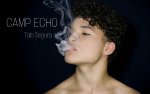 Fri, 28 Feb 2020
Chapter Thirteen - When the Cat's Away.
Second Edition
Max really did not want to be involved in Jake's deal so he stayed in his room and ignored the look that Tobias had given him when they passed in the hall. He left all four of them in the lounge getting high on dope and coke. It was just one more scene straight out of a movie, something you couldn't imagine ever happening for real. But then, since Max had known Aeriol he'd been drawn into lots of previously unimagined things. He was well and truly ensconced in the world of the alternative counter-culture. It had its appeal, although were he to take a serious look at himself, he would see that it was all a kind of escapism. An escape from himself and his nature, who he was, what he was. Somehow it was cool to do drugs and that kind of made it cool to be gay.
He had plenty of time to think about all this, lying on his futon staring into the night beyond the glass. His self-introspection led Max to consider Davy, he was unsure what he was doing getting dragged into an affair when Nate had simply gone on holiday for a week. Of course, his interest there had started way before Nate came along.
A gentle knock at the bedroom door made him jump, startled out of his daydreaming. "Yeah? Come in." The door opened slowly and the blond haired, blue eyed young man, Tobias, he didn't know his second name, walked in. Tobias closed the door behind him and stared down at Max lying on the bed.
"How you doing?" Tobias grinned at Max.
"Okay," Max replied, propping himself up.
"Mind if I join you?"
"Looks like you already have," Max didn't move, but there was a hint of a smile on his lips.
Who wouldn't smile at the intrusion of an Aryan Adonis. Max could almost picture Tobias naked and proud. An image that immediately had him aroused, something for the moment safely concealed beneath the covers. Tobias' grin grew a little broader and his face took on an altogether strange countenance.
For some minutes no words were exchanged. Max stared at Tobias who held his gaze. It was almost surreal, definitely a cinematographic moment. Tobias took two steps further into the room. He saw the chair and chest of drawers, the paraffin heater, which might have made him think about the cold. Normally, but not tonight, not now. He sat in the chair and removed his heavy boots, unlacing one at a time. His thick socks joined the boots next to the chair.
Max was mesmerised, in a trance like state, no doubt brought on by the hormones coursing through his veins. Tobias stood up and undid the buckle of his broad leather belt, then the button of his jeans. Finally, he pulled down the zipper and stepped out of his jeans, folding them over the back of the chair. Max's eyes were glued to one very specific location, drawn there like magnets attracted by an irresistible force. Much to Max's surprise, Tobias' boxers joined his jeans on the chair. Standing now in only a t-shirt, the bottom of which hung across his rather solid and erect shaft. Fixated; that best described Max, his body responding in kind.
"Mind if I join you?" Tobias asked like a gentleman.
Max pulled the covers back from one side as an invitation. Tobias' grin became a huge smile as he slipped into bed next to Max. He turned on his side and they faced each other. Their lips touched and their tongues engaged, as hands roamed and explored. Tobias was strong and muscular, but gentle in his love making. Not demanding, but assertive. Max gave way as Tobias rolled him over. Nothing much was said, they both knew what they wanted.
The deal had been done.
They all sat together having breakfast, only Jake was missing, he hadn't stayed the night. Which was something not entirely disagreeable for Max to wake up and discover.
"We'll be back in around two weeks," Jan told Aeriol.
Aeriol nodded, "Okay."
"Yeah, this could be a very useful arrangement," Jan sipped his coffee.
"And profitable!" Aeriol added.
"Oh yes, of course," Jan was smiling.
Tobias looked over at Max. "And you Max?"
"Me, what?" Max retorted.
"You still don't want to be involved?"
"I think I kind of am already," he stared at Tobias.
The double meaning was not lost on either of them. For Max, his life had just become a hundred times more complicated. Last night, he had to admit had been fantastic. His imagination might easily run away with him when he thought about all the things they might get up to together. Two weeks; he had nothing to decide, nothing to sort out, for two weeks.
The room looked clean and tidy, obviously because Geoffrey had only just got back and it was in that same state, just how he'd left it.
"It's really great to see you," Max smiled and embraced Geoffrey throwing both arms around him, pulling him into a hug. "I'm so glad you're back."
Geoffrey gave him a peck on the cheek. "Well it's nice to see you too."
"How was is it? Your trip... Brazil?"
"Just wonderful, darling."
Geoffrey sat down in his armchair, Max took the dining chair by the small table.
"And Jagger?"
"Jago, my dear. His name is Jago. He's not a rolling stone!" Geoffrey raised his eyebrows.
"Oh, sorry."
"He was..." Max watched as Geoffrey did his upward eye roll and broad smile, " fit and active, like always. It was far too short. It's always too short."
Max nodded.
"I've often wondered if I shouldn't just pack up sticks and move there."
"You wouldn't, would you?" That idea was not apealing to Max.
"Why not? Jago could look after me in my old age."
"Are you sure he'd stick around a dodgy old fool like you?" Max laughed.
"Don't make fun, young man, or I might just have to put you across my knee."
"I'd like to see that," Max was still giggling.
"On second thoughts, you might actually enjoy it."
"You old perv!"
"Watch it with the name calling, or have I just discovered a little secret?"
"My lips are sealed," Max grinned.
"Quite right too. You wouldn't want everyone and his dog knowing. And to answer your original question, yes, Jago would absolutely stick around. And you know why?"
It was a rhetorical question, Geoffrey didn't wait for a reply. "Because I rescued him from the streets and the slums when he was barely fourteen. His future would otherwise have been dismal, if he had even lived to see it."
Max was a little taken aback by the revelation and stark reality of life elsewhere on the planet. He'd never given such things much thought before. "I was just playing with you," he said, apologetically.
"I know, I know you were. Thing is, I really do miss him. It's the same every time I get back here."
Max felt a little self-conscious, he didn't know what to say, idly he glanced around the room. "I'd miss you if you did leave for good."
Geoffrey smiled at him. "What have you been doing whilst the cat's been away?"
"Sqeak, squeak." That was Max's best and only mouse imitation. "I got involved with a young guy called Nathan and Jake got Aeriol involved in a big drugs deal, plus..."
"What!" Geoffrey interrupted him. "What fucking big drugs deal?"
"Selling coke to a couple of Germans."
"Jesus Christ! Doesn't he have any brains? That is so fucking stupid."
Geoffrey had become quite animated, which was not at all usual.
"Well, you know how Jake gets his little brother to do anything he wants. It's Jake who's the crazy one. I didn't get involved."
Geoffrey looked like he was thinking. "You know, Max. You might not have wanted to be involved, but you share a flat."
This made Max think about Tobias. "Then there is Tobias."
"Who's Tobias?"
"He's one of the Germans. Anyhow, we kind of slept together."
Geoffrey had his head in his hands. "All this in just a couple of weeks? I need a drink." He looked up. "Be a good boy and pour your agony aunt a nice strong rum and coke." He laughed out loud as he realised the irony. "Coca Cola, that is. Ice and lemon. In the fridge."
Max got up.
"And pour yourself one. I haven't had time to shop, so that's all there is I'm afraid."
A few minutes later he was back with the drinks. Max handed a glass to Geoffrey.
"Thank you," he looked up at Max.
"You're welcome. I thought you were going away for longer?" Max asked him.
"I thought you might have found yourself a serious boyfriend?"
Max looked confused for a moment. "Oh, Nate, you mean?"
Geoffrey looked at him with a mocking idiotic expression.
"Yeah, well I have. Maybe. He's away this week. On holiday in France. Skiing."
"A slippery slope!"
Max didn't get it. That confused look made a return.
"If you slept with this German, Tobias, after you just started a relationship with this guy Nathan, it's a slippery slope."
"Yeah, I see, but it wasn't like that."
"No? What was it like then?" Geoffrey asked.
"Tobias is like, well built, muscular, blue eyes, blond hair. He came looking for me."
"Why was that?"
Max thought Geoffrey was smirking, making fun of him. "Fuck, Geoffrey. It just happened."
"Fuck, is the right word. I can picture this." Geoffrey shifted in the armchair and took a large gulp of his rum and coke. "Don't tell me. Now, this handsome mother fucker came looking for you. Found you in your bedroom and... fuck. Or should I say, fucked you. Kind of by mistake, perhaps?" Geoffrey burst out laughing and nearly spilt his drink.
Max could have been all indignant and angry, but knew that wasn't far from the truth. He started laughing.
"I'm going out. See ya later," Max shouted down the hall.
Aeriol didn't hear him with the music playing, which he knew, so he never bothered to say where. It was Wednesday evening and he had an appointment to keep.
It was a long bus ride and he had to change to get there. The street was like a thousand other London streets, residential, rows of terraced houses lining both sides. They all had basements or semi-basements, depending whether you were at the bottom of the hill or further up. Davy's house was at the bottom.
The boy opened the front door a few seconds after he'd rung the bell, like he'd been waiting, ready to pounce. He led Max into the first door on their left, so he didn't get to see anything of the house. This was the front room, probably originally the reception room, in the days of Queen Victoria, he thought to himself. Looking around, it was a large room, the most obvious feature, apart from typical bay sash windows, were the large double doors that must open onto another room.
Davy saw him looking. "My parents bedroom is through there." He nodded at the large wooden doors.
Not much privacy, Max thought. "They gave you the biggest room?"
"Me and my brother."
Max suddenly got tense. He knew Davy's parents were out, but what about this brother he'd just revealed?
"He left home two years ago. So I've got it all to myself."
Max noticed the poster on the wall, a female singer he didn't recognise, in a very provocative pose. Either Davy was buried deep in the closet or he wasn't gay at all. That poster was very hetero! For the moment he ignored it and joined Davy on the old sofa. They were, as it turned out, completely private; the heavy curtains drawn and no chance of any interruptions. He had to catch himself, because despite Davy's advances the last time they met, getting involved with a sixteen year old schoolboy would be one step too far. Nevertheless, he couldn't help what he was feeling sitting next to the boy on the sofa.
"How did you meet Reuben?" He decided to steer things away from the two of them.
"By accident," Davy told him. "You want something to drink, eat?"
This wasn't going to be easy; Max wondered about Davy, and wondered how to get the answers he was looking for.
"What you got to drink?"
"Coke... and if you like, a little whiskey?"
"Why not?" Max couldn't imagine Davy did this regularly. He was probably pinching his dad's whiskey and trying to impress.
"Be right back."
While he was gone, Max wandered around his bedroom, but it didn't give any clues about anything. When Davy came back they sat down again, together on the sofa.
Max tasted his drink. "Wow, that's strong," he glanced at Davy. "You want to get me drunk?"
Davy grinned. "I don't know, do I need to?"
"You nicked your dad's whiskey, didn't you?"
"Yeah, but he won't notice."
"I'm not so sure with the amount you put in here," Max lifted his glass.
"I can get some more coke if you want?"
"Nah, it's okay. You said by accident? You met Reuben by accident."
"Why do you always talk about Reuben?" Davy moved closer so their legs were touching.
"Davy," Max turned to look at him.
"What? You don't like me?"
"It's not that," Max told him, feeling he was getting trapped.
"What then?"
Max sighed, leaned back in the sofa and took a gulp of whiskey, feeling the burn on the back of his throat. Davy's hand was now resting on his leg.
"Are you gay?" Max asked.
Davy stopped moving his hand, but left it there on Max's thigh. He looked around, as if searching for how to reply.
"I think I'm bi," he finally answered.
"Think?"
"Well, yeah."
"You don't know then?"
"I guess not. I didn't do anything with Reuben other than he jerked me off. Which was cool."
Max smiled, he couldn't help himself. "Yeah, I guess it would be." He thought he sounded like Geoffrey coming up with that retort. "And you think that makes you bi?" Max shifted away a little.
"Yeah. That and... well I like some guys."
"Some guys?"
"You, for example." Davy was back next to him, moving his palm over Max's thigh.
"Why bi and not gay?"
Davy moved his head in close. "Why all the questions? Who cares?"
The kid had a point. "Who cares?" Max let him kiss him on the lips, but no tongues, still he couldn't help what was happening.
He held the boy off while he finished his whiskey. Max thought maybe Davy had got the message that he didn't come round there for sex. But then he wondered if he'd actually given out that message? Either way it wasn't important. The boy was undressing and Max was unable to take his eyes off the small lithe body.
It was an evening not to be forgotten. Max amazed himself by his total inability to say no, by his misjudgement; and how he seemed always to end up in these situations. He also never expected that Davy would take on the same role as Tobias, but then he never expected to sleep with two different guys in a little more than two days. If he'd taken note, it all made sense. Not the casual sex as soon as Nate disappeared on holiday, but Davy being on top. He said he was bi, he had sexy girly posters, yes, it made perfect sense. What now? He wondered.
https://www.abctales.com/story/talo-segura/camp-echo-chapter-14