Camp Echo - Chapter 14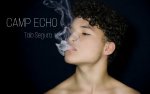 Sat, 14 Mar 2020
Chapter Fourteen – The Darkness of the Night.
second edition
"Jules, long time no see," Max smiled as he entered the lounge.
Jules looked up and grinned, he was listening to Elton John, an incorrigible Elton fan, he probably had all his albums.
"I might be moving home for a bit," he announced.
Max heard him, but wasn't listening, instead he was taken by the music, focused on Elton's melodic tones and that rhythm that swept you up.
"Fancy a smoke?" Max asked.
He moved across to sit down on the bean bag next to Jules, at the same time he opened his old tobacco tin and looked at the contents. He was running low, but Aeriol would be home later and he had said something about scoring. Trouble was that inevitably involved Jake and they had been talking about getting a half-weight. Max had the distinct impression that Jake was pushing his little brother into things for his own benefit. He had said it would be a good deal, at least that is what Aeriol had told him. He was not convinced by the idea of buying half a kilo and splitting it; one it was a big deal, and two, Max was sure Jake was ripping his little brother off.
Jules nodded, "Sounds good Max."
Sunlight was streaming through the dirty windows. Max realised how much the place needed cleaning up. He could see all the smudges highlighted on the glass. It made him smile, because he remembered Aeriol telling him once, not to bother cleaning the outside. It was one of those rare occasions when they were doing their version of a spring clean. Max was occupied with the windows, Aeriol the hoovering. He had finished the insides and was opening the bottom window when Aeriol turned around and told him, "Don't bother with the outside, the rain will wash 'em!"
He finished rolling the joint and twisted the end, tearing it off and getting his Bic lighter. 
"You not working this afternoon?" Jules asked.
"I swapped with Aeriol and I'm doing Saturday morning."
Max lit the joint and inhaled, holding the smoke in and passing the joint to Jules. He in turn took a deep toke.
"Jake phoned earlier." Jules spoke as he blew out a trail of pungent smoke.
"What did he want?" Max sank back in the bean bag, taking the joint from Jules and listening to the music.
"He said he needed to talk to Aeriol. I told him he was working."
"Good. Hope he goes there and doesn't come round here tonight."
All of a sudden the windows no longer glinted, the sun had disappeared and the need to clean them with it. The clouds hid the dirt and added their usual gloom to what was previously an afternoon of winter sunshine.
Despite the temptation to do nothing other than get stoned, Max made an effort. He set about tidying up the kitchen and preparing a meal for tonight. He had the idea to cook a vegetable casserole and do enough to keep some over for tomorrow. Nate would be home on Saturday and if he got back in time Max thought to invite him for dinner. If not they could get together Sunday. He would have to make sure Aeriol was careful not to say anything about Tobias and Davy. He didn't think he would mention anything about what happened with Davy, but he might. Anyhow, Aeriol was usually pretty cool about things, he most definitely was not a gossip like Geoffrey.
Max was still in the kitchen when Aeriol got in. It was dark outside now, the sun never did return, but on the plus side, the kitchen was clean.
"Looks like someone's been busy," Aeriol sat down at the kitchen table.
Max was pleased he had noticed.
"Jules is in the front room and your brother phoned. Apparently, he was looking for you."
"Yeah, I know, he found me."
Max turned off the casserole. It was ready, he could heat it up whenever they decided to eat.
"Max," Aeriol looked up.
Max turned and their eyes met. A shock hit Max as he recognised a dark sadness in Aeriol's eyes, a brooding quality that seemed to bury the light in two deep pits. He gulped, but said nothing, taken aback by the image and the tone of Aeriol's voice. That single word sounded like a warning.
"I have to tell you something happened. It's why Jake came to see me."
There was a palpable silence as Aeriol looked around, avoiding eye contact; that was too intense.
"What happened?" Max's voice trembled, he was anxious and worried.
"Jake heard from this sergeant at the Ramstein Air Force base in Germany."
Shit, Max thought instantly, this has to do with the coke.
"It's where Jan and Tobias picked up the package."
Max didn't know all the details, but he knew about the method for getting the coke into Germany. The Air Force didn't pass through customs, they only had their own military police to deal with and apparently the whole set up was fool proof.
"Something went wrong?" Max asked.
He knew that something had gone wrong. Aeriol's face told him, his eyes said everything. The only question was what and what did it mean for them. How serious was it? It looked very serious.
"They were driving to Frankfurt on the autobahn..."
Max's thoughts were doing somersaults in his head.
"And?" His voice betrayed his building anxiety.
"They crashed. They must have been driving really fast."
Or they were stoned, Max thought to himself.
"The car was wrecked and..." Aeriol almost had tears in his eyes. Max noticed. "they were both killed."
Max dropped his head in his hands. He trembled uncontrollably. Aeriol stood up and walked over to hug him and put both arms around him. They stood together like that, not moving, a ball of emotion washed over the two of them.
It was Jules who interrupted things and whose presence in the kitchen brought Aeriol and Max back to a certain normality. Aeriol explained everything to Jules. Max didn't feel like eating after this news. He couldn't get it out of his head. He had known Tobias for only a tiny moment and now he was gone. He would never see him again. He would never know exactly what happened five hundred miles away in Germany. It would always be an unfinished story.
Max was glad he was working Saturday, it took his mind off things, it was difficult to come to terms with what had happened. For both him and Aeriol it was the first time in their lives people they knew, even if only briefly, had died. Two guys the same age as them. Jules, on the other hand, told them about a friend of his when he was sixteen, a boy he liked, who had died accidently. When he told them a bit about that tragedy, all three became a step closer. Max realised that Jules had deep emotions. That might sound strange, but to Max, he had always been the friend who slept in their living room. He never had a problem with that, it simply became the sort of relationship you might have with your lodger. Now he began to realise that Jules was a real friend, a person whom he had never paid very much attention to.
It was a little ironic, because as he broke through into a new kind of intimacy with Jules, it was at the moment he announced he'd be going home for a while. His parents had asked him to look after the house. They were arriving home, or had already, and wanted Jules there. Aeriol said he got the impression that his folks knew he had dropped out of university, but they were not staying in the UK for long and, obviously wanted to see him. The, looking after the house bit, he thought was more about making sure their son was at home and not out and about, who knew where, and taking drugs. Jules seemed to go along with this, so everyone was happy, nothing explicit was said about anything.
"You guys, I'm gonna have a party at my place, after my parents take off. And you're all invited."
"We'll be there," Aeriol confirmed.
"You can meet my best friend from school. I'll invite the whole gang."
Jules sounded very enthusiastic, Max was less so. He was not at all sure he wanted to meet a whole load of ex-public school rich kids. When he mentioned this to Aeriol later, that he wasn't certain he wanted to go, Aeriol told him not to pre-judge and said it could be good. Max nodded, acquiescing as usually, but picturing in his head the scene of a party with a lot of alcohol and drugs, plus loads of straight guys and girls. Really not his scene. He even wondered whether Jules' friends knew he was gay. Although thinking about that for a minute, he wasn't sure if Jules had ever said he was. He had this thing going with that girl Sajani he'd met at the ashram with Chester and Michael.
They finished a little early at the warehouse and Max decided to call in on Geoffrey. To bring him up to date on what was going on.
"Max, my dear, come on in," Geoffrey invited, stepping around a bunch of cartons in the hallway.
"What's with all the cardboard boxes?" Max asked as he sat down at the table.
"I've come to a decision. But first, let's have a drink."
Geoffrey fetched two glasses, a bottle of rum and coca cola, and also managed some ice; all amidst the chaos of his, once ever so tidy, room. As they sat facing each other, sipping their rum and cokes, Geoffrey leaned back and studied Max.
"You look like you've got the world on your shoulders. Would you like to share with your aunty Geoffrey?" 
Geoffrey raised his eyebrows in that whimsical yet serious expression only he could do. Max had to smile. Geoffrey had that effect on him, he was a wizard at mood changes. Feeling relaxed by both the alcohol and Geoffrey's positive vibes, Max explained recent events. Geoffrey nodded, listened, didn't interrupt, and finally looked across at Max and whispered, "Destiny."
"We cannot choose what will happen, or when it will happen," he told Max. "We can decide to take one path or another, but we cannot escape our destiny. Sometimes things happen which we cannot foresee and which we have no control over."
"My, Geoffrey! You're quite the philosopher," Max smiled.
"Darling, you're taking my lines. One has to have perspective in life. As the great man said: 'You have learnt something. That always feels at first as if you have lost something.' Bernard Shaw."
"So what's this decision of yours?" Max asked.
"Ah, indeed. Well dear Maximillian, I have reached the conclusion that my destiny lies elsewhere than this dull bedsit in North London." 
Max thought about this for a moment.
"I can see the cogs engaging," Geoffrey chuckled. 
"You're moving!" 
"Eureka!" Geoffrey clapped his hands.
"Don't tell me..."
Geoffrey interrupted him, "You're not as stupid as you look, are you?"
"Brazil," Max said.
"Yes, my dear. Aunty Geoff is leaving these sceptred isles."
"When?" Max was taken by surprise.
"As soon as ones affairs are sorted. Which means very soon."
Max got up and came over to throw his arms around Geoffrey. "Oh my god! I'll miss you."
Geoffrey looked up at him. "I'll miss you too, but a man's gotta do, and all that."
"But permanently?" Max asked.
"I've applied for a three month visa. If I find some work. Let's wait and see."
"I'm sad and pleased all at the same time."
"Oh you're a big boy now Max, you'll survive."
"But I'll have no one to talk to."
"You know what, my dear. I don't believe you. Sort out where you're going with that boy Nathan. You've got a chance there, it seems to me. Now be a good boy and let Geoffrey finish his packing."
Reluctantly Max got up to leave. "I'll see you before you go," he insisted.
"Of course you will. Now shoo!" Geoffrey gestured for Max to leave.
Nothing stays the same forever, he thought as he walked along the street heading home.
"There's someone here to see you," Aeriol met Max coming up the stairs. "He's in the kitchen."
Max followed Aeriol back to the kitchen.
"We were just talking about you," Aeriol told him.
Max's face lit up with a broad grin, he was so pleased to see Nate. 
"Hey, you look like you got a tan." Max went over and bent down to give Nate a little peck on the cheek.
"Is that all I get?" Nate pouted.
Max moved his head and they kissed on the lips.
"I'm really sorry about your friends. Aeriol told me about it."
Max glanced at Aeriol, who was making a hot drink.
"Yeah, it's sad. I find it hard to believe. Like they were only here, in the kitchen here, just a week ago." 
Max moved around the table and sat down next to Nate. Aeriol lent against the counter top, holding his hot chocolate.
"Well, I'll leave you two to catch up," he grinned.
Now alone, Max turned to Nate, "You miss me?"
"You miss me?" Nate repeated.
They both laughed.
"So tell me all about your holiday."
Nate gave Max the highlights about what had happened on holiday and Max talked a little about Jan and Tobias, but he rather wanted to avoid saying too much about them, it was difficult. Max asked Nate if he was going stay to eat and then he fetched Jules and Aeriol, and they all ate together, the veggie casserole he had cooked yesterday.
Max very much wanted Nate to spend the night, but he said he couldn't, that he had to get home.
"Why do your parents insist you come home? I mean you're almost eighteen, it seems a bit restrictive."
Nate looked gloomy. 
"That's what they're like. It's always been like that. Actually, I was going to talk to you about it. Well about a lot a stuff, but now, I'm not sure it's the right moment."
"Yeah, I guess you're tired, with the journey and everything?" Max smiled.
"Just a bit," Nate replied.
"Your eyes are practically closed. Listen, you need to go home and go to bed. Call me tomorrow."
Nate stood up and they hugged each other, he said goodnight to Jules and Aeriol, and Max went downstairs with him to the front door.
"Everything is alright with you?" Max asked as he opened the door.
A blast of cold air meet them. Nate pulled the collar up on his jacket and stepped outside. 
"I'll talk to you tomorrow," he said and headed off into the night.
A tinge of uncertainty stuck in the pit of Max's stomach as he lingered at the doorway. It was the realisation of how fragile their connection was. The only link to Nate that he had was the cafe, he neither knew where he lived, nor his telephone number. He closed the door on the cold and darkness of the night.