Towers Faulty Part Two.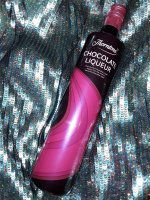 Wed, 31 Jan 2018
Back at home I had to pop to the shops with Paul, Megan had gone to Town too on her own. I'd made it clear to her that, "We had to be on the six o'clock train, that I didn't want us to be late." I made sure my phone was fully charged for photos that would be taken, money for my meal, Megan paying for herself, birthday card, train tickets and the Bailey's in a bottle of wine bag! Thankfully I wasn't hungry. Nothing is  worse than going to any event when you know food will be there and one arrives starving! As you can't just eat when you want, but when everyone is eating.
There was hugs all round, from friends and family we'd not seen for a long time. I'd asked Poppy how many would be there, she'd told me, "Forty," There were two long tables parallel to each other, we chose to sit on the 'second' table, that was less full. We'd arrived ten minutes before seven and less than half of the expected people were there. We all had a text from Poppy Saturday morning asking us all to be there fifteen minutes to seven so that at seven when Lois arrived, we would all be seated and ready to sing, "Happy Birthday to you." The traffic outside was chock-a-block, was more than happy that we'd gone by train. We saw the multi story car park that everyone was trying to get into, so slowly as people parked, they trickled into the room, with more hugs and, "Hellos," Followed. By seven thirty Megan told me she was, "Starving," I said to her, "You only had a small burger with your fries at noon and you didn't even eat all the burger." My brother Marc and his lovely wife Maxina sat opposite us, she told us she was, "Hungry too," Well I suppose there is no point going out for a meal and arriving full, in the past I've known friends who knew they were going out for a meal in the evening, and have only had breakfast! Seriously, I couldn't do that, I'd feel faint.
The last guest arrived at eight! Yes eight! I was hoping to be on the nine o'clock train back home! As my Cousins had gone to Birmingham the day before so make a special long weekend for Lois, they had stayed in a lovely hotel and had been on a spa event in the day, so when we were all informed that Lois was now coming down the spiral stairs we all cheered when we saw her at eight fifteen (incidentally Poppy had told us that morning in her texts to us all, that someone had let slip about the meal but that Lois didn't know the size or where it would be held) so now as she came downstairs we all sang a very loud, "Happy birthday to you, Happy birthday to you, Happy birthday dear Lois, Happy birthday to you." Lois did seem really surprised, she looked amazing. Everyone had their phones on her filming, or taking photos. She sat on the table behind me.
Because the menu was expensive, I'd already decided I wasn't going to buy a drink, I could wait till I get home. Before today all of us had to give Poppy five pounds deposit and choose our food we wanted to eat, this included starter, main course and pudding. I chose not to have a starter, as I'm a pudding person, to me that's the best part of any meal and in the past, when I lived on my own, I would sometimes have my pudding first, then my main meal, it was my world my rules. So I wanted to make sure at this meal I had space left for my pudding, which I knew would be a whopping five pounds! My brother Marc asked me and Megan if we wanted I drink, we both had Pepsi, with no ice. When the drinks arrived, I said to Megan, "This will last me all night, I will make sure of that," Later on we were asked again if we wanted a drink, I pointed to the same one that Marc had bought me and I replied to him, "I still have this one, thank you." Megan still had hers too.  
Now that Lois was here, more than ever food was needed, Megan, Maxina and others near us talked of nothing else, we wanted to know when would the starters be coming, we asked Poppy, she said, "They will be here soon." So it was with great relief at eight forty five, that we heard names been called out, with the waitress holding food in their hands, we pointed to each person, as their names were called out. Megan had a starter and a few others near me, they looked huge and beautifully presented.  I was sat with the wall on my right side with Marc opposite me and Maxina opposite Megan, we three didn't have a starter, but Megan said I could have some of hers, it was delicious! Maxina was very hungry and everyone it seemed except me, the Big Mac and done me, in good stead! The starters were eaten and all the plates and dishes were collected.
Just after nine there were more murmurings and looking towards the bar and where we expected the meals to appear from that directions, but nothing came, Marc and Maxina told me, "We have eaten here three times before, but service wasn't like this!" I said, "Clearly they can't cope with a large group!" Then at nine fifteen, names were called out, and food was delivered quickly, by two servers, I had pizza with mushrooms and red peppers on, it was just about warm, the retired lady next to Megan, Lillian, Marc and Maxina all had ordered chips with their meals, they were informed, "They're coming soon." My lukewarm pizza wasn't even cut, I expected it to be, but maybe I've had too many takeaways? It was a very thin pizza and certainly not worth ten pounds! My main thought was little size six Megan sitting next to me,  how was I expected to enjoy my meal knowing my daughter hasn't had hers yet? Dearest retired Lillian, had tried to wait for her chips so that she could eat it with her lovely looking chicken, but she could wait no longer and had to start eating without it. Marc and Maxina too ate their meals without their chips, now for me, the best part of a meal is the chips! I'd wanted fish and chips but sadly that wasn't on the menu, so I went for the cheapest next thing which was Pizza. Finally at nine thirty two customers still hadn't had their meals!!!!! The lovely Deborah on the first table behind me and Megan! She was really hungry now and I was fuming inside, Megan said to me and Maxina heard, "I'm worried that everyone is going to finish their meal and I won't have had mine yet." Maxina said, "I'm going to the bar and I am going to ask, what has happened with Megan's meal?" Maxina is always professional, she is SO lovely, my brother struck gold when he found and married her!!! She left her meal and went to the bar, she came back quickly and said, "Your meal is on its way," We both thanked her. And sure enough her red peppers and tomatoes pizza arrived! Deborah her steak was also given to her, but she sent it straight back! She had wanted it medium rare and it was burnt and covered with the sauce. The sauce should have been in a little pot for her to pour on herself, if she needed it. The two men behind us, Harry and Stephen then turned around and told us, "There should have been pots of gravy for our mashed potatoes, but they didn't arrive at all, only Sarah got hers all three had ordered the same meal.   
As the meals were given to each customer, the Staff were reminded about the chips that weren't received yet, and the Staff had said, "They will be with you soon." So the second time Maxina heard this she said to me, "I am not paying for this meal, I will pay for my dessert, but not the dinner!" Harry behind me overheard this and turned around to us and said to Maxina, "Please don't make a scene, I don't want Lois to catch on that something is wrong," Maxina replied with grace and said to him, "I would never make a scene or spoil this for Lois," Her reply to him was much better than I'd have given him, and at that point, Lillian's chips arrived, after she'd finished her chicken and all her dinner! Maxina got up and confidently went to the bar to let them know she was not paying for the meal and she explained to them why.
Then at ten fifteen we suddenly heard singing, "Happy Birthday to you, Happy Birthday to you, Happy Birthday dear Lois, Happy Birthday to you." A large cake was now on our table and Kym, Lois' best friend cut the cake, this was sent around to everyone on to both tables, there was even extra for us to take home. Poppy then came to each of us with pen and paper in hand, asking, "Who still wants pudding or who wants to cancel what they have ordered." Well I'd been clock watching from nine, as I didn't want to miss the last train home! Missing the last train home would have been the icing on a very bad cake, for me – it just wasn't worth thinking about, so it was easy for me to say to Poppy, "Megan and I have to cancel our pudding." The evening had left a very bad taste in my mouth, it wasn't a good night at all, even my pizza was unfinished, more than half of it was left!  Maxina and Marc had their desserts, strawberry ice-cream sundae and chocolate ice-cream sundae respectively, they both said, "It tastes very good."
Then out of the blue, I remembered about the five pounds deposit we all had to make before, that this amount would be taken off our bill tonight. Poppy was going around from person to person, adding up what each one owed for their meal, so when she came to me, to pay it was only four pounds seventy five, a cheap night out I thought! Maxina didn't pay for her main meal, even though the owner had said, "I will just deduct the chips," She rightly stuck to her guns and didn't pay! Saying, "I ordered chips with my meal, it didn't arrive, my meal was incomplete without it." 
I and others asked, "Why did the pudding took so long to arrive?" Poppy said, "They blame me for wanting the birthday cake first." Most of us asked, "Why was dinner SO late being served?" The restaurant said, "We expected to serve the meals at seven, but people were late, so we were unable to bring out the food."  
Megan and I went to the loo, some on our table when we got up, thought we were going, I said, "We just going to the loo," but when we came out, we simply left, for I was in no mood to say, "Good night, good party," as it wasn't.
I'd forgotten just how big the restaurant was, until we went back upstairs, its huge! Surly they could have coped with forty in a group. It was freezing walking back to the station (I wished now I had driven my car) it was lovely to be on the train for eleven, knowing that it wasn't the last train. In a way, I wished I hadn't gone. I will always associate my sequenced dress with that night, and now my dress doesn't feel special anymore. I remember my fiftieth, I'll never forget my Cousins fiftieth.
The photo, is another gift my brother gave me, two years ago, unopened.