Dangerous – book launch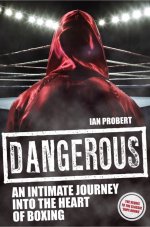 Fri, 16 Sep 2016
A couple of years ago I began occasionally contributing to ABC Tales. I was even privileged to be asked to come and read at an event in London.
Yesterday my book 'Dangerous' was published. It's pretty safe to say that it would never have been written were it not for the ABC Tales community. When I began writing for this site my confidence was at a very low ebb and I was suffering from deep depression following the death of my father. The feedback I received from the site went some way to restoring my confidence.
'Dangerous' is about these experiences and my efforts to seek therapy by taking the unusual step of renewing friendships with people from the boxing world whom I had not seen for 25 years. The book is being marketed as a sequel to my 1998 book 'Rope Burns'. (Here is a review of Rope Burns that was very kindly posted some time ago by Celticman http://www.abctales.com/blog/celticman/ropeburns)
I hope you won't mind me putting a link to 'Dangerous' here. And I hope you will accept my deepest gratitude for giving me the opportunity to write on this site when I really was in the darkest place imaginable.
There is a book launch on 26 September at Waterstones in Islington, London. If anybody here fancies coming along it will be an honour to see you.
Many thanks.
Ian
This is a link to the new book/;