Armitage - Chapter 6 - Sophia & Sebastian (Part 2 of 2)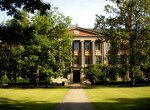 Sun, 02 Nov 2014
The Student Lounge was unsurprisingly busy when Madeline and Chris arrived, with many students clumped together in nervous groups, talking anxiously.  Ben and Abby were already there and came over when they saw Madeline.
'Hi Maddie, you okay?' said Abby.
'I'm okay.'
'Hi Chris.'
'Hi guys,' said Chris, nodding to Ben and Abby.
'How you holding up?' asked Ben.
'About as well as I can be,' said Chris bitterly.
'I hear ya.'
'Anyway Maddie I'm going to go, I want to get back to Sal and Lucy.'
'Okay, you be careful,' said Madeline as she hugged her brother.
'You too.  See you around guys.'
'Yeah, take care,' said Ben.
'Bye Chris,' said Abby.
'Give my best to Salvatore and Lucile,' said Madeline.
'I will.  I've got myself a motel room in town so I'll be around.'
'Okay.'  Chris gave Madeline's hand an affectionate squeeze before leaving the Student Lounge, and as the various nervous conversations continued in their scattered groups the President of the Student Council, Elizabeth Armstrong, motioned for quiet.
'Thank you all for coming,' she said.  'I'm sure you've all heard about Sophia Damico.  This is the latest in a string of disappearances and murders to occur in Armitage and it's time we did something.  I've contacted Sergeant Edward Thomas of the Armitage City Police and he's agreed to come in and talk to us about public safety.'  Elizabeth paused to answer a few questions but after checking her watch she motioned for quiet.  'It's almost time for the news,' she said.  'And Sophia's case should be their main story.'  She stepped aside as a television set was turned on and the channel was changed to the appropriate station.  After enduring a moment or two of inane commercials the local news came on.
'Welcome to Channel 3 News,' said the broadcaster.  'This just in, another local Armitage woman who was feared missing was in fact murdered.  Sophia Damico, who was twenty-eight, did not return home last night, she was presumed missing.  However, earlier today, her heavily mutilated remains were sent to the restaurant owned by her parents, Salvatore and Lucile Damico, in what has been described as a sick and callous act.'  The Student Lounge was shrouded in silence, save for the news report, everyone present stunned at the brutality of Sophia's death.  The newscaster continued with his report.
'The parents of Sophia Damico have made an emotional plea for anyone with any information to come forward,' he said.  'Citizens are reminded to exercise extreme caution in light of these killings.  And now, the five day forecast.'
'It's just disgusting,' said Abby, a mixture of fear and anger in her voice.
'Yes,' said Madeline numbly.  Everyone agreed that it was disgusting that Sophia had not only been killed in a seemingly pointless and barbaric manner but that her remains had cruelly been sent to her parents, presumably as part of some inhuman joke.
Everyone except one person.
Mason sat in his study, basking in the afterglow of the news report.
'I don't know what all the fuss is about,' he said maliciously.  'I thought they would appreciate having their little girl back.'  Andreas allowed himself a slight smirk at his employer's remark.  'Some people just don't appreciate a good joke.'
*          *          *
After the unsettling news report the date of Sergeant Thomas' visit was announced and people began to head back to their respective dorm buildings.  Madeline couldn't believe that there were people like that in the world that would do such a thing, and she fully intended to go to the safety meeting, if only to find out from Sergeant Thomas how the case was going.  Thinking about Sophia's murder obviously made Madeline think about her own attack and how lucky she was that she wasn't hurt, but that in turn brought her once again to her curiosities about Professor Mason saving her and Mike.  It could have simply been a case of good timing but the oddity of seeing him at Jack's on the same night that she was attacked seemed almost too coincidental for her mind to leave alone, and she also still could not fathom how the mysterious vagrant had gotten into her room.  She wanted to know why he had mentioned her professor's name as someone she wasn't safe from.  The strange character had admittedly not done her any harm, so far, but he had succeeded in scaring her on three separate occasions, one of which in her own dorm room, and that cemented her resolve to go and speak with Professor Mason about it.
The following morning Madeline made her way over to the History building before classes were due to begin, hoping to catch Professor Mason in his office.  She ascended in the lift to the appropriate floor and walked down the corridor to where his office was situated.  Wondering how she was going to form her questions, she stood nervously outside of his door, but before she could knock and announce her presence a voice came from somewhere within.
'Come.'  Frowning slightly in confusion, Madeline opened the door and saw Professor Mason sitting at his desk in his windowless office, his desk lamp providing the only illumination in the room.  'Ah, Miss Jameson,' he said amiably as he looked up from the paperwork he had in front of him.  'To what do I owe the pleasure?'
'I wanted to talk to you,' said Madeline uncertainly.
'By all means, do take a seat.'  Professor Mason indicated to the chair in front of his desk and Madeline sat down.  'Now, what can I do for you?'
'How did you know I was outside?' asked Madeline straight away.  Professor Mason smiled before speaking.
'I have been blessed with rather good hearing, but I am sure this is not what you came to see me about.'  Madeline didn't think that she had made any noise at all on her way down the corridor, the carpet absorbed people's footsteps, but maybe he was right, maybe he just had very good hearing.
'No, I wanted to talk to you about the night I was attacked.'  The professor's smile faded and a look of concern came over his face.
'A shocking turn of events,' he said, placing his pen down on the desk.  'What is it about that awful experience you would like to discuss?'  Madeline swallowed hard; there was no easy way to broach this subject so she just had to ask what was on her mind.
'Well it's about how you saved me and Mike.'
'Yes?'  Mason's tone was smooth, quiet.
'It just seems so convenient that you happened to be at Jack's that night and then passing by when we were attacked.'
'All coincidence, I assure you,' said the professor, looking deeply at Madeline.
'But…'  Madeline faltered, her mind filling once again with the feeling that her thoughts were blurring, becoming elusive.  She thought she knew what to say but the words wouldn't come, and the more she tried to concentrate the harder it became.
'You were saying, my dear?'
'Hmm?'  Madeline's head felt instantly clearer, like the fog that had somehow permeated her thoughts had suddenly lifted.  She looked around for a second, trying to remember what she had come to see Professor Mason about.  'I'm sorry, what were we talking about?'
'We were discussing your unfortunate attack,' said the professor silkily.  'And you were thanking me for coming to your rescue, for which you are very welcome.  Now, was there anything else?'  Madeline didn't think she had come to see Professor Mason to thank him, although she was of course forever grateful for what he had done for her and Mike, but she couldn't focus her thoughts on the conversation they had apparently just had, so she decided to continue on to her next topic.
'I also wanted to bring something to your attention.'
'And what is that?'
'I've seen what I think to be a homeless man lurking around campus.'
'Those poor souls, they do sometimes find their way on to university grounds but I am assured that campus security has the matter well in hand.'
'I think this man's different,' said Madeline.
'How do you mean?'
'He seems to be after me.'
'You believe he wishes to harm you?'
'Well no, not exactly.'
'Then how, may I ask, do you know his intentions?'
'I've spoken with him.'  Madeline began to feel like she was being interrogated by her professor, but she thought to herself that he was probably just trying to understand the situation.
'I would advice you not to engage them my dear,' said the professor.  'Especially not in light of the recent killings.  I would hate to see anything happen to you.'
'But I've seen him three times now, Professor,' continued Madeline.  'Once in my room.'
'Indeed?'  Professor Mason seemed to visibly prick up when he heard this.  'Can you describe the fellow to me?'
'Well I haven't seen his face I'm afraid, he covers himself head to foot in dirty, tattered rags, and what's even stranger is that I can't see any way for him to have gotten into my room.  I always lock my door and I'm on the second floor, so he couldn't have got in through the window.'  The more Madeline spoke of the hooded vagrant the more interested Professor Mason seemed to become.  He listened intently as she spoke, his fingers tented and his eyes keen.
'Well thank you for bringing this to my attention,' he said once she had finished.  'But I would not worry; I see no reason to fear this poor man.'
'But Professor,' began Madeline.
'I appreciate you coming to see me Miss Jameson but I do have a lot of work to do, as I am sure you can understand.'  As he spoke Madeline's head began to feel fuzzy again, and she tried desperately to cling on to her thoughts.  Professor Mason was totally disregarding what she had to say but she found she could say nothing more in protest.  He stood up from his desk and saw her out, and it wasn't until she had exited the History building that her head felt clear again.  She stood there for some minutes, trying to recall what she and Professor Mason had talked about, and if indeed she had gone to see him.  It was maddening, she knew she had come with the intention of seeing her professor but now she couldn't be sure if she'd just arrived or just left.  She checked her watch and deemed that she must have spoken to him, as enough time had passed for her to have done so, so she left the History building feeling confused and somewhat annoyed at herself for not being able to remember.
Back in Professor Mason's office he was sitting at his desk once again with his phone receiver in his hand.
'Yes sir,' said Andreas on the other end of the line.
'It appears that Sebastian has once again resurfaced.'