Coliseum (Part 8 of 8)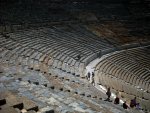 Wed, 14 Dec 2016
Returning to the Coliseum, Caius saw the line of people waiting to get in, and his heart sank a little. He didn't know what the capacity of the Coliseum was, but he would be crushed if they'd come all this way to not be able to get seats.  He looked towards Marcellus, who didn't seem fazed by it one bit.
'Come on, lad,' he said, as he started walking in the opposite direction to the end of the long line of people.
'Don't we have to queue?' asked Caius.
Marcellus snorted.
'The day I queue to get into a gladiator show is the day you can pitch me off a cliff, lad.'
'Oh.'
'Queuing is for other people,' said the old man, grinning.  'Now, come on, this way.'  Marcellus led them around to a small side door some ways around the building from the main entrance.  It was ordinary and non-descript, and Marcellus banged on it with his walking stick.  A slot in the upper part of the door slid back, and a suspicious pair of eyes peered out.
'Who goes there?' said the pair of eyes.
'Let us in, you damn fool!' barked Marcellus.  The eyes caught sight of the old man, widened, and the slot was closed with a snap.  Seconds later, the sound of bolts being slid back and locks being opened could be heard.  The door was flung open and Caius and Marcellus were greeted by a man who looked to be roughly the same age as Marcellus, only with noticeably more muscles.  He cut an intimidating figure, but his expression was warm and welcoming.
'Marcellus!  My old friend,' he boomed, scooping Marcellus' hand into a hearty shake.  'By Jupiter, how've you been?'
'Hello, Vincentius,' said Marcellus, retrieving his hand.  'Fine, just fine.'
'To what do I owe the pleasure?' asked Vincentius, eagerly.
'We've come to see the show.'
'But of course!  Right this way.'  Vincentius ushered them both through the door before securing it fast again.  Once all the bolts and locks were back in place, he turned again to face Caius and Marcellus.  'And who might this be?' he asked, looking Caius up and down.
'One of my lads,' said Marcellus.
'So, you want to be a gladiator, do you?' said Vincentius, as he slapped Caius firmly on the back.
'Yes, sir,' said Caius.
'Polite too, I like that.'  Vincentius gave Caius another appraising look.  'I always did say, Marcellus, that your young boys always had the best manners.  But where are mine?  You shall have the finest seats in the house; the emperor's box.  He's not attending today, so make yourselves at home.'
'Actually, Vincentius, the lad needs to see the show from Gorilla.'
Vincentius paused on his way to a set of stairs that led to the arena seats.
'He does?' said Vincentius, raising an eyebrow.
'I do?' said Caius, confused.
'Yes,' said Marcellus to both of them.  Vincentius came back to them with a puzzled look on his face.
'Marcellus, this boy…does he…?'
'Over here, you damn fool!'  Marcellus grabbed Vincentius by the arm and led him away from Caius.  'Stay there!' he barked at Caius as he walked off.  Out of earshot, Marcellus and Vincentius engaged in a moment's discussion before returning.
'If you'll follow me,' said Vincentius.  He set off in a different direction to the stairs, and Caius and Marcellus followed.
'Master?' said Caius, as they moved through various corridors.
'Hmm?'
'What's Gorilla?'
'It's a part of the backstage area.'
'Why's it called Gorilla?'
'Because that's where they keep the gorilla.  Keep up.'
They eventually arrived at a set of double doors in the lower levels of the Coliseum.  Vincentius turned to face them, his expression still a little odd.
'I'll leave you here now,' he said.  'I think this is something that's best done between master and pupil.'  He gave Marcellus a quizzical look and laid a gentle hand on Caius' shoulder.  'Good luck, lad,' he said.  When the two of them were alone, Marcellus turned to face Caius.
'Right, this is it, lad,' he said, gravely.  'The moment of truth.'
'Master, I don't understand.  Why couldn't we watch the show from the seats Vincentius offered us?  Won't we get a better view from there?'
'Trust me, lad, watching from backstage will allow you to see all you need.  Now, I have to ask you: do you really want to be a gladiator?'
'Of course I do!'
'Well, just keep that in mind, okay?'
'Yes, Master.'  Caius was confused.  He couldn't for the life of him think what could possibly lie behind those doors that could stop him wanting to be a gladiator.  This was all he'd wanted since he was a little boy.  To compete on the grandest stage of them all; to entertain countless audiences with his bravery and his skill; what was there to be unsure about?
Marcellus took a deep breath and opened the doors.
Whatever Caius had been expecting to see backstage at a gladiator show, this wasn't it.  There were people everywhere, and animals.  Caius had been to shows that had featured wild beasts; they were always a crowd-pleaser, and the tigers and bulls and bears that had been used in those shows had always looked so ferocious.  So, seeing a gladiator sitting next to a huge tiger and feeding it scraps of meat and scratching it behind its ear was definitely confusing.  This was only compounded by seeing a group of men – half of them dressed in Gaulish clothing – talking amongst themselves and…
Caius made out a few words of what they were saying.
Discussing a finish?
Caius looked at Marcellus with a pleading look on his face, desperate for his master to make some kind of sense out of this.  The old man, however, just looked at him, hard, and motioned them on.
'Master, what's going on?'
'This is the other bit about being a gladiator, lad.'
'The other bit?'
'Yeah.  What you see in the arena is only half of it.  This,' he gestured to the backstage area.  'is the other half.'
Caius looked around him, an unpleasant feeling settling into his stomach.
'But…those men…' Caius pointed to the group of men who seemed to be practising a fight.  'Some of them are Gauls!'
'Dressed as Gauls, lad.'
'But Gauls only feature in gladiator shows as prisoners of war, sent to the arenas to fight the gladiators.'
'That's what they're billed as, for sure.'
'But they're all laughing and joking like they're friends.'
'They are, aren't they?'
'And there!'  Caius' voice was starting to be tinged with panic.  'There's Brutus!'  Caius pointed a shaking finger at the man he knew as Brutus.  There he was, again sitting with…
Agrippa.
Caius was instantly transported back to the night in Decimus' tavern when he had seen the same two men enjoying a drink together, until they'd seen him, and then they'd started fighting.  This time, however, when Brutus looked up and saw him and Marcellus, no fight broke out.  Instead, he waved them over.
But Caius didn't move.  His legs felt like they were rooted to the spot, and there was something hot and fierce filling up his insides.  He turned his head to look at Marcellus, who returned the gaze with a defiance that made Caius' blood boil all the more.
'You,' he said, breathing the word more than saying it.
'Look, lad…' began Marcellus.
'You lied to me!'
'Now just wait a minute…'
'Gallus was right!  It is fake!  All of it!'
'Just shut up a second and I'll…'
'I trusted you!'  Caius found the power in his legs again and bolted from the room; the tears hot and vicious in his eyes.  He felt betrayed.  He felt stupid.  How dare that old man lead him on like that?  How foolish was he to get his hopes up, to devote his life to a lie?
He felt lost, but more than that he felt angry.  Angry at Marcellus for getting him to believe in something that was false, but angry at himself as well for believing it as much as he did.
'Caius.'
Spinning around, Caius saw Marcellus standing by the double doors: the door that led to the world of lies that now existed seemingly only to mock him.  Renewed anger flashed in the boy's eyes as he took in the old man standing in front of the doors.  Bile rose in his throat, and he wanted to say things, hurtful, nasty things to Marcellus so that he could share some of the awful feeling that had overtaken him.
But the words wouldn't come.  He was too angry.  Instead he turned away, defiantly.  It didn't even matter that Marcellus had chosen to use his actual name for only the second time.  It was too late.  The old man was probably feeling guilty anyway, as he should be.
'Caius, I want to ask you something.'
How dare he speak to him!  Hadn't he done enough?
'Caius!'  The word was barked like an order, and it shook some of the initial anger from his mind.  He found his muscles twitching, wanting to obey Marcellus like they had done a hundred times before, but there was still enough anger left in him to remain facing away from the old man.  Marcellus wasn't to be deterred, though.
'Do you still want to be a gladiator?'  This did make Caius turn.  He fixed Marcellus with a look of utmost incredulity.
'How can you ask me something like that after what I've just seen?'
'And what have you just seen, lad?  Hmm?'
'A lie!  It's not real!  None of it is!'  Caius' words were cut off abruptly by Marcellus' hand, as it slapped the boy into silence.
'Was that real?'
'I…'
'Felt real, didn't it?'
Caius couldn't find the words to speak, so he just nodded, mutely.
'So I ask you again, what did you see in there?'  Marcellus motioned behind to the double doors.
'I saw…'
'Professionals,' said Marcellus, interjecting.  'Athletes.  Gladiators!'
'But…'
'Let me ask you something else,' said Marcellus.  'Would you have worked as hard, trained as long, if I'd told you everything from the very start?  Would you?'  The answer was in Caius' mind in a heartbeat: no, he wouldn't, and Marcellus seemed to know this.  'Of course you bloody wouldn't!  You came to me all bright-eyed and green as grass.  If I'd smartened you up on day one you'd have been on the next cart home.  Either that or you wouldn't have given it your all, and that's what I got from you lad, your all.  The lads I take in to my school come to me at eighteen and they all know the score.  They also know enough to respect the business and not to go about flapping their lips that it ain't as real as the crowd thinks it is.  But tell me this, in all the time you spent going to those shows with your father, did you ever once get a sense that it might not be real?'
Caius dropped his head a little, realising that Marcellus was exactly right.
'No,' he said.  'I never did.  I was too busy enjoying myself.'
'Exactly!  Now, come with me.  I want to show you something.'  Drained of most of his anger now, Caius followed Marcellus to a part of the backstage area where the gladiators made their entrance.  As they walked towards an archway with a thick curtain hanging from it, Caius noticed a large gorilla sat beside it, calmly picking its way through a plate of fruit.  Marcellus stopped at the curtain and pulled it aside just enough to see the crowd beyond.
'There.  See that?'  Caius peered through the curtain, but wasn't sure what he was meant to be looking for.
'See what?'  Caius heard Marcellus sigh, and was then shoved gently aside.
'That.  There.'  Marcellus was pointing into the crowd.  'Halfway up, by the stairs.'  Caius followed Marcellus' finger and saw…
A young boy with his father.  The boy couldn't have been much older than Caius was when Aurelius had taken him to see his first gladiator show.  Caius looked at the boy and saw sheer joy captured in those features.  He was having the time of his life, and the father looked happy and contented that his son was enjoying himself so much.
That's me, thought Caius.  I was that boy once.  Things started falling into place, and Caius/ world was revolving around him.
'That, lad,' said Marcellus.  'Is what we do this for.'  Caius watched the father and son take in the show for a few moments.  He remembered feeling like that.  It didn't matter what else was going on in the world: for that one beautiful moment two people were sharing in something that was special to them, and that made it worthwhile.  That made it important.
'I think I understand now,' said Caius, quietly.  Marcellus nodded an approval.
'You see, lad, I told you, didn't I?  This game isn't about making piles of money or having girls throwing themselves at your feet.  It's things like that that keep us doing what we do.  You can call it fake if you want, but that right there, that's real.'
Caius turned to face Marcellus, his expression very much softened.
'Master, I'm sorry.  I'm sorry I disrespected this.'
'I understand, lad.  You didn't come at it like a lot of us did, so I had to choose whether to break you in as I did or just clobber you with the truth from the get go.'
Caius turned back to look at the crowd.  The son was now sitting on his father's shoulders.  He was cheering and yelling and looked the picture of happiness.
'So, lad.  You still want to be a gladiator?'
'Yes, Master.'
He did, very much.
After all, Caius had wanted to be a gladiator ever since he was a little boy.
*           *           *