Commute (Part 6 of 6)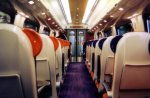 Sun, 28 Dec 2014
'You sure you want dropping here?' asked the taxi driver one last time, as he pulled into the small and deserted car park of the train station.
'I'm sure, thank you.'  Janet paid the fare and stepped out of the taxi, sweeping the immediate area with nervous eyes.
'Okay, but be careful,' said the taxi driver, as he gave Janet her change.  'You get home nice and safe, you hear?'
'I will.  Thanks.'  Janet smiled weakly in gratitude as the taxi pulled away.  As soon as his rear lights were out of sight Janet suddenly felt very alone.  She looked at her watch and saw that it was 11:35pm.  She looked up and saw, with a start, that there was someone standing under a nearby lamppost.
It was Robert.
'Hello, Janet,' he said, calmly.  'Thank you for coming.'
Janet swallowed nervously.  She wasn't sure if she was glad to see Robert or not.
'I…I thought you wanted to meet me at midnight,' was all she could think to say.  She felt stupid for saying it, but his sudden appearance had thrown her more off guard than she already was.
'I do, but I had a feeling that you would be early, so I made arrangements to be so myself as well.'
'Well, what do we do now?'  Janet felt as if it was someone else speaking for her.  The words she spoke felt clumsy and awkward in her mouth.
'Let us go up on to the platform and wait.'  Robert motioned to the walkway that led up to the platform that, ordinarily, Janet would use to get to work.
'For what?'
'For it.'
Janet stiffened as Robert said this.  She knew that was why they were here, but now that it was happening she wanted to be anywhere but at this empty train station so late at night with a man she barely knew.  Robert seemed to sense her apprehension.
'Please.  It is the only way.'  Robert extended his hand, signalling for Janet to walk with him.  She hesitated for a moment, wondering whether to go with him or to turn around and run.  This thought was quickly chased up by one of her having to live with the fear of being terrorised by whatever it was that had singled her out for the rest of her life.  Wanting to end this nightmare, Janet stepped forward and walked with Robert on to the platform.
The wind rustled louder on the platform than down in the car park, and Janet felt a shiver run through her body.  She looked at Robert, who now seemed nervous himself.  He looked about him, as if he was checking for something.  His calm and collected demeanour seemed to have been replaced by nerves.  Janet didn't like it.  If Robert was nervous, that made her more nervous.
'Are you alright?' she asked, tentatively.  Up until this point, Robert had had all the answers, and that had reassured Janet somewhat.  But now, he seemed on edge.
'I will be, soon,' he said.
'What happens now, then?  What do we need to do?'
'For now, we wait.'
'But how will we know when it's time?'
'We'll know.'
A few moments of strained silence followed.  Robert continued to look up and down the platform, and Janet found herself following his gaze with trepidation.  She both did and didn't want to see something.  She wanted, more than anything, for this whole ordeal to be over, but at the same time she didn't want to have to deal with the thing that had been stalking her.  The idea frightened her, and she was completely unsure as to what she was supposed to do if and when it appeared to them.  Robert hadn't told her anything about how they were going to beat this…thing, and that made her more uneasy.
'Robert, I…'
Janet stopped talking.  Something had changed.  She wasn't aware of it at first, but something was definitely different.  Then it hit her: the silence.  The wind seemed to have died down to nothing, but that was not all.  All of the background noise: the traffic, the birds, everything, had gone away.  It was as if the world had suddenly been put on Mute.  Once Janet had noticed it the silence pressed in on her like a thick velvet fog.  It was almost deafening.
'It's happening,' said Robert, his manner now much more excitable.
Janet looked about her, the panic starting to twist its way around her body.  She couldn't see anything out of the ordinary, but the complete lack of sound was more frightening than any piercing scream or blood-curdling cry could ever be.  Janet spun on the spot, trying to see what it was that made Robert say what he had just said.
Then she turned to face Robert.
And that's when she felt the wind.
It appeared out of nowhere.  It blew cold and fierce into her face, whipping her hair back and spreading her coat-tails out behind her.  She squinted and tried to focus on Robert, who had not moved.
He was smiling.
'What's going on?' she screamed.  Her voice broke through the night like a bullet.  The wind, though strong, seemed to make no noise.  The ferocity of it began to sting her eyes, and they started to water.  She wiped them clear with the back of her hand, and when she blinked them open again Robert was standing much closer to her.
'It's here,' said Robert, his voice seeming to penetrate Janet's very thoughts.  She took a step back from him, but he advanced on her again.
'Stay away from me!' shouted Janet, fear now coursing through her body.
'I'm afraid I can't do that,' said Robert, with chilling nonchalance.  'Once it chooses its prey there is no stopping it.'
'You…' began Janet, her eyes widening with terror.
'I offer you her in my stead!' shouted Robert, his gaze leaving Janet's and fixating on the sky.  'As it has been before, it is now.  Take her and spare me!'
'Robert, what…'  Janet felt the wind increase in strength.  Her clothes flattened against her skin, her shoes scraped along the concrete platform.  Her mind shrieked in abject terror, her limbs aching from the force of the wind.
'I am sorry, Janet,' said Robert, who stood firm in the midst of the ripping wind.  'It has to be this way.'  Robert placed his hands on Janet's shoulders and looked her calmly in the eyes.
'Please!' she screamed.
Robert gave a shove.
Janet, and the wind, were both gone.
The normal sounds of the night returned.  Birds began their night-time chorus once again, and cars could again be heard on the nearby roads.  Robert stepped on a small dot of blood that sat on the concrete of the platform and smeared it into obscurity.
He then shrank into the shadows.
Until next time.
- December 2014