Hell on Wheels - Part 2 of 3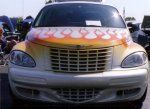 Sun, 05 Oct 2014
Gerald was right, it was doing no good: Satan had been trying every magical chant, phrase and gesticulation He could think of for the past twenty minutes and all it was doing was making Him angrier and angrier.  With an extremely irritable growl He eventually gave up and decided to find out exactly where He was.  Cursing Gerald's foul name to the bowels of His back garden He took a sweeping look about His surroundings.  He appeared to be in some sort of alleyway and wherever He was He was alone.  His head still felt like a troll was tap dancing inside it and His mouth felt like the underside of a Styx riverboat.  He rubbed His hands over His eyes to try and make them focus properly and was surprised at how small and weak His hands looked.  Gone were the menacing black talons, replaced by odd looking flat nails that had enough dirt under them to pot a rubber plant and His skin, once a deep shade of the reddest red was now a dirty pink.  He was not impressed, and He became even less impressed when His gaze travelled from the hands all the way up the arms.  Whoever He had possessed had the dress sense of a Hell Hound and Satan had always prided Himself on looking presentable.  Just because He happened to live in a cesspool of filth and depravity did not mean that He should demean the title of Prince of Darkness by looking scruffy.
As Satan continued to survey His internal surroundings He was becoming ever more despondent.  It was not looking good; dirt encrusted nails, shabby clothes…
And what was that smell?
He sniffed the air and immediately wrinkled His nose.  He felt something prickly and felt His upper lip to investigate.  It was a moustache, and it was connected to a beard.  Correction, it was a highly unkempt moustache that was attached to an even more unkempt beard.  Satan looked down to see a tangled matt of brown hair protruding from under His line of vision and…
No!
---
While all this was going on Gerald had wasted no time in implementing Phase Two of his nefarious scheme.  He had called a press conference and invited all the movers and shakers from the world of Hellish Affairs, as well as the media and anyone else he felt should bear witness to his rise to power.  Azrael and Lillith were there of course, mainly to see if Gerald had the Hells Bells to pull such a scheme off.  They had acquired themselves seats right at the back of the conference room and were watching with mild interest.
'Do you think it'll work?' asked Azrael, as members of the press filed in and took their seats.
'Don't care,' said Lillith.  'It doesn't matter who runs this place so long as I get my souls.'
'Ah yes, how is the Army coming?'
'Pretty well,' replied Lillith with more interest.  'Getting some good numbers now.  You wouldn't believe how many people out there actually want to be vampires.'
'Mortals,' said Azrael in the same tones that someone would use to dismiss a child's errant behaviour with the word kids.
'Tell me about it,' nodded Lillith.  'Of course by the time they realise what a bloody mistake they've made, no pun intended, it's far too late and who am I to try and put them off?'
'Good point…' began Azrael but he was interrupted by Gerald's sweeping arrival into the conference room.  There was a ripple of murmured conversation from the gathered press officials that died away as Gerald stepped up to the large and foreboding podium.  He had with him several sheets of paper that Lillith instantly recognised as a speech.  She sighed heavily, leaned back against the wall and folded her arms across her chest.
'He's going to be ages,' she complained.  'I left someone on the Draining Board and I don't want them completely dry by the time I get back, they're no fun that way,' she added with a wicked glint in her eye.
But Gerald was not about to let this moment slip by without enjoying every single self-important moment.  This was where he assumed Absolute Power; he had taken care of everything.  He had heard long ago that power can corrupt but Absolute Power would corrupt absolutely, he certainly hoped so.
'Ladies and gentlemen,' he said smarmily, addressing the room as a whole.  'Thank you ever so much for attending and on such short notice as well.  I'm sure we all have things to be getting on with.'
'You could say that,' whispered Lillith to Azrael.
'But I assure you,' continued Gerald.  'That I have called you all here for a very good reason, a very good reason indeed.'  He cleared his throat and shuffled his papers in the way that newsreaders do to seem busy and important and then he placed his hands on either side of the podium top with a little more flourish than was necessary.
'I have called you all here to inform you of a change, a change in management.'  This statement sent puzzled looks and hushed fragments of conversations coursing round the room, except for Azrael and Lillith who just wanted Gerald to get on with it.  As the volume grew somewhat Gerald held up his hand and motioned for quiet.  He waited until every pair of eyes in the room was back on him, apart from Lillith's, who was fidgeting in her seat, desperate to get back to her dinner.
'As some of you may or may not have been aware, our Lord and Master, The Crowned Prince of Evil Satan has not been well for some time.'  The murmurs started up again, but louder this time.  Gerald allowed himself an internal pat on the back; he knew that no one would dare speak up and say that they had no idea Satan was unwell, they would not risk looking uninformed in front of their peers and rivals.  Azrael and Lillith of course knew this to be a complete lie but they had to admit they were mildly impressed; it looked as if Gerald was going to pull it off.
Before anyone had plucked up enough courage to ask a question out loud Gerald pressed on.
'Now I know this news may come as a shock to some of you but let me assure you all that everything is well in hand and our beloved Sovereign is being well taken care of.'  If anyone had looked closer they would have noticed Gerald gripping the top of the podium quite hard indeed.  He obviously did not like referring to Satan in such flattering terms but he knew it to be a necessary evil.  At that moment an uncertain hand was raised by a demon three rows back from the front.
'Yes?'  said Gerald invitingly.
'Err…yeah…I was just wondering who's going to be in charge while His Infernal Majesty is away?'
'An excellent question,' replied Gerald.  Finally, the moment he had been waiting for.  'I have here,' he said, brandishing a very official looking document, 'a temporary contract signed by Satan Himself proclaiming that I, Gerald Lickspittle shall rule in his stead until such time as He sees fit to return.'
A mixed atmosphere filled the room, consisting of quiet awe sprinkled with mild suspicion, held by those with more backbone than the others, but no one questioned what Gerald had just said, and even if they demanded to look at the temporary contract that Gerald had held aloft they would not have been able to tell the difference between Satan's actual signature and the expert forgery that Gerald had spent months perfecting.  He smiled to himself as he left the podium, pleased with a fine piece of pulling the wool over a lot of people's eyes.  I have, he thought o himself, pulled the whole sheep.
Gerald stepped off the stage and headed towards the back of the room where he noticed Azrael and Lillith getting up to leave.
'Oh hello you two, I didn't expect to see you here.'
'Yeah, fascinating, bye,' mumbled Lillith, as she half sprinted out of the door.
'What's her problem?' asked Gerald, thumbing the direction of where Lillith was up until a few seconds previous.
'It's dinnertime,' replied Azrael.
'Ah,' nodded Gerald.  'So?  What did you think?'
'Well, you really got into to it didn't you?' admitted Azrael.
'This is it my boy, my Finest Hour.'
'Well I hope for your sake it lasts longer than an hour,' and with that Azrael turned and left.
My boy?
Honestly.
---
Satan was mortified, speechless.  Well, not speechless.  He always seemed to have something to say about everything, and He certainly had a lot to say about what He was now seeing.
'How could this be?  What will I do?  Who have I possessed?'  Unfortunately the question to answer ratio was stacked very heavily in favour of the questions and it did not look like any answers were going to be coming round the mountain any time soon.  Upon discovering His collection of rank facial hair He had taken in the rest of the human vessel that He was currently squatting in and He had found something far worse than a thousand lice infested beards.  He seemed to be sitting in some sort of wooden cart and His lower half was obscured by a filthy old blanket, which when He removed to inspect the rest of His new body is when He made the heart stopping discovery.
He had no legs!
Well, that was not strictly true, He did have legs but they stopped rather abruptly at the knee and His grimy trousers were tied up with bits of twine.  He decided not to look for too long because it was far too depressing and the smell that erupted from underneath the blanket was the same smell that had been troubling Him since He woke up.  It was overpowering to say the least, and this was a severe understatement.  It felt as if He had taken His entire nasal system and left it overnight in a bucket of battery acid.  Needless to say it was not pleasant.
After the initial shock of discovering that He was drastically lacking in the leg department Satan decided that it was time to find out what the poor wretch He was living in looked like.  He took hold of the pavement and dragged Himself along a few yards.  Moving was easier than He expected but He now knew why this mans fingernails were so embedded with dirt and grit.  He manoeuvred Himself out of the alleyway and into what looked like a high street.  As soon as He emerged from between the two buildings people began crossing the road to avoid Him and especially His smell.  People pretended not to notice Him and this was very strange for Satan, as He was more than used to making His presence felt wherever He went.  He lurched along the pavement, watching people step around Him and generally try to be as far away from Him as possible, as He looked for a reflective surface to show Him His new face.  He did not have to go far before He came across a furniture shop that had a display of mirrors in the front window.  He edged closer to the shop front until He was able to get a good view of Himself.
The sight that met His eyes was quite possible the most pathetic thing He had ever seen, and being the Almighty Ruler of the Dominion of Hell he had seen some pretty pathetic things in His time.  The thing that was staring back at Him was, for want of a better word, human and the wild and untamed facial growth that must have been home to at least several species of parasite indicated that it was male.  Satan sat back down in His dishevelled little cart and thought the situation through.  Gerald really had done his homework; he had picked just the right kind of person to slow Him down.  The little maggot must have been planning this for weeks, months even.  He had just started to revel in the thoughts of what He would do to Gerald if He ever got back to Hell when the owner of the furniture shop swung open the door and glowered down at Him.
'Hey you!' barked the shop owner in a more than disdainful tone.  'What do you think you're doing?  Be off with you before I call the police!'
Satan blinked, dumbfounded.  No one had ever spoke to Him like that before, no one.
'Are you addressing Me you foul, worthless mortal?  Hold your tongue before I…before I…'
'Before you what you loony?' sneered the shop owner.
Damn!
Of course, He was unable to do anything to prove that He was Satan, Dark Prince of the Underworld, which was a shame because this impudent piece of mortal filth was really asking for it.
'Believe Me My small, insignificant human whelp, were I myself I would smite your sorry carcass off the face of this planet.'  The shop owner stared for just a fraction of a second, taking in what this smelly, decrepit nomad had just said to him and when he was confident that it was an empty threat he got even angrier.
'Look you, just get out of here and don't come back, I don't want any trouble.'
'Oh I assure you if I had My powers I would inflict more trouble on you than you ever thought imaginable.'  The fact that this legless wino was so articulate and threatening him with such ferocity was unnerving the shop owner so he decided to take matters into his own hands.  He took hold of Satan's cart and pushed Him down the street.
'Why you insolent piece of excrement!' roared Satan as He wheeled down the street, 'How dare you manhandle the Lord of All that is Evil!  I swear I shall have My vengeance upon you if it takes a thousand lifetimes!'
Bang!
He came to an abrupt stop when He hit a brick wall and the jolt forced Him to stop spewing His frantic threats.  He leaned against the wall and attempted to gather His thoughts, not an easy task He had to admit.  It was then that He noticed something nagging at Him, a desire of some kind but an unfamiliar one.  He felt it within Him but had no idea what it was or how to appease it and as He was thinking this a man walked by and tossed a coin into His lap.
- January 2003
- To be concluded...