Johnny the Wonder Muggle (Part 1 of 2)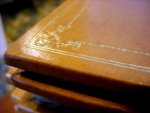 Mon, 19 Jan 2015
Johnny sat, cross-legged in front of the mysterious object.  He stared intently at the squat, glass-fronted cube with strange buttons and a long, odd tail.  Many would find this bizarre device daunting and possibly even a little frightening, but not Johnny, he knew exactly what he was doing and was cool as a cucumber.  He reached out, hand as steady as a rock, and pressed one of the buttons firmly and confidently.  The air around him changed slightly, becoming tinged with an almost intangible charge; the device flickered into life and before his very eyes Johnny saw images dancing and cavorting in crystal clarity.  He sat back in a comfortable position and settled down for an evening in front of the television.
Harry cleaned the excess ink from the end of his quill and screwed the lid back on his inkbottle.  He had barely put these things away before Ron came bounding across the Gryffindor common room with an eager look on his face.
'Is it ready yet?  Is it ready yet?' asked Ron excitedly, hopping impatiently from one foot to another.  Harry smiled and picked up the parchment he had just finished writing on.
'I've just finished it,' he said, waving it slightly.  'I just have to make copies.'  Ron beamed at Harry and sat down next to him, trying to catch a glimpse of what was written on the parchment.
'They're really cool,' exclaimed Ron.  'I always look forward to reading them.'
'Thank you,' said Harry.  'Do you want to do the spell?  Or should I?'  Ron looked slightly taken aback.
'Can I?' he asked, almost unbelievingly.
'Sure, why not?' said Harry, pushing the parchment towards Ron, who looked as if he had just been bestowed with the greatest honour on earth.
'Wow, thanks,' said Ron appreciatively.  'I hope I get it right this time, last time I tried the Copying Spell I couldn't make it stop for ages, remember?'
'Yeah,' laughed Harry.  'I've never seen so many chocolate frogs in all my life.'  Ron smiled sheepishly at the memory and took his wand out of his robes.  He cleared his throat and fixed his gaze upon the piece of parchment that lay before him.  His brow suddenly furrowed and he turned to look at Harry.
'How many do you want?' he asked.  'The usual amount?'
'Yeah, that should do it,' nodded Harry.
'Okay, here goes,' said Ron, turning his attention back to the parchment.  He rolled his sleeves up slightly and aimed his wand.  'Replicatus times five hundred,' he said in a clear voice.  As soon as the words had left Ron's mouth the single piece of parchment became two pieces, then four, then eight, and so on.  Harry and Ron watched as a pile of parchment grew before their eyes, taking care to separate it into two piles when one became too large.  After a few moments the spell ended and where one piece of parchment lay, five hundred were in its place.  Ron had witnessed this many times before but it still impressed him every time.  They began shuffling the parchments into smaller piles and as they were doing it Ron kept looking over at Harry.  He cleared his throat again and continued to shuffle one particular pile that he had already shuffled several times.
'Err… Harry?' he said, nervously.
'Yeah?' said Harry.
'Could I ask a favour?'
'Sure, what?'
'Could you…sign my copy this time?'  As soon as he had said this, Ron quickly turned bright scarlet and resumed shuffling the same pile of parchment.  Harry looked at Ron and smiled widely at him.
'Of course, if you'd like,' said Harry, taking his quill and inkbottle back out of his bag.  He pulled the top sheet of parchment off one of the piles and scribbled his signature at the bottom.  He put his quill in his inkbottle while he rolled up the parchment and handed it to Ron.  'There you go,' he said, taking his quill out of his inkbottle and putting them both back in his bag.
'Thanks,' said Ron, still remaining slightly crimson.  Harry smiled again and stood up, collecting all the parchment and putting them in his bag.
'You coming?' he asked, as he shouldered his bag.
'Where?' asked Ron, whose skin tone was now back to normal.
'The Owlery, I need to send some copies out.'
'Okay, cool.'  Harry and Ron crossed the common room and were soon in front of the Fat Lady, who greeted them with a warm smile.
'Good afternoon boys,' she said graciously.  'Was that another one of your delightful stories I saw you working on, Harry?'
'Sure was,' smiled Harry.  'Would you like a copy?'  The Fat Lady beamed at the pair of them.
'That would be wonderful, thank you.'
'No problem,' said Harry, taking his bag off his shoulder.  He fished out a copy and handed it to the Fat Lady, who took it gratefully.
'Thank you Harry, I do so look forward to reading your little stories.'
'I'm glad you like them,' said Harry.  'Balderdash.'  The portrait swung open and Harry and Ron stepped through into the corridor.  They walked from corridor to corridor, talking about this and that, and as they were passing the library they ran into Hermione, who was unsurprisingly laden with books.
'Hello you two,' she said, struggling under the weight of the numerous leather bound tomes she had about her person.  'Where are you off to?'
'The Owlery,' said Ron.  'Harry's posting copies of his new story.'
'Oh right,' said Hermione, shifting various books from one arm to the other.  'How are they coming?'
'Fine, thanks,' said Harry.  'Well, seeing as we all have Potions next, do you want to tag along?'
'Okay,' said Hermione.  'Care to help me with this lot?'  She nodded towards the heavy books that were becoming an increasing strain.  Ron shrugged and took a couple from under her left arm and Harry from the right.  Feeling much lighter, Hermione's mood seemed to improve, and she smiled at them both.  'Thanks, shall we then?'
They continued on to the Owlery and when they arrived Harry was greeted by the cheerful chirping of Hedwig, who flew down from her perch and landed on his shoulder, nipping affectionately at his ear.  Ron was greeted with the insane chattering of Pigwidgeon who hopped madly up and down on his perch before zooming down and flying rapidly around Ron's head.
'Shut up, you daft bird,' said Ron, catching Pigwidgeon in mid zoom.  He continued to chirrup manically in Ron's hand while Harry took out a couple of sheets of parchment from his bag.
'So, who are you sending copies to?' asked Hermione.
'Sirius and Mr and Mrs Weasley,' replied Harry.
'You are?' asked Ron, looking around quickly.
'Yeah, apparently Ginny sent them a copy of my last story and they really liked it, especially your Dad.'
'That figures,' smiled Ron.  'You know Dad.'
'Yeah, and this means I need to borrow Pig, is that alright?'
'Sure,' said Ron, bringing Pigwidgeon over to Harry.  It took a few attempts to secure the parchment to Pigwidgeon's leg, seeing as he would not keep still, but after a severe telling off from Ron he quietened down a bit.  Once it was firmly in place Ron took Pigwidgeon over to the window and told him to take the parchment to The Burrow.  When Pigwidgeon had disappeared from view, Harry tied another copy of his story to Hedwig's leg, who put up much less of a fight than Ron's owl.  He took her over to the window and told her to take the parchment to Sirius.  She clicked her beak and took off from the windowsill, flying off over the horizon.
'We'd better hurry,' said Hermione.  'We don't want to be late for Potions.'
'Yeah, come on,' said Ron.  'We don't want to give Snape anymore reasons to take points from Gryffindor.'  Harry closed his bag; slung it over his shoulder and they left the Owlery, their destination the dungeons.
When they arrived for class people were already filing into the dungeons, so they joined the back of the line with Dean Thomas and Seamus Finnigan.  As soon as they saw Harry they had only one question on their minds, and they both turned excitedly to face him.
'Hi Harry,' said Dean.  'Any news on your latest story?'
'I finished it this morning,' said Harry.
'Cool,' said Dean and Seamus in unison.  'When can we get one?' added Seamus.
'I'll give you one in class,' said Harry.
'Okay, great,' smiled Seamus.  Professor Snape was already at his desk when they entered the classroom and as usual he looked as displeased as ever.  His cold, black eyes surveyed the line of pupils making their way to their respective desks.  A small murmur of chatter rippled across the desks, as people were finishing off their conversations.
'Alright that will do,' said Snape, as he stood up and placed his hands on the desk.  'Prepare your cauldrons while I go and fetch the ingredients.'  He began making his way across the room to his private store and before he disappeared out of sight he turned once again to face the class.  'And no talking,' he added.
As soon as Snape was out of sight several muffled conversations started up again, including Seamus and Dean trying to get Harry's attention.
'Harry,' hissed Dean.  'Harry, how about that story?'  Harry turned in his chair and nodded silently.  He opened his bag and removed two copies, and just as he was leaning over to give them to Seamus and Dean, Professor Snape re-entered the room.  He instantly caught sight of Harry and his selfish little eyes narrowed into a malicious glare.  He strode purposefully across the room and snatched the pieces of parchment out of Harry's hand before Harry had a chance to stuff them back in his bag.
'What have we here, Potter?' he sneered, waving the parchment to and fro.
'Err…' mumbled Harry.  Snape's lips curled into a cruel, malevolent smile and he held the parchment in both hands to read the title.