The Machines of Power - Part 6 of 9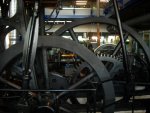 Tue, 30 Sep 2014
'As I was saying, Jimmy,' continued Juniper.'That space-age stuff is all fine and good for the rest of the building but me, I like to rest my backside in a bit of history, you know?'James nodded appreciatively.If he could have had an office this well furnished he would jump at the chance, but as his eyes took in the grandness of it all he cringed mentally at what a room like this must have cost to put together.
'So you were allowed to decorate your office however you wanted?' asked James.He felt a bit stupid for what instantly sounded like an obvious question but he was finding it difficult to keep his thoughts in a proper order.Things had been and were still so unexpected that he felt constantly off-guard.
'Damn right I was,' said Juniper stoutly.'I told 'em, do up the rest of the building however you see fit, but my office is my office and I'll have it how I like it, thank you very much.'
'Who's "them" though?' asked James, grasping frantically at anything that could help to explain this bizarre situation.
'Ah, that's the very nub of it all, ain't it?' grinned Juniper.
'Is it?'
'Yes Jimmy.It is.For you see, "they" are the reason we're here today.'
'But who are they?' asked James, feeling like he was being run around in circles again.'I'm sorry Juniper but you said all was going to become clear, so can you please start making sense?'
'I'm sorry Jimmy, it's just hard, you see.We've never really been in this position before.'
'What position?'
'Having to explain what we do to an outsider.'James felt a little hurt at being branded an "outsider" but he quickly realised that he was just that.He was clearly outside the know with regards to whatever was going on.
'So what do you do?' pressed James, as he shifted a little closer to the edge of his seat.Juniper looked at his nephew for a moment and sighed.He knew it had been unfair to keep James waiting this long for the truth, teasing him with the briefest snippets of information.He also knew that they needed his help, desperately so, and he had to be told.
'Truthfully Jimmy, in a nutshell, we run the place.'A moment of silence followed.
'What, this place?' asked James, indicating the building they were in.
'No Jimmy.The place.Everything.'
'Jimmy, you're standing in the unofficial command centre of the British government.'
James fell out of his armchair and fainted clean away.
'Shit!' said Juniper.
---
Dreaming.
Yes, that must be it.Dreaming.
James thought he was dreaming, and then the thought was gone.
Yes, his name was James.
No, not James.Jimmy.
James came to.
'You alright, Jimmy?' said a familiar voice.
'…Err…,' replied James, groggily.
'Here, let me help you up.'James felt hands reach under his arms and hoist him into a sitting position.He was rotated slightly and as he leaned back he could feel something hard taking his weight.
Oh yes, James thought automatically, the desk.
Juniper's desk.
Juniper!
James stiffened and sat up, alert.In one terrible moment of clarity everything came crashing back to him.Where he was; who he was with; what he had just been told.
What had he just been told?
'Drink this,' said the familiar voice again.A heavy-bottomed tumbler was thrust into James' hand.He heard the clink of ice on glass as he distinctively raised the tumbler to his lips.Before he tasted anything James caught the unmistakable sent of whiskey emanating from the tumbler.
It smelled like good whiskey.
'I can't,' mumbled James.'I drove here.'
'Don't worry about that,' said the voice that James now could not ignore was his uncle Juniper's.'You'll be sober enough by the time you're ready to leave.Drink.You'll feel better.'James took a sip and felt the fire travel down his throat.
Very good whiskey, if James was any judge.
'Come on Jimmy; let's have you back in the chair, shall we?Can't talk business on the floor.'James looked around him and felt rather foolish.He wondered for the tiniest of seconds why he was sitting on the floor when he remembered that too.
I fainted, he thought with a growing sense of embarrassment.I actually fainted!The last time James could remember passing out was that one time he went for a blood test and forgot to eat something beforehand.Other than that, he wasn't a fainter.
But what Juniper had said…
'Hang on a minute!' spluttered James as the words his uncle had said to him charged once again to the forefront of his mind.'Where did you say we were?'
'I said Jimmy, and try and keep your wits about you this time, that we're sat in the unofficial control centre of the British government.'James would look back on this conversation in later years and remember with some degree of pride that he did not faint again.Nor did he burst out laughing, vomit or wet himself.
Instead, James sat there in complete and total silence.
He felt the tumbler slip a little in his slackened grip and he squeezed the cold glass to keep from dropping his drink.It tasted like expensive whiskey and the tumbler was probably worth something, too.James tried to speak but no words left his lips.His throat had gone noticeably dry.Looking into the warm depths of his drink he drained the rest of the whiskey in one gulp.
What the hell, he thought; I get the feeling I might need a few more of these.After a few seconds James tried speaking again.
'I…I…beg your pardon.'
'This Jimmy,' said Juniper, as he rose from his chair and walked over to his finely stocked drinks cabinet.'Is where the country is run from.Everything from working out the budget to making sure your bins are collected on time.'Juniper returned to his desk with a cut crystal decanter bearing what James assumed was more of the whiskey he had just drank.James accepted another glass and took a generous sip.He kept his breathing as steady as he could as he surveyed his uncle for any signs that this might all be one big joke.His eyes took in the corners of the room to see if he could make out anyone hiding, ready to spring out and reveal an elaborate birthday prank, but there was just him and Juniper, whose face showed no signs of joking whatsoever.
'You're joking?' said James, feeling as if it would be so much better if he were.
'Afraid not Jimmy.This is all true blue.'
'But…how is that possible?'
'Well, I don't want to bore with the details, Jimmy, not when we've got a job to do, but the short version is that it goes back to my days in the military.Not to toot my own horn but I was a good man to have around, still am, if you ask me.'Juniper puffed his chest out proudly and took a swig of whiskey.Not wanting to refuse hospitality, James took another drink as well.'Anyway, my achievements got noticed higher and higher up the ladder and as time went on I became more and more useful.'
'So you assist the Government then?' asked James, attempting to mould this conversation into a form that he could recognise.His question made Juniper chortle.
'No Jimmy.We are the Government.'More silence followed as James' brain tried its best to keep up.It was fighting a losing battle.
'I'm sorry but I still don't understand,' said James, trying his best not to blurt out the one thought that would not leave him alone: that his uncle was stark raving mad.
'Fair enough, Jimmy my boy.It's a lot to take in, I'll grant you.I had trouble myself.Maybe some proof will help ease this thing along, eh?'
'What kind of proof?'
'Come with me.'Juniper swallowed the last mouthful of whiskey in his tumbler and set it firmly down on his desk.James stood up as his uncle rose from his chair and made his way to the door.They were about to leave when Juniper smiled up at him.'You can leave that here.'James looked down and saw that he was still holding his tumbler.He drank down the last drops of whiskey and clumsily put the tumbler on the desk.
'Sorry,' he said, sheepishly.
Juniper pulled open the door to his office and strode off down the corridor, James following curiously behind him.When they reached the part of the floor where they had come from the lifts Juniper turned left instead of right, so now they were heading to a section of the building that James had not seen.They rounded a corner and came to another set of lifts, identical to the one that they had used to come up from the reception area.Juniper pressed a button and tapped his foot absentmindedly as the digital display rounded off numbers in anticipation of the lift's arrival.
Wait a minute, thought James, as he took a second look at the readout.That can't be right.When James had arrived in the ramshackle car park the building couldn't have been more than four floors, but according to this readout there were more.
A lot more.
James looked at Juniper with a questioning expression and he was just about to speak when a melodious chime signalled the arrival of the lift.The doors slid gracefully open and Juniper walked straight into someone hurrying out of the lift.
'Hello, Grapeshot,' said Juniper, smoothing down his jacket front.The man called Grapeshot looked at James appraisingly.
'And this must be Mister Caplan,' he said smoothly, extending a hand in greeting.'Grapeshot Scoggins.'
'Erm, James Caplan,' said James as he shook Grapeshot's hand.
'Your uncle has told me so much about you,' said Grapeshot, warmly.
'He has?' said James.
'I have?' said Juniper.Grapeshot looked a little flustered for a moment but he quickly recovered.
'Well, he has certainly vouched for you in regards to your skills; I can assure you of that.'
'Oh…That's nice,' said James, who was not quite sure what else to say.
'I was just taking Jimmy downstairs, Grapeshot.Let him see for himself, you know?'James might have imagined it, but he thought he saw Grapeshot's facial muscles twitch ever so slightly after Juniper had spoken.It was gone in an instant, if it was ever there in the first place, and Grapeshot was all smiles again.
'Calm down, Grapeshot,' said Juniper, as all three men stepped into the lift.'It'll get done.We just need to show Jimmy what it's all about first.Make sure he knows what he's dealing with.'
'You mean you haven't told him?' spluttered Grapeshot, his voice rebounding inside the enclosed space of the lift.  'What have you been doing since he arrived?  Chatting about the football?'
'I…' began James, but Juniper cut in.
'Get a hold of yourself, man,' he said, irritably.'I've told Jimmy what we do here, but that's just words, isn't it?He needs to see to really get it, doesn't he?'Grapeshot did not reply at first.Instead he breathed heavily while he steadied himself.
'I'm sorry Juniper, James,' he said, still sounded a little winded.'It's just that this whole thing has been such a mess, and the pressure's on to put it right.'
'And we will,' said Juniper, reassuringly.'Won't we, Jimmy?'James stood there, stunned, for a second.He had not expected to be dragged into this exchange and was, once again, momentarily lost for words.
'I…erm…' was all he could manage.
'That's my boy,' said Juniper heartily.'Like I've told you a hundred times, Grapeshot: Jimmy here can fix damn near anything.Isn't that right, Jimmy?'
'I suppose so,' said James, humbly.'But I'm still unclear as to what specifically you expect me to fix.'Grapeshot gave Juniper a very meaningful look before James went on.'I mean, as long as it's not your computers that have gone on the blink I can probably do something.'
'Relax, Jimmy.Our computers are just fine.'As Juniper said this, the lift slid to a halt and another chime sounded.The doors glided apart and as they did James felt a cool breeze fill the inside of the lift.
'Bloody hell!' said James, his eyes wide and his eyebrows raised.
Stretching out before him was an enormous room lined with desks.On each of these desks, at least the ones that James could see, were slick looking computer monitors, and at each desk sat a busy-looking person.A few of the closer people looked up in the direction of the lift but quickly returned to whatever it was they were doing.The air was cool and comfortable but at the same time filled with the low thrum of seemingly thousands of computers all quietly doing their thing.James said a silent prayer to whomever or whatever might be listening that nothing ever went wrong with these things.He'd hang himself with a lamp cord if he thought he would have to fix even a fraction of these computers.
'This is where it all happens, Jimmy, my boy,' said Juniper proudly, as he and Grapeshot stepped out of the lift and onto the carpet-tiled floor that spread out before them.Juniper looked to where he thought James was and then turned around to see his nephew still standing in the lift.'Come on, Jimmy.Time's a wasting.'
'What…what is this place?' asked James in a slow voice.
'This,' said Grapeshot, crisply.  'Is where we monitor the nation from.  I assume Juniper has told you that much, yes?'
- July 2014
- To be continued...