Unmasked (Part 1 of 3)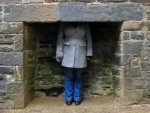 Fri, 10 Mar 2017
It was Sarah's birthday.
Sitting in her kitchen, she leafed through the morning post, sorting out the birthday cards from the bills and junk mail, sipping her first coffee of the day.  She turned her attention to the birthday cards, but this was interrupted by her phone ringing.
It was her mother, Eileen.
Sarah put down her coffee and picked up her phone from the kitchen counter.  Pressing Accept, she sat back and readied herself for the annual Birthday Phone Call.
'Hi, Mom,' she said, brightly.
'Hi, sweetheart.  Happy birthday.'
'Thank you.'  Sarah took another sip of coffee.
'So, what time is the meal tonight?'
'Mom, you've asked me a hundred times.  The table is booked for seven.'
'Seven, that's it.  Don't mind me, I'm just getting old.'
'You'll outlive us all,' said Sarah, chuckling to herself.
'Have you heard from your father?'  Sarah put her coffee down again and rifled through the small pile of cards that awaited her.  Sure enough, there was one with her father's unmistakably precise handwriting on the envelope.
'No, but there's a card here from him.'
Eileen simply said: 'Hmm.'  Sarah's parents had been divorced some years now, and while they appeared to have split up under amicable circumstances – at least as far as Sarah knew – her mother always seemed a little cagey when her father was brought up.
'Mom, what is it?'
'It's nothing, sweetheart.'  Sarah knew her mother better than that.  It wasn't nothing.
'Mom.'
'Have you booked a place for him for tonight?'
'Of course.  I always do.'
'Well, you know your father works nights, sweetheart.'
'I know.  That's why I told him about this a few weeks ago so that he could see about getting a night off.'  Eileen was silent for a moment.
'I just don't want you to be disappointed if he can't make it again.'
'Mom, I'm sure he'll come if he can.'
'I'm sure he will too, sweetheart.  Your father loves you so.  You know that, don't you?'  This struck Sarah as an odd thing to say; of course she knew that her father loved her.  So what if he'd missed the occasional thing because of work?  That seed of a thought now planted in Sarah's mind, she started to tot up the events of her life that her father had missed out on: birthdays, school functions, quite a lot of things the more she thought about it.  She suddenly felt a jolt of anger towards her mother for leading her thoughts this way.
'I know, Mom,' she said, flatly.  'I'll see you tonight.  I have to get ready for work.'
'Okay, sweetheart.  I'll see you at seven.  I love you.'
'I love you, too.'  Sarah hung up the phone and sat in silence for a few moments.  She knew her mother meant well, and there was no ill will towards her father – the ending of their marriage hadn't been like that – but still, Sarah couldn't help feel angry in that moment for the suggestion, whether it was there or not, that her father never tried hard enough to be involved in her life.  Her father, Sam, had been in the Army when she was younger, so that could be forgiven.  He had been away a lot during that time, but he always wrote, and he always made time for his wife and kids when he was home.
When he was home.
After he'd gotten out of the service, though, he'd started working nights.  Doing what, Sarah wasn't that sure.  Something security-related, she believed, but her father never really talked about his work.  A holdover from his Army days, she supposed, when he wasn't allowed to talk about his job.  He'd flat out rejected the suggestion of early retirement, claiming that work was what kept him healthy, and for that Sarah could respect him.  But, as she picked up the birthday card from him she grew apprehensive about what it would say.  A nagging little voice in her head told her that she already knew what it was going to say, but she opened the card all the same.
Sarah sighed.
Sure enough, amongst the well wishes for her birthday was an apology that he wasn't going to be able to make dinner.  Sarah stared at the neat writing, almost willing the words to change and tell her that he was coming, but she knew he wasn't.
'Cheers, Dad,' she said, scornfully, tossing the card on to the kitchen counter.  She looked at her phone and considered calling him, but she stopped herself.  It was 7:45am and her father would be in bed after last night's shift.  Even through her anger she didn't want to wake him up just to tear a strip off him, that didn't seem fair.  So, instead, she settled for going to work in a bad mood.  She could bitch to someone at the office about it.  Not perfect, but it would have to do.
Sarah left her kitchen and went upstairs to finish getting ready for work.
*           *           *
Fortunately, Sarah's bad mood had subsided a little by the time she got to work, and the newspaper that her co-worker Lucy slapped on her desk as she was settling in took her thoughts in a completely different direction.
'Have you seen this?' said Lucy, pointing at the headline of the morning local paper.  Sarah looked at it with eyebrows raised quizzically.  It certainly was different to the usual fare that tended to grace the front page.  The headline ran:
VIGILANTE HERO ON OUR STREETS?
Sarah looked up incredulously at Lucy.  She read a few lines of the article.  Apparently, a woman was saved from being mugged by some masked stranger the other night.  Sarah could only read a few lines before she started laughing.
'What's so funny?' asked Lucy.
Sarah snorted.
'You don't actually believe this stuff, do you?'
'Why not?'
'Because!  Come on, vigilantes in our town?  We're hardly Gotham City, you know?'
'I'm just glad that someone out there is brave enough to take a stand.'  Lucy sounded almost proud of this person.
Sarah smiled.
'I'm sure the Police won't share your sense of admiration.'
'If you ask me, they should be grateful.  This masked man left the scumbag for the Police to pick up.  That's one less threat roaming our streets.'
'Until the Police have to let him go.'
'Not if he confesses,' said Lucy, sounding like she felt she had scored the winning blow.
'Ever the optimist, aren't you?'
'I just thought it was interesting.  Our sleepy little town has its own Batman.'
Sarah laughed.
'I wouldn't go that far.'  Lucy smiled and turned to walk away.  Sarah waved the newspaper after her.  'Hey, you want this back?'
'No, you keep it,' said Lucy, over her shoulder.  'Call it a birthday present.'
'Cheers,' said Sarah, sarcastically.  'Love you, too.'  Lucy turned and blew a kiss theatrically at Sarah before returning to her desk.  Sarah read the rest of the article about the apparent vigilante out of curiosity and then put the newspaper away so that she could get on with some work.
*           *           *
Later that evening, Sarah arrived at her favourite restaurant to find her family waiting for her.  As she accepted birthday greetings from those around her she scanned the assembled faces for her father's, even though she knew she wouldn't find it.  It would have made a really nice birthday surprise if he managed to pull a visit off after all.
No such luck, it seemed.
As their party was seated for its meal, Sarah noticed the empty chair that could have contained her father.  Almost all of the party knew the score and didn't mention it.  Almost all.  God love her, but Sarah's Nan, Lily, could always be counted on to voice what was on everyone's mind but no one really wanted said.
'So, where's your Dad, then?' she said, suspiciously.  'Not here again?'
Eileen cut in quickly.
'Mother.'  The tone was exasperated.  It said please, not here, not now.
'What?'  Lily looked around her, wondering what she'd said.
'Nan, Dad works nights.  You know that.'
Lily sniffed.
'That's as maybe, but you'd think a man would make time for his daughter's birthday.'  She looked at Eileen before continuing.  'Your father never…'
'Yes, okay Mother, we get it.'  Eileen sounded genuinely annoyed.  Sarah gave her hand a reassuring little squeeze and a look that said it was okay.
'Excuse me?'
It was one of the waiting staff.
'Yes?' said Eileen, trying not to sound as ruffled as she felt.
'Is this the Kempthorne party?'
'Yes, it is.'
The waiter had something in his hands.  It was a small box wrapped in a red ribbon.
'May I ask which one of you is Sarah?'
'I am,' said Sarah, turning in her chair to properly look at the waiter.
'This was left for you at the bar earlier today.'  He handed Sarah the small box, nodded to the assembled party and went about his business.  Sarah turned the box over in her hands.
'What's that you've got there?' asked Lily.
'It's a present, I think.'
'Secret admirer, eh sis?' said Gary, Sarah's brother, knowingly.
Sarah subjected Gary to one of her looks that she had perfected over the years.
'Hardly.  It's from Dad.  See?'  Sarah showed everyone at the table the label.  It bore the same unmistakable script that the birthday card from her father had that morning.
'Open it then, sweetheart,' said Eileen.  Sarah undid the bow and removed the lid from the box.
'Oh my God!' she said, clapping a hand over her mouth in surprise.  Everyone at the table tried to get a look at what was in the box.
'What is it?' asked Gary.
'It's…my necklace,' said Sarah, quietly.
'What?' said Lily.  Her hearing wasn't great these days, and she hated feeling like she was missing out on anything.
'It's the necklace that Dad bought me for my sixteenth birthday,' said Sarah, more loudly.  She turned the box around and showed everyone the birthstone pendant that hung from a simple silver chain.  In an instant Sarah was catapulted back through the years to her sixteenth birthday.  She was going through a hippie cum classic rock phase at the time, and the birthstone necklace had been just what she'd wanted.  She had seen it in the window of the local jewellers and she remembered how much she raved to her parents about it.  Tears stung her eyes and a lump formed in her throat as she looked at the simple item, so commonplace and yet so meaningful.  She looked up at her family with misty eyes.
'Oh sweetheart,' said Eileen, kindly.  'Your favourite necklace.  I thought you'd lost it.'
'I had,' said Sarah, thickly, choking back the tears.  'I thought I'd left it at uni, but I must have lost it at home.'
It was absolutely perfect.  It even had the small chip in the silver frame where the birthstone sat from when she dropped it at a party and somebody stepped on it.
Perfect.
Sarah took the necklace out of the box and underneath it was a note.  In her father's neat hand it read:
Dear Sarah,
I was in the attic the other day and look what I found.
I hope it will do as a birthday present.  I'm sorry again
for missing dinner.
I love you,
Dad
xxx
Just like that all of Sarah's anger towards her father for missing another birthday was gone.  She smiled widely as she put the necklace on, feeling a part of her past reattach itself to her.  She looked over at Eileen, who had a strange little smile on her face.
'What?' asked Sarah.
'Your father,' she said.  'I swear he's full of surprises.'
'Yeah.'  In that moment Sarah felt happier than she had in a long time.
Thanks, Dad, she thought to herself.
I love you, too.
*           *           *
Riding the high that her father's present had created in her, Sarah thoroughly enjoyed the rest of her birthday meal.  Even Lily seemed content that the gift was a suitable gesture in Sam's absence, and even if she thought otherwise she had the good grace to keep it to herself.
The meal over and the bill paid, Sarah was saying goodbye to her family.
'Are you sure I can't drop you home?' said Eileen.
'I'm okay, Mom,' said Sarah, as she put her coat on.  'The taxi rank is just around the corner.  I'll be fine.'
'If you're sure, but please send me a text to let me know that you get home alright.'
Sarah smiled.
'I will.'
Everyone said their final goodbyes and left the restaurant.  Sarah headed off down the street towards the nearby taxi rank.  She reached up and touched the familiar shape of her old necklace that hung proudly around her neck.
It had turned out to be a good day.
That thought had barely entered Sarah's head when she felt a sudden tug at her coat.  She tensed and her eyes widened in shock and fear as she realised she was being pulled by someone.  The touch was rough and unfriendly as she was manhandled into the darkness between two buildings.  She breathed in, ready to scream for help, but a hand was clasped painfully over her mouth, and a pair of eyes came into view, angry and piercing.  Sarah's own eyes continued to bug out in terror as comprehension dawned.
She was being mugged.
'Hand over whatever you've got, and make it quick!' hissed a voice from somewhere inside the partially concealed face that was frighteningly close to Sarah's.  Her legs felt weak and unstable, her brow prickled with the sweat of fear, and her stomach lurched unpleasantly as the desperate nature of her predicament played itself out inside her head.  Her assailant jostled her roughly.
'Now!' he demanded.  Sarah could feel tears sting her eyes, but she was too scared to close them, too afraid at what this man might do to her.  The smell of his hand assaulted her nostrils as she fought for breath, which was fast and urgent.  Sarah was terrified; words like "assault", "rape" and even "murder" flashed in her mind, sending her fear skyrocketing.  Her attacker began rifling savagely in her handbag, when…
He was suddenly gone.
Sarah felt a violent jerk as the man disappeared into the night-time gloom.  She felt a moment's stinging pain in her neck as his closed fist came away with her necklace clasped inside it.  The chain broke and the pendant skittered across the ground.  Suddenly free of her assailant's grasp Sarah looked about wildly, scanning the immediate vicinity for any sign of him, all the while trying to steady her breathing and fight down the urge to vomit.  Her pulse thudded heavily in her ears, but this was sharply cut off by a voice in the darkness.
'No, please!'
It was her mugger's voice.
It sounded afraid.
Then there came a series of noises that Sarah didn't have to see to comprehend.  It was the sound of flesh hitting flesh.  More accurately, it was the sound of fists hitting flesh.  Three quick strikes and a noise that sounded like a body hitting the floor rang in Sarah's ears.  Breathing fast and shallow, Sarah fumbled in her pocket for her phone.  Her palms were slick with sweat as she activated the phone's torch function, and her stomach gave another sickening jolt as the alleyway was instantly bathed in light.  Lying motionless on the floor was her attacker, but there was no sign of who had caused him to be so.  Sarah's hands shook as she quickly scanned the area with her phone light, the pool of illumination quivering as she fought to maintain control of her body.
Nothing.
Sarah bent double and vomited on to the concrete.  Her retching drowned out the sound of a fire escape ladder groaning, and when she stood and wiped her mouth it was then that she screamed for help.
*           *           *