Unmasked (Part 3 of 3)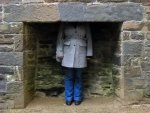 Fri, 10 Mar 2017
Sarah withdrew her hand as the thought hit her.  Surely not.  A secret door?  That kind of thing only happened in films.  Sarah's rational side was working overtime to convince her that she was imagining things, but the physical sensation of the draught could not be ignored.  The rest of the attic was somewhat stuffy, which is why the change in the feel of the air was so noticeable.
She stood there for a moment, not knowing what to do.  She thought about calling down to her mother to ask her about it, but as she stared at the wall, the invisible shape of a door pressing itself into the bricks, she decided against it.  If she was indeed imagining things the last thing she wanted was to have her mother worrying over her.
But if she wasn't imagining things?
A swell of anticipation filled her up as Sarah reached out to the wall again.  This time she wasn't feeling for a draught, but instead a handle, a knob, a loose brick, anything.  Mentally calling herself crazy, Sarah ran her fingertips across the rough bricks and mortar, torn between wanting and not wanting something to be there.
Then she felt it.
One of the bricks had a chunk of mortar at its side that stuck out more than it should.  A casual glance would never reveal it, but as Sarah's fingers felt inside she touched something metallic.  She quickly withdrew her hand and gasped a little.  That prickling threat of perspiration had become full on sweat, while her heart raced.  What had she found?
Sarah stood for a moment or two, biting her lip nervously and holding her hands close to her chest.  Every ounce of her was now screaming for her to try the nook again and see if there really was something there, but at the same time she fretted over what she might find if there was indeed something beyond the wall.  She looked around the attic and suddenly that claustrophobic feeling she had had when she first came up started to make more sense.  Her father's house was definitely bigger than this space suggested, by almost half if she was right.  Now, looking at the seemingly nondescript wall she grew bolder in her conviction that there was more here than met the eye.  Sarah took another steadying breath.
'Here we go.'
She reached out gingerly and felt back inside the nook.  Again, there was the feeling of smooth metal after the roughness of the brickwork.  Letting out her breath, she pulled.
Somewhere inside the wall there was a click.
Testing for movement, Sarah's eyes widened in shock as a section of the wall came towards her as she pulled.
It was definitely a door.
And there, beyond the door...
The rest of her father's attic.
Containing the rest of his life.
'Oh God.'  Sarah steadied herself on the handle that she gripped tightly, as her other hand clapped over her mouth.  In front of her was a small room dominated by a bank of computer screens, a keyboard and office chair at the centre.  Next to the desk was a tall steel locker, which was closed.  Trying to comprehend what it all could mean, Sarah's eye was drawn back to the desk.  Next to the keyboard was a picture frame.  The photograph inside was of all of them: her parents, Sarah, and her brother.  The scalpel of memory cut straight through to the seaside holiday when that particular picture was taken.  Sarah's eyes welled up as she looked back in time at a world almost forgotten.  She let go of the door handle and entered the small room.  She approached the desk and picked up the photograph with trembling hands.  A tear streaked down her face, as she held the frame in her hand.
But the frame felt odd somehow.  It was wooden, but her fingertips were resting on paper.  Frowning slightly, despite the tears, she turned the frame over to reveal an envelope taped to the back of it.  There, in her father's careful and precise hand, was written:
To my family
Sarah felt her breath catch in her throat.  Her heart thudded audibly in her ears.  Everything else in the world had gone away; she was alone with her father.  Carefully, so as not to damage it, she removed the envelope from the photo frame.  Setting the photograph back on the desk with one more nostalgic look, Sarah turned her attention back to the envelope.  She bit her lip and thought for a moment.  Part of her felt she should take it downstairs and open it with her mother and brother, but something was stopping her.  It felt a little selfish, but she wanted this moment – whatever it was – to be her own.  Everyone else would find out eventually; a hidden room in her father's attic was not something she could easily conceal, seeing as the property was to be sold, but for now Sarah wanted to find out on her own.
Reaching back, she swivelled the chair around and sat down on it, all the while staring at the envelope.  She took a grip on the paper, ready to open it, but, looking up, she stared out of the door that a few moments ago hadn't been there.  If someone came up to check on her they would see the room instantly.  Then everyone would want to come up and see what it was all about.  Sarah still didn't know what was going on, and she felt a sudden pang of defensiveness towards her father.  If this room had been hidden there must have been a reason.  Maybe the envelope contained instructions not to tell anyone.  That thought spurred Sarah on, and, rising from the chair, she pulled the door to.  Sitting back down, she carefully sliced open the envelope with her thumbnail.
Moving with reverent care, Sarah took out a piece of paper from the envelope.  Recognising instantly the same handwriting – her father's – she unfolded the letter and began to read:
Family,
If you're reading this then I'm gone, and you've found my room.
if you've already looked in the locker then hopefully you'll understand
why I did what I had to do.  If you haven't, then please know that I did
what I did because no else could, or least not as well.
I only ever wanted to keep you safe.  Please remember that.  If you
remember, or care to remember, nothing else about me, please know that
I did it all for you.
For all of you.
All my love,
Goodbye
Sam (Dad)
Confused and hurting, Sarah let fresh tears come.  They filled her eyes and splashed on to her cheeks.  That was so like her father, always thinking of others, always thinking of his family.  In that moment it didn't matter how much he had missed.  This letter was proof that he always thought about them, always cared for them.
The letter and whatever was in the locker.
Sarah's grief was quickly accompanied by pronounced curiosity.  She looked up at the locker and instantly she wanted to know what was inside it.  Standing quickly, she moved in front of it and tried the handle.
It was unlocked.
Sarah stumbled backwards a step at the sight that met her eyes when the locker door was open.
'No,' she said, quietly to herself.  'It can't be.'
On the shelf at the top of the locker was a collection of what looked like photo albums or scrapbooks, but it was what was hanging in the main part of the locker that Sarah could barely believe.  It was a set of clothes.  They were dark in colour and looked padded and sturdy.  There was a pair of strong-looking boots and fierce gauntlets with metallic-looking studs on the knuckles.
There was also a mask.  It was a simple domino mask with whited-out eyeholes, but it told Sarah one thing: there was clearly a lot about her father that she didn't know.  Looking at the clothes and taking in the entire room, Sarah wondered if it all meant what it was pointing to: that her father's "night work" consisted of being a…
Vigilante?
Just like the one in the newspaper.
And the night of her birthday?
Sarah's mind raced as she recalled her attack and how quickly it had been stopped by whomever or whatever had pulled her assailant off of her.  Connections were being made as her heart pounded in her chest.
Dad, was that you?
Tentatively, and with a shaking hand, Sarah reached into the locker to take hold of the mask.  Her fingers brushed something other than fabric: a thin chain.  Moving the mask out of the way, her eyes bulged and her breath caught in her throat.
It was her necklace.
Taking it from the hook and bringing it into the light, Sarah could see that her father had had it fixed and polished.  Again the tears came, and Sarah sat down heavily on the office chair and rocked slowly back and forth, clutching the necklace to her chest.
'Oh, Dad!' she said, quietly, amid the sobs.
It had been him.  Her father had saved her that night.  A strange thought entered Sarah's head that it was almost worth getting mugged to allow him to come to her rescue.
Sarah sat in relative silence for a few moments, crying to herself and holding the necklace tightly.  She had never felt this close to her father before, but at the same time she had not felt his absence more than she did in that moment.  The world spun on as Sarah cried.
When the tears finally subsided Sarah looked back up at the locker through bleary eyes.  Reaching back, she gratefully fastened her necklace around her neck, silently vowing to never take it off again.  She then stood and reached up to the books that lined the top shelf of the locker.  She set them on the desk, opened the first one and drank in the unknown portions of her father's life.  It was all there: his service record; a journal of his thoughts that chronicled his struggle back into civilian life and his eventual decision to take up the role of a masked vigilante; training regimens; newspaper clippings; everything.  The existence of this room replenished all of Sarah's faith in her father, and she instantly forgave every missed birthday party, every school play he couldn't be there for, she forgave it all.  Regardless of the moral argument that always surrounded vigilantism, to Sarah her father was a hero, plain and simple.
Her hero.
Looking at her watch, Sarah realised how long she'd been in the attic.  The time had come to reveal her father's secret, at least to her mother and brother.  She collected the scrapbooks and photo albums from the desk, picked the letter up, and made her way out of her father's room.
'Thank you, Dad,' she said, softly, as she closed the door.  'Thank you.'
Sarah walked downstairs to where Eileen and Gary were sitting.  They stood as she descended the last step, looking curiously at what Sarah had in her arms.
'Sarah, love, what do you have there…oh.'  Eileen looked at the books and then at the necklace around her daughter's neck.  Sarah and Eileen looked at each other and Eileen smiled the smile of a mother.
'So now you know,' she said, still smiling.
'Mom?'  Sarah looked at Eileen incredulously.
'I did tell you that your father was full of surprises.'
Sarah stared at Eileen for a moment more.  She knew?  As if Eileen could read minds she reached out and placed a tender hand on Sarah's shoulder.
'I've always known.'
'Known what?' asked Gary, looking confused.  'What's going on?'  Eileen turned and looked at her son.
'Sit down, Gary.  We've got something to tell you.'
*           *           *