Voice (Part 2 of 5)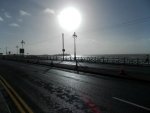 Sun, 10 May 2015
Michael was in a daze the entire journey back to his house. He realised this as he absentmindedly pulled his keys out of his pocket as he reached his front door. He only had a vague memory of getting home: his thoughts had all been about the bizarre conversation that he had sat through on the bench in town.  Praying that it was some kind of mental episode, Michael let himself into his house and closed the door.
Standing in the bathroom, facing the cabinet mirror, Michael looked at his reflection and sighed.  If this is what going mad feels like, he thought, I don't like it.  His clothes were balled up in his laundry hamper, sweaty and unpleasant, and he stood in a towel, contemplating the number of possibilities that could have led to him hearing voices.  Again and again he kept coming back to the assumption, and hope, that it was sample as him working too hard.  The life of a financial investor was a busy one, but he didn't realise that he could have been pushing himself so hard as to start hearing voices.  Michael decided that it might be time to take a holiday, as he hung his towel up and stepped into the shower.
Feeling refreshed, Michael switched off the shower after cleansing himself of the dried sweat that had been clinging to seemingly every part of his body when he had arrived home.  He looked at the clock on his bedroom wall as he dried himself and saw that it was a little over an hour since the voice had last spoken to him.  It had said that it would contact him again in an hour.  Michael hoped that it wouldn't and that he would be able to put the episode in the past forever.
Then the voice spoke again.
'Michael?'
Michael closed his eyes and tried to steady his breathing.
No.  Please.
'Michael?'
Please go away.
'I know you're there, Michael,' said the voice, sounding a little annoyed.  'The connection only works when the other person is awake or conscious.'
Michael frowned in confusion and spoke before he could stop himself.
'What connection?  What are you talking about?'
'Are you home?' asked the voice.
'Yes.  Why?  What's so important that you couldn't tell me earlier?'
Michael took another moment to wonder at the state of his mind, as he engaged with the voice sounding in his head.
'Get yourself a drink, Michael.  I have a very strange tale to tell.'
Michael frowned again.  This was not only scaring him, but it was also starting to get on his nerves.  The strange mixture of fear and annoyance swirled within him, fighting for supremacy.
'Look, I don't know who or what you are or what's going on, but I'm not getting anything until you start making sense!  Why am I hearing voices in my head?'
'Voices?  You've heard more than one?'  The voice in Michael's head sounded worried.
'No, just you, but one's enough, don't you think?'
'Believe me, Michael.  I wouldn't be doing this at all if it weren't necessary.'
'So why are you doing it?  Tell me what's going on!'
'Sit down, Michael.  Please.'
Michael sat at the foot of his bed, still frowning.
'Okay, I'm sat.  Now talk.'
'Right, well, as I said to you before.  I'm you.'
'Bullshit!' spat Michael, angrily.
The voice sighed.
'Do you want me to explain this to you, or not?'
Michael went quiet for a moment.
'I'm sorry, but this is really weird, and to be honest, a little scary.'
'We're all scared, Michael; those of us who are left, anyway.'
'What?  What does that mean?'
'Let me tell my story and all will become clear.'
'It'd better,' said Michael, still annoyed.
The voice continued.
'So, as I was saying, I'm you, but a you from fifteen years into the future.'
'That's impossible!' said Michael, interrupting.
'Until about five years ago, my time, you'd be right, but if there's one thing the last decade and a half has taught me, it's that nothing is impossible.'
Michael continued to frown in anger and confusion.  He was having a hard enough time accepting the fact that he was hearing a voice in his head at all, without also having to comprehend it being a future version of him.
'So you're saying that in ten years people will be able to travel through time?'  Michael felt as if he were spouting lines from some cheesy science-fiction film.
'Well, yes and no,' said the voice.
'What do you mean?'
'We can't physically travel through time; that one could well be impossible, and of course we can't communicate with the future.'
'But isn't that what I'm doing now?' asked Michael.  'If you are who you say you are, doesn't that mean I'm communicating with the future?'
'Yes, but you're not the one who set up the connection; I am.  If I tried to contact someone in the future from my timeline it wouldn't work.'
'Why not?'
'Because the future for us hasn't happened yet.'
'But my future hasn't happened yet, either,' said Michael.
'For me it has, because I'm living it.'
'I don't understand.'
'I can make a connection with you because, to me, you're in the past, but you wouldn't be able to make a connection with me because, to you, your future hasn't happened yet.'
Michael felt as if he was trying to read a book and someone else was turning the pages for him, and they were turning them too quickly.
'So, you couldn't make a connection with someone further on in the future from where you are because of the same principle?'  Michael spoke slowly, as if he were using words that were unfamiliar to him.
'Yes, you've got it,' said the voice, sounding pleased.  'I'm glad you're catching on.  Not everyone did.'
'What?'
'I'll get there, Michael, I promise.'
'Hmm, okay.'  Michael felt as if the voice was being deliberately sketchy with the details, and that irritated him.
'So anyway, this form of time travel isn't available to just anybody, as you can imagine.'
'Why not?'
'Michael, can you imagine the chaos that could and would be caused if anybody could form a connection with people in the past.  The results as to causality would be immense.'
'So why have you made a connection with me?  What makes me so special?'
'I'm getting to that.'
Michael sighed.
'I know this is frustrating, Michael, I really do.  Believe me; it's not easy for me either.  Remember, I'm you so I've got to try and remember what I was like back in…it'll be 2015 your time, right?'
'Yes,' said Michael, almost automatically.  'So, you're talking to me from 2030?'
'I am.'
'This is crazy!'
'It gets crazier.'
There was something in the voice's tone that Michael found a little unnerving.
'What do you mean?'
'Well, time travel, such as it is, isn't the only innovation to come about in the fifteen years between your time and mine.  Lots of things have happened.'
'Like what, flying cars?'  Michael allowed himself a little petty amusement at making light of the situation, but the feeling was short-lived.  The confusion, fear and annoyance that clouded the situation soon returned.
'This is serious, Michael,' said the voice.  'I didn't contact you to have a laugh and a joke.'
'I'm sorry.  Please, go on.'
'Okay, so, as it was in your time, all sorts of new ideas, gadgets and gizmos came on to the market; some good, some bad.  The reason I've had to contact you is because of the worst.'
'What do you mean?'
'If you look around the world you'll see that people are always trying to invent new ways to make life easier; more efficient, right?'
'I suppose so.'
'There's no suppose about it, Michael, they are.  Whether it's faster computers; home appliances that can do it all; or health and well-being products designed to make you look and feel better and better.'
'What's your point?'
'One of these so-called innovations went wrong.'
'How so?  In what way?'
'Twelve years from your time, so 2027, a new wonder-drug will hit the shelves.  It'll be called MindSet, and it'll be hailed as the only medication anyone will ever need.  It'll be cheap, easy to produce and boast the properties of being the closest thing to a true panacea the human race has ever devised.'
'Sounds like a fantasy to me,' said Michael, with no small amount of incredulity in his voice.
'That's what many thought at first, until they saw the results.'
'Which were?'
Michael stood up and moved over to his chest of drawers to retrieve a t-shirt and some jogging bottoms.  He had been sat on the bed with nothing on for several minutes and was starting to get cold.
'At first MindSet did everything it said it would.  It cured disease; it eased and even eradicated mental disorders; everything.'
'So what was the problem?' asked Michael as he pulled on the t-shirt.
'The side-effect.'
'What was it?'
'Insanity.'
'What?'
'I'm afraid so.'
'It literally drove people mad?'
'Not at first.  Or at least, you couldn't tell at first, but MindSet was such an instant success that people were taking it across the world in record amounts.  It didn't even seem possible to overdose on it.'
'So what happened?'
'After a while people started to notice changes in behaviour in those around them.  Little things at first: changes in mood, uncharacteristic decision-making, that kind of thing.  But after the first year people started to notice more.'
'Like what?'
'Violence.  People started attacking one another for no reason.  At first it went unnoticed, blending in with the normal level of violence any modern society has to contend with.  However, after a while it became clear that this was different.'
'Different how?'
'I'll give you a couple of examples.  A man in a crowded lift in Munich, Germany, went berserk one morning and slaughtered everyone in the lift with him.  No provocation; no history of violence; nothing.'
'That's awful!'
'When the lift doors opened he was gouging the corpses' eyes out and laughing to himself.'
Michael felt his stomach give an unpleasant lurch.
'No more than a week later, an elderly lady in a retirement home in Sarasota, Florida, set fire to the home with all staff and residents locked inside.'
'Jesus Christ!'  Michael looked down and realised he was biting his thumbnail again.  He didn't try to stop himself.
'The police found her driving back and forth on the front lawn in her electric wheelchair.  She too was laughing to herself.'
Michael didn't say anything.  He had no words he could say.
'Want me to go on?' asked the voice.
'No.  I've heard enough.'  Michael went into the bathroom and took a few gulps of cold water from the tap.  If any of this was true, he wasn't much looking forward to his future.
His future.
'Wait a minute,' asked Michael.  'What has any of this got to do with me?  If what you're saying is true it sounds tragic, I'll grant you, but what do you expect me to do about it?'
'Michael, we need you to stop it.'
'Me?  Why me?'
'Because, right now, you're the only one who can.'
Michael stood in his bathroom, gazing, open-mouthed at his reflection.  He didn't say anything for a couple of seconds, and then he swallowed hard.  Even though he had just taken a drink, his throat felt dry and constricted.  He took another sip of water from the tap and wiped his mouth with the back of his hand before speaking again.
'I…I…don't understand.'  The thoughts were coming at Michael thick and fast.  He tried to grab on to anything that could help him to make sense of the situation, but nothing worked.  Every possible explanation as to why this was happening to him seemed to slip through his mental fingers like so much sand.
The voice continued.
'I know you don't understand, Michael, and if we were to let the course of time run normally you wouldn't understand until it was too late.  That's why I've had to contact you this way.  It's the only way we can stop what's happening here and what will happen in your timeline.'
'But I don't get it,' said Michael, almost wailing.  'What do you want me to do?'
'You need to stop MindSet from ever being invented.'   
'What?  How?  I wouldn't even know where to begin!'
'I'll help you,' said the voice, calmly.
'But why me?  Why have I got to do this?'
'Because every other attempt to stop it has failed.'
'What do you mean "every other attempt"?'  Michael returned to the bedroom and sat down on the bed with a thump.  He didn't like the thought of something with this much responsibility being laid at his feet.
'You're not the first person we've tried to contact over this, Michael.'
'I'm not?'
'No, you're not.'
'I still don't understand.  If you can get in touch with others about this MindSet thing, why not get them to do something about it?  I'm a financial investor, not a chemist!  I don't know the first thing about making drugs and stuff like that.'
'But you do know about setting people up with capital to get new projects off the ground, don't you, Michael?'
'I…well…I guess so.'
'Don't be modest, Michael,' said the voice, with a hint of irritation.  'I remember enough of that time to know that you, that we, were damn good at the job.'
'So, what are you saying?'
'I'm saying, Michael, that you got the deal done that led to the eventual manufacture of MindSet.'
Michael went silent for a moment.
'So…you're saying it's my fault?  The insanity?  The killings?  You're blaming me?'
'No, of course not,' said the voice, almost snapping.  'If this whole mess was your fault do you think I'd be talking to you now?  Don't forget, I'm you.  If this was our fault they'd have strung me up for it long before now.'
'So, what am I expected to do?'
'A week from tomorrow you'll have an appointment with a Dr Raymond Baker.'
'I will?'  The name didn't sound familiar to Michael.
'Yes, you will.  He's the man behind MindSet.'
'And he'll want financing for the project?'
'Exactly.'  The voice sounded pleased that Michael was catching on.
'Well then that's easy.  I'll just turn him down.  If he can't get the money he can't make MindSet, right?'
'Wrong,' said the voice, with no small amount of weight to its tone.  'If only it were that simple.'
'What do you mean?'  Michael felt as if the light that had maybe appeared at the end of the tunnel could now turn out to be an oncoming train.
'If you turn him down for financing he'll just go somewhere else.  He can't be allowed to get the money he needs to move the MindSet project forward.  He just can't.'