2 Daffodil Poems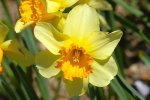 Thu, 28 Feb 2013
Asphodels
Asphodels as beautiful
as little bells of gold
bloom everywhere this time of year
when Springtime's spell takes hold.
Bobbing their heads, they ring to tell
the world when Spring is here.
Sweet Mother Nature sent them all
to bring us some good cheer.
Defiant Daffodils
In the wind, defiant daffodils
wave farewell to all cold winters chills;
flapping upon still frosty fields and hills,
bobbing their bonnets made from golden frills.
Soon will come the splendid Spring, and then
ev'rywhere this whole world will be renewed
bright golden sun will fill the skies again
like blooming daffodils in fields of blue.