All winter long there was silence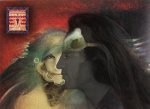 Sun, 24 Feb 2019
1 likes
All winter long there was silence, some words
fell, although they were hardly audible
through the haze and the low light, the secret 
mist of a cold world. But still voices reached
like beacons into the freezing air,
not to keep warm by some hidden fireplace,
but rather to illuminate what really had happened.
As a child, I was well familiar with those impenetrable nights, 
watch the fires on the hillside, signs
as messages, rising smoke their exclamation marks.
A skill, of some sort, soundless and visible over
vast distances.
Whenever the warriors saw them, they cheered
and every now or then, 
they responded with counter signals. 
But they barely spoke, never in long sentences. 
What they meant was expressed by dancing,
in sacred movements, twisting and turning 
to the rhythm of the night by the fires
and pleading with the stars overhead to reveal the future. 
I still remember the medicine man,
muttering my name, over and over, 
as though it was essential for my cure, 
when they found my family  slaughtered 
and I was the last one, who had seen it all 
and still had a tongue to speak.