Novice to Death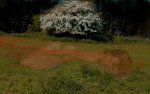 Sat, 05 Jun 2021
The churchyard hems the novice in. 
The earth is cool, the grave is deep. 
Is she asleep or listening? 
The wooden casket feels her pain 
now quiet but still lingering.
It tries to hold her caringly, 
wraps her pale shape in gentleness
 
The cruel sun has chosen her
to celebrate death's thoughtfulness, 
seeks out her grave. It scatters gold 
with messages: hold tight! Be brave!
 
Yet it sends warmth, by teasing her,
a chance to feel alive again,
to urge her move her lips, her hips
to stretch her toes, to smooth her hair 
get up, try her new lipstick out.