Picnic at the White Horse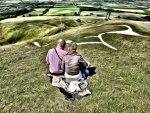 Tue, 21 Jan 2020
1 likes
Cut into the smooth hillside turf
a big-eyed beast stretches across, 
elongated and abstract, a modern design,
fertility symbol, or a sacred icon?
We lie, covered in sunburn,
our picnic of warm street tastes
in paper.
She likes the colourful kites 
swaying in the uplift,
I marvel about the dramatic gully and deep
bowl curving in sculptural lines
to where the ground drops further 
towards a small outcrop, an upturned bowl. 
I had known about Dragon Hill, 
where St George slew the dying beast, 
its blood poisoned the ground for ever.
We stroll under the solitary Fairy tree,
smell the winds, trace ladybirds along
the leaf-veins.
Above us a series of bumps,
the "pillow mounds", from the Bronze Age.
A sheep, suddenly planted, stands,
ready to sprint away any second -
We are being watched as by the spirits
of monks from the long-gone Abingdon Abbey
performing their ritual scouring, as they did
900 years ago, on the figure they saw as a horse.
She insists that it looks more of a dragon, 
a mystical creature no less mysterious 
than its namesake, a faint constellation
twisting around the north celestial pole
and lying between Ursa Major and Cepheus.
A crescent moon makes us leave before
darkness falls. Riddles remain, still kept alive for us,
we, the riddles of the universe.