Thinking of you Frances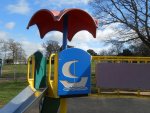 Fri, 07 Mar 2014
We made friends very easily
When we were only four
For months the house stood empty
Then your family moved next door
We bathed our dolls in saucepans
Blew dandelion clocks outside
And when we saw Mary Ainslie and her big dog Rex
We would run round the corner and hide.
Life was easy then for me and Frances.
When we reached the age of twelve
With very little fuss
I walked round the corner to my new school
Frances took the bus
We got to know new people
Got in with separate crowds
And often we would run into one another
In the street, the shop, the swingpark
And then I would go to yours
And we sat giggling out loud on your bed
And we fancied all the popstars on your wall
Still good friends then Frances and myself.
Years passed then I was up in court
And much to my surprise
Frances faced in front of me
I saw her big brown eyes.
Frances was only the advocate's clerk
She could not do anything to help me
But the fact that Frances was here
With her neat new haircut
Wearing her smart navy skirt and blouse and matching shoes
Moving between myself and the law
That helped.
I can't remember which year it was
When Frances moved away
Did she go to uni to study law
Was she straight or gay?
Did she move to Edinburgh
Did she move to England?
I think someone told me that Frances had got married
Or maybe someone told Frances that I had got married
Sometimes messages get scrambled in the air
And still I think of you
When I
Do.
And now I've turned sixty
My life's spun up and down
For the last eventeen years I've been in Devon
Living in a little seaside town.
And I have no idea where you are, Frances
Or if you know this,
It is Women's Day today, my dear
And sometimes I feel I am on a train.
Not back to Bridge of Allan
Not a train of thought
Simply moving
And knowing
I want you.