Stones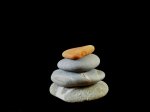 Mon, 21 Apr 2014
There were no words, not that day,
not that afternoon; not then. Searching
for them, we chose stones, instead.
Perfectly formed, rounded –
no sharp corners, no rough edges
no unfinished sentences
no meaningless metaphors
or shameless similes; 
they were what they were.
No pretence – no double entendre,
no quibble, no messing;
sans anything else
even though we chose
to categorise them.  Heart-shaped
one or two of them were
pink, grey, white, striped...a few
more oval then others, others
more square than round...
and then a seagull – shone
overhead; that strange light of
seabirds and you spoke
but your voice was lost to the roar
of the sea, and the draw
of the waves on the shingle.
We sat and you taught me how
to skim them...your hand guiding mine
stones skipping the foam
thrown – at random to the tide – 
making home, anywhere they landed,
when home was the last place
we wanted to go.