I Wish You'd Dye Your Hair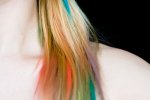 Tue, 27 May 2014
It's the 253 on the top near the back,
The windows are misted and water-flecked ,
There's a clump of boys at the back,
They watch as I get on and mutter amongst themselves
Me with my book, they're shouting and laughing hard.
Suddenly a note in my lap
In capitals sideways on lined paper:
WHEN YOU GET OFF THIS BUS WE WILL RAPE YOU.
You're so over-emotional,
You can be my second-wife
(she won't mind if we don't tell her),
I wish you'd wear high heels.
Pilgrimage.
It's hot and the air is thick,
Me in a long-sleeved T-shirt and trousers,
A group of topless men approach with camera phones
Pull my top out and
Stick their phones down and
Take photos of my breasts,
More laughing, more unafraid.
An older man approaches with a cloth,
Shakes his head at me:
Cover yourself up. This is a holy place.
You must be frigid,
You must be an angel,
You're eight out of ten.
I wish you'd dye your hair.