The Naming of Plants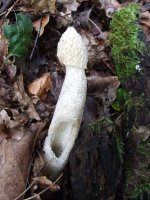 Thu, 05 Jun 2014
We should all think ourselves lucky, 
they said, when they gave us each
our very own plot in the garden 
at big-school; 
the brainchild, I might add,
of my most unfavourite mistress,
Miss Jones – the one with glasses
ever pinched the end of her nose.
She'd be the judge, and the jury, 
she said, and at the end of the term,
there might be prizes for the best,
and the winner – even certified!
So, straight away, David Daniels
got stuck in to his turnips and tansy,
his parsnips, and pelargoniums,
while Sylvia Samuels sowed prissy
annuals, such as sweet-peas
and marigolds, rosemary and stocks. 
Enough to bore the socks right off
the birds and the bees!
Whereas, more exotic, was me;
the flora and fauna I chose to grow
came from far away; foreign climes –
like Amaryllis and African Moon, 
African Tulips, Alpine Asters, French 
Fritillaries, and my piece de resistance
a rose called Captain Bligh, of mutiny 
on the Bounty fame.
So, imagine my surprise...gobsmacked, 
I was, when they gave me lines, had
me write, a hundred times over, flowers
are a gift from god and it was wrong of me
to name my colossal clump of Stink Horn
after Miss Jocelyn Four-Eyes-Jones.