Day after Day 1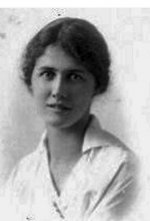 Sat, 30 Aug 2014
It was the memorial service for Queen Victoria, February 2nd 1901. Muriel King (pictured above) and May Stinton took their seats near the front of Worcester Cathedral. Muriel noticed that they were very close to the effigy of Robert Wylde, almost at the same level as the Choir. They were special guests. Muriel would play a part in events later in the day.
Both girls had often been in the Cathedral, having grown up in Worcester, but they had never experienced anything to match this day. There was not a spare seat. There were mink coats and fine dresses, and office holders such as the Mayor and the judges were wearing their regalia.
The Queen had been old and frail, and her death had been long-anticipated. Even so there was a sense of shock. The whole country was in deep mourning, for she had been a well-loved monarch.
She had died on January 22nd and the funeral service was taking place on this day in St. George's Chapel, Windsor. In cathedrals and churches throughout the land simultaneous services were taking place. Many thousands wanted to be involved in saying a last good bye to the monarch who had served Britain and its Empire for 64 years.
As Muriel looked around the cathedral the sun was shining, its light coming through the many stained glass windows to highlight the proceedings in a rosy glow. She began to muse on what the cathedral would have looked like at its founding in 969, almost a thousand years ago.
She was interested in church architecture and history. In her readings she had learned that Worcester cathedral had been re-modelled in 1084. King John had visited the cathedral in 1207,
giving 300 marks for the rebuilding of the cloisters and offices. In return he was offered the choice of a burial place in the great building, and eventually he was interred in the centre of the chancel. Down the century his marble effigy, which surmounted the coffin, was damaged. Followers of Oliver Cromwell removed the nose.
The cathedral was rededicated in June of 1216 in the presence of Henry III. Arthur, the son of a later monarch, Henry VII, was also buried there. So were members of the Beauchamp family. The current
holder of that title and his wife were in the church today to honour their long-serving Queen.
Muriel knew the cathedral organist, and many important people in Worcester. Her father, George William King, owned a grocery shop that was patronised by people of standing. Although he was not involved directly in local politics he was respected by the city's gentry.
Solemn notes rang out as Mr Coul, the assistant organist, started to play Schubert's Funeral March. The dignitaries had paraded in, various noble and ancient lords leading the way. Earl Beauchamp
in his full regalia walked past on the way to his seat. His Honour Judge Sir Richard Harrington from the Whitbourne Court in Worcester followed, with other court officials. The local MP, Hon George
Higinson Allsopp, the Mayor, John Alfred Stewart and the High Sheriff, William Kay walked by. Then came the aldermen, Walter Caldecott, Ernest Augustus Day, Harry Day, Walter Holland, Charles
Perrius, William Price, Hon. Percy Allsopp, Albert Buck, Walter Higgs, John Millington, Ambrose Knott and William Winwood.
Then came various important men from the community including Warren W A Tree, a solicitor. Muriel and May knew his daughters, Margaret and Jessie. They had all attended the same school, Worcester High School for Girls, a Church of England School.
The lectern and candelabra were decked in black crepe. Twenty-eight days of official moruning had been designated. Shops had done a good trade selling black clothes.
Moved by the fine display, Muriel was prompted to whisper to May, "I also come from a noble line. Tell you about it later.''
She was shushed by May as the service began. Everyone stood as the Bishop of Worcester, the Reverend James Stewart Perowne, took his place at the altar. A choir of 45 men and boys from King's School sang O God our Help in Ages Past.
The Bishop spoke of the Queen entering a kingdom, the glorious kingdom of God. The service ended with the Dead March from Saul.
Afterwards the dignitaries and important people of Worcester went for tea to the hall of the Cathedral Grammar School, where members of the public offered their tributes to the Queen. The first of these was given by 64-year-old Charles Walker, well-known locally for his literary works. Muriel started to dream as his speech went on and on, then, realising that her turn would be coming soon, she redirected her attention to his words.
"By the end of her reign, the crown had been raised to new heights of prestige and affection, and the British Empire now rules much of the world," said Charles. "I had the pleasure of seeing her
majesty when I attended the Great Exhibition in 1851. I was on the Duke of York steps to see the Queen pass in magnificent and gorgeous procession to prologue Parliament. After she had passed we walked nearer Buckingham Palace to see her return and were within a yard of the carriage and had an unobstructed view of the first lady in Europe, a stout motherly woman, looking very good tempered and warm."
Now came Muriel's turn. She had begged to be included in the programme so that she could read a poem she had found in an album written by her grandmother for the newly-crowned Queen. Muriel
enjoyed being the centre of attention. She was wearing a new black suit and a skirt which was gored and created an elongated trumpet bell. Her jacket had a high collar, and her hat was suitable to the
grand occasion.
Holding her head high she announced, "This is a poem written by my grandmother Martha Banyon Trew in 1837.''
Then she proceeded to read:
"All hail to thee, Queen of the fair and the brave
The bold song of joy reaches the skies;
Bright bright o'er the foam of her subjects wave
See the star of Victoria arise.
Young queen of the ocean – prophetic our fire
To hail thee, the greatest we've seen.
Hark the thundering strains of the old sea-god's quire
To welcome Victoria the Queen.
May years full of glory and loyalty's love
Be thine in thy place of renown;
To say that we honour thee, means not enough
For Britons all honour the crown.
But the crown that encircles young beauty's fair brow
With fonder devotion is seen.
And chivalry sheds its romance o'er the vow
We pledge to Victoria the Queen!
Long, long royal maid may the olive entwine
With the laurels that circle thy crown;
But if war should arouse the old lion again,
'Twill be to increase thy renown.
To battle, while rushing each heart would beat high
To triumph as wont we have been;
Propitious to conquest, our bold battle cry
"Victoria! For England's fair queen!"
Afterwards she was surrounded by people eager to congratulate her on her performance. A woman said the poem had brought tears to her eyes.
Muriel welcomed their approval but she was anxious to return to her friends so that they could gossip, plan their futures and talk about intended husbands. She rejoined her best friend May, who was chatting with Charlotte Walker and Eveline Duncan. These women, both spinsters, were ten years older than May and Muriel, but she knew them vaguely through family connections. Just then a tall, good looking young man came up and said, "Good to see you again, Aunt Dot. I'm sorry I must rush, as I'm straight back to Oxford this evening. I am pleased I came to this service.''
He bowed to Charlotte and said, "Please tell your father, Miss Walker, how appropriate I thought his remarks. I have long held him in high regard for his writing and opinions." Then, turning to Muriel, he said "Congratulations, Miss King, on a magnificent delivery of a beautiful poem."
With that he went away.
Muriel was enchanted. Who was this wonderful man? She almost swooned with pleasure at his words. She thought "This is the man I am going to marry."
She didn't even know his name, yet she knew that somehow that name and her name would become forever entwined.