Reflection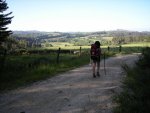 Fri, 10 Oct 2014
1 likes
"I hate men with long hair.  Especially older ones when they tie it back in a pony-tail."
"What, like me?" I ask, showing him a photograph I took tonight on the train.  A selfie.
"Yes!" he all but screamed.
His face was flushed and red, which looked quite striking against his own neatly-cut silver barnet.  Reminded me of a kitchen I once knew.
"It makes them look like hippies, or queers.  Old hippie queers."
He was getting beside himself – eyes moist and blood-shot.
They looked like bull's eyes, like the ones we had at school, for dissecting in biology class.
I fingered my pony-tail.  My hair's not quite long enough to avoid wispy escapees that frizz over my ears.  I didn't have any of this trouble on the Camino.  That was where I first wore it up again after several years.  It was just good to get the hair out of my face when walking.
I miss the Camino.  I felt at home there.  Everyone's just passing through.  We're all the same.  No insecurities.  No one talked about anything they hated. 
Nobody cares about your hair, your beard, your height, weight, whatever clothes you wear.  The only thing that goes down badly is snoring in the albergue.  But even that's forgotten by the time your boots are laced.
I miss the voices in the early morning.  Kept low, it's hard to tell what language is being spoken. "Buen Camino."
"Buen Camino."
Small discussions are held at junctions, where torches flash to pick out yellow painted arrows. 
"This way."
A rivulet of humanity stumbles down the next dark lane.
Oak woods, mountain trails and scruffy city-suburbs – smiles and waves, maybe a conversation in the morning light.
I never noticed myself becoming a pilgrim, or peregrine. It was just the collective noun.  I suppose we could have used "walkers" or "hikers" or something, but that would have been to deny the history of the route.
"Camino" just means path or way in Spanish.
The Camino is a long path.  Many of the peregrinos had walked from St. Jean in France and would finish in Sangtiago – around eight hundred kilometres.  That's about a month of walking, day-after-day.  We only did around three hundred over eleven days, but the commitment and the history gets into you.
It's like a river system.  It slows some in winter, but never stops.  It's become busier in recent years through books and films – though maybe twice as many pilgrims travelled it back in the Middle Ages.
I loved our little cohort – strangers from all over the world – many religious, but not all by any means.  We probably got to know around fifty – who knows how many were walking in just the section we occupied. 
Every single day more set out from St. Jean or some point along the way, flowing also from the many tributaries joining the Camino Frances.  Every day pilgrims spill into the centre of Santiago de Compostela from the Frances route and others.
We entered Santiago around noon one Friday – the last twenty kilometres completed.  Early on Saturday morning, from the airport bus, we spotted other pilgrims coming in through mist and darkness under trees – weary, sore and aching, carrying packs and leaning on their sticks – another day's arrivals from the hills.  They press on to claim their Compostela and attend the Pilgrims' Mass in the Cathedral.
Some attend through devotion – the building claims to hold the bones of the apostle James (Sant Iago) – others see it as the traditional end of the Camino, or enter to witness the reckless swinging through the nave of probably the world's largest incense burner.  Any spirit that can overcome fatigue, pain and the hardship of such a walk is big enough to forgive the odd stunt.  A lapsed Catholic, I clocked the use of theatre by The Church a long time ago.
And now I miss the simplicity of the Camino routine: wake, dress, pack, tie boots and walk out into the cool dark morning.
I miss the stars, the barking of dogs from distant mountain farms.  I miss dawn breaking – always behind us – over mountains.  Distant valleys like lakes of milk, mist rising over power-lines as silken scarves might float on air. 
But, more, I miss the people. Their spirit flows like current through the hills and plains.  I never heard a bitter word.  The odd curmudgeon, maybe, but hearts glowed with something good.  Most people smiled and passed the time of day.  The ones that didn't, I later found, had been in pain – there's a photo of me on my worst day looking as I might at eighty.
Perhaps its transient nature is what makes the Camino good – removal from complex, stressful lives. Everyone focussed on one goal: getting to the end – whether that's Santiago or just the day's section. 
We met some who claimed to have walked it eight or ten times.  A few I reckon never leave.  I can see how that might happen.
I'd had enough by three hundred kilometres.  My feet were blistered and sore, my leg muscles damaged through cramping day-after-day and walking on.  The effort of walking normally over burst blisters turned my stomach and spun my head.
But.
If I could go back tonight and start again from St. Jean, I would.
Goodwill – no one glares or stares at you because of who you are or how you look.  No one has you pegged with petty prejudice.  No one cuts you down.
I remember riding the London Tube in 1995, we were heading to a club in South London.  A girlfriend decided I should wear eye make-up.  I wore a gold shirt, too – tight and shining. No one gave a second look.  As a visitor I'd never witnessed anything like it, a whole new thing – almost smudged my mascara.  I don't know if the Tube's the same today.  Maybe it was just anonymity and no one gave a shit either way.
The people I met on the Camino cared alright, but no one seemed to mind whether my hair was up or down, they only cared that I finished.  Those last few kilometres into Santiago were emotional turmoil.  I don't think I have ever been so happy while in so much pain, or so relieved and at the same time sorry that something was coming to an end.
If you're heading that way, give yourself some time to stop and heal.  Set your spirit free.  Just don't snore in the albergue.