Destination Unknown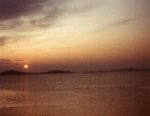 Thu, 20 Nov 2014
Grasping fine strands of art
is such a joyous encounter;
not knowing if what we embrace
is our true destiny or a brief moment,
Who knows the order of the day?
Perhaps it brings an angry storm,
but pleasure gives stability
lifting the uneasy spirit high.
Let no transgressor influence
my soul in a troubled world,
just a helping hand to guide me,
to empathize with understanding;
accumulating knowledge; I then
become aware I've grown...
just as the road takes a turn,
I encounter destination unknown.