Breaking Glass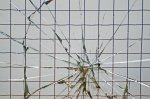 Tue, 02 Dec 2014
Died inside when they ushered me in; 
my mother – stripped naked, mirrored 
in a frigid, washroom door.
Looked on as they forced her take a bath; she –
Lily by name and nature, they – 
who would douse her
in disinfectant. 
Just doing our jobs; that's the way
we do things in here.  You should see
some of 'em we get...crawling with lice.
If you don't like it, love,
wait outside...
where my dad was. I prayed he couldn't hear
her screams.
Hard to imagine, those same lips –
kissed a grazed knee better, could only spew
profanities in a futile attempt to revive
a dignity in its death throes. 
Find scissors in her bag; I'd trim her nails;
Dad had done his best for over ten years,
but swimming upstream, presently.
It's just me, mum.  No need to be afraid...
How stupid could I have been?
'Me', might have been Lucifer himself
for all she could conceive, as she grabbed my wrist –
pinned me down with those eyes; small
as the ocean, big as alone.  
Sectioned; papers, duly signed.  
The early eighties; Alzheimer's, a fancy word
for going out of one's mind.
Confiscated – scissors, engraved with her name,
sterling silver compact, most everything she had – even 
her wedding ring – locked up; the key...thrown away.
"Nothing like that permitted here...in case
they hurt themselves, you see?"
Oh, but I did.
In Case of Emergency, 
Break Glass...