The Empty Table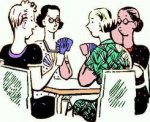 Sun, 18 Jan 2015
1 likes
When you walk in the room it seems odd
Still lots of laughs from them
But Pat, who sat in the very back
We saw off last week at the crem.
And Joyce who played a simple game
And couldn't believe when she won
She too is gone and Bessie her pal
Says that bridge now isn't as fun.
And Val who moved to be near her son
Was lonely till bridge brought her luck
She's fallen, so frail and so very old
But sharp as a tack when she ducks.
I've played the game since I was nine
And taught many hundreds to play
And although I write and read and such
It's the bridge games that make my day.
These people, though old and very unfit
Share my charm with this little game
Each hand holds a promise of daring do
Nothing is ever the same.
A slam, a game, even a trick
Sounds tricky, but not very hard
And even losing is not so bad
You can always blame the cards.
I'm pleased that Pat and Joyce and Val
And Madge who'll likely be next
Found friends and fun and a mental thrill
To make their last days be blessed.