Runaway Hitchhikers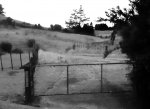 Wed, 21 Jan 2015
Eight-year-old Tom Baker took his little sister's hand and said, "We're leaving now, Katie. We're running away, they don't want us, don't you see? But we'll show them. We don't need them anyway."
   "I'm scared," said Katie, her bulging, brown eyes tearing up. "I miss Mommy. I want to go home now."
    She was four, and still had baby fat on her arms and legs and plump chubby cheeks that were shaded a soft pink that made her appearance resemble an artist's impression. She wore a thin red dress that went down to her knees, with bright yellow sunflowers printed all over. 
    "We can't go back -- not now. C'mon, let's go before they catch us," Tom said, giving Katie's hand a gentle squeeze. 
    They tottered together hand-in-hand along the footpath beside the road, listening to the crickets that were singing from somewhere amongst the verge's overgrown grass. They ventured even further than Tom had gone with his father: past the last house on the street with the golden-glowing windows and the beat-up letterbox that leaned out towards them.
    Tom was barefoot and otherwise naked had he not been wearing his favourite, light blue, denim overalls with the little brass buttons and the thin straps that wrapped over his bony shoulders. He had a slender body, tall and lanky for his age, that matched the elongation of his facial features. His pale white skin burnt every year in the Christmas school holidays when he went to the beach for a picnic with his family and then played cricket for hours in the sun, and his eyes were a murky blue like the ocean he loved to swim in when the waves were at their least forgiving. Those were the memories he wanted to remember: the good ones when his parents, unlike the sea, were calm and laughed more.
    Despite lacking proper clothing he wasn't cold; the night air still remained muggy with the warmth emanating from the sun-heated tar and gravel on the road next to the footpath; so much so that in fact he was hot, and he wiped the short strands of blonde hair plastered to his forehead with the back of his hand to remove the warm, glistening beads of sweat forming along his brow. 
    Tom led Katie down the end of Linkin Street, passed the stop sign and went around the corner onto Briden. He had seen the men who held out their thumbs when his mother drove him to school on the country roads out of town. He pondered for a moment, rattling his brain for the name that was on the tip of his tongue. Hitchhikers! he thought to himself. They're called hitchhikers. 
    His mother had told him that it wasn't safe to pick up strange men in the middle of nowhere because they might be 'bad sorts' as she called them. But he wasn't in the countryside now, he was in town, and he knew he wasn't a bad sort himself -- nor a man -- so he stuck his arm out as far as it would go at every passing car with his thumb pointing straight up into the air. 
    Now I know how it feels, Tom thought as car after car passed by paying them no mind. Then, in the distance, he could see two full beam headlights heading in their direction. He raised his thumb again with the last bit of hope left in him and made sure to jump about just in case the driver couldn't see them. The vehicle screeched two black trails from behind its back tires and came to a stop on the other side of the road. The lights on the vehicle went out, and for a second Tom didn't know what to do. Did it stop for us? Maybe he lives around here? he thought. A toot echoed throughout the street from the vehicle and he saw the faded shadow of the driver beckon him over with several jerking waves. Tom gripped his sister's hand tighter and crossed at the first gap in the traffic to the other side of the road. He walked behind the vehicle and could smell the foul stench of burnt rubber and exhaust; it was a red pickup truck like his dad's best friend, who he called uncle Jake, owned. But when he looked through the rolled down passenger window it was man he had never seen before with a mean looking face, pale white and covered with untrimmed, greying brown stubble that matched the colour of his shoulder-length hair.
    "What's a couple of kids doing on the street this time of night?" the man bellowed with a raspy voice. "Nothing good I assume since you can't seem to talk. What's the matter, cat got ya' tongue, boy? C'mon, speak up."
    "I'm trying to get a ride," Tom replied, his legs wobbling like they were made of jelly. He looked down at Katie who was hiding in his shadow but, he wasn't surprised, Katie always did this around strangers, and he had too, when he was younger.
    "Where to?"
    Tom squirmed a little, "Anywhere -- you're going."
    The man looked away for a second and took a deep breath through his nose making a loud whistling sound. "Shouldn't you two be in bed by now?"
    "She might be, but not me. I can stay up as late as I want to," Tom snapped. If there was one thing he couldn't stand, it was adults talking to him like he was half his age, and when they did he always managed to find a voice to set them straight.
    "What's your name, kid?"
    "Tom. And this is Katie, my sister. And I'm not a kid."
    The man seemed overwhelmed by what Tom had said, and he rocked the pickup truck from side to side with a laugh that was not at all amusing but, rather belittling to Tom. Then, when the man was finished, he leaned over the passenger seat and out of the window and took a close look over Tom and Katie from head to toe, and said, "Aren't your parents worried where you are?"
    "No," Tom replied. "They don't care about us, so we're running away -- for good!"
    The man chuckled, this time in a way that seemed to agree with Tom, as if to say, "Oh, I see. How horrible that must be for you." But instead of saying so, he simply unlatched the door and said, "Hop in."
     Tom boosted Katie up into the pickup truck and jumped in after. The inside smelt just as bad as the outside had, with cigarette smoke imbedded deep within the cushioning seat so that when he sat down it seemed to leap out to greet him with a slap rather than a handshake.
    "Name's Jed," the man said with an infectious, sparkling white grin that Tom, who could be reserved and downright miserable if he needed to, couldn't help but smile back at. Jed wore a thick green windbreaker and a pair of dark blue denim jeans that had more than a few rips and finger sized holes exposing his hairy knees underneath, as if he had been attacked and chewed on by a wild animal. 
    "Well," said Jed, "I'm headed for the restaurant three blocks down for a hot meal. How bout you two join me -- you eaten yet?"
    "We had a sandwich not too long ago, we're not that hungry," Tom lied.
    "Well, how bout dessert, hmm? My treat. 
    Tom nodded contently and buckled Katie into the seat between him and Jed and then clicked in his own. He sat back and relaxed a little; he was slightly more at ease now that he knew his parents wouldn't expect them to be in Jed's red pickup truck. They can't tell us what to do ever again! Tom thought, almost bursting with excitement.
    "Well all right then," said Jed, twisting the key and igniting the stuttering engine with a roar. He drove out into the empty road and bellowed down Briden street.
    Jed pulled the pickup truck up in the restaurant's car park on Bank Street and unbuckled. He reached out towards Tom who cowered a little, but his hand veered off to the glove box and took out a brown leather wallet.
    "Let's eat," he said, bailing out of his side of the vehicle in an instant.
    Tom pushed in the button and let the seatbelt retract in its own time. Jed hadn't stopped talking hardly once after they drove off. He kept saying things like, "You had every right to run away, didn't you," and, "Don't worry, I won't tell anyone, it's our little secret." It would have been comforting to Tom had it not come across as slightly forced. He cranked open the rackety door of the pickup truck, stepped down into the gravel parking lot, helped his sister get out, slammed the door behind them and accompanied Jed into the restaurant.
    Why is it so empty? Tom thought as he looked around the restaurant's small welcoming setting. He wondered what time it was but, couldn't tell because Jed's clock in the pickup truck had read, 3:15-pm, and it was getting dark out, so he knew it was wrong, especially considering he was so tired despite his best efforts to try and act older than he really was in front of Jed. Sitting at one of the restaurant's tables was a young family. There were four of them, two parents and a girl and a boy -- just like Tom's family; except that this girl was older and the boy was young, like Katie. The boy had chocolate milkshake all over his face and was sticking French fries up his nose as his mother tried to control him while her daughter and husband laughed. 
    Tom couldn't stop staring at the family; they seemed happy -- genuinely happy. Something inside him felt empty and ashamed. Had he acted irrationally? His parents had only banned him from watching T.V. for a week after he forgot to turn in his homework again for the fourth time in two weeks, and now he had dragged his sister into it for no reason, convinced her that they needed to run away from home. It wasn't just that, though. His mum always yelled and cussed at him whenever he did something wrong, and he never forgot it, either. One time she called him a "dumb prick" when he dropped a bowl of cereal and milk on the floor. She said, "You had to go and make more work for me, didn't you?" as she pressed a cloth into the carpet to try and leech the milk out. And his dad was temperamental -- they were both were -- being encouraging one day and horrible the next. "It's not fair!" Tom would think to himself when he lay on his bed in his room after they went off at him. "Just because they're adults they think they're better than me."
    "Are you ready to order?" a gentle, female voice said. "Young man?"
    "What?" said Tom, startled awake from his daydream.
    "Are you ready to order?" the woman, a waitress, in a full black uniform with a black apron, said again with a warm smile. "Would you like to order something to eat?"
    "Oh...uh...Ice cream, in a bowl please."
    "What flavour -- Vanilla, Hokey Pokey, Chocolate or Lime?"
    "Hokey Pokey."
    "Anything else, young man?"
    "No thank you."
    The waitress scribbled on her notepad and walked away.
    "You were in outer space, huh?" Jed said with a snort, keeping his gaze on the waitress's backside as she walked into the restaurant's kitchen. 
    "I...I guess so," said Tom, looking down at the black table cloth he was fiddling with. "Did Katie order anything?"
    "Apple pie."
    "That's her favourite. Wait...she spoke to you?"
    "No," Jed answered, halfway through a giant gulp of water. "Just pointed it out on the menu. Still, not a bad start if I do say so myself. We should be best of friends by the end of the night, no?"
    Tom nearly shrugged, but when he saw that Jed was serious he nodded intently incase Jed somehow took it the wrong way.
    "We'll be best of friends no doubt..." said Jed with another drink of water, "...no doubt."
    The waitress brought out Tom's ice cream and Katie's apple pie, and placed a plate of sausages with mashed potato and gravy down on the table in front of Jed and said, "Enjoy," before disappearing back into the kitchen with a handful of dirty plates from an empty table.
    Tom didn't know if he preferred the constant reassuring comments that Jed gave in the car or the silence he ate his food in. But when he finished his ice cream he sat up straight, took one last look at the family that were leaving their table, cleared his throat and said, "I think I'd like to go home now."
    "You've changed your mind?" said Jed, raising one eyebrow as he licked his plate clean.
    "I don't think I should have taken Katie with me, she's...she's too young to be out in the world on her own."
    "She's with you, isn't she? She's not alone, then."
    "I don't think I can take care of her," Tom added, trying to hide the disappointment in his voice. "Maybe...maybe one day I'll run away again -- on my own -- then I'll make it. But, not this time -- I'd rather just go home if you don't mind?"
    "I thought we were getting along?" said Jed, putting the plate back down on the table. "Do you not like me? You could've had the chocolate cake, too, if you wanted?"
    "No! I mean, you've been kind to us but, we need to go home now," Tom said, shrivelling back down into his seat.
    "Well, if you change your mind again, I'll be more than happy to give you a ride anywhere you like, ok?"
    "Ok."
    "You promise to let me know if you do?"
    "I promise."
    "Good," Jed exclaimed, stabbing the table with the dull end of his knife making Tom and Katie jump. "Let's get you two home then, shall we? Don't want your parents to worry, now do we?"
    Tom shuffled his seat back making it squeak loudly against the tiled floor. He stood up and grabbed Katie's arm, "Let's go home, Katie," he said. "Mum might be missing you." A smile creeped up on Katie's face for the first time all night, and it warmed Tom's heart like it always did when he made her laugh and smile back home. He took her hand and waited with her by the door while Jed paid the bill and then followed him out to the pickup truck in the still moonless night. It was cooler now, and Tom could see the steam his breath made in the air. He puffed a few times to imitate his father who would sometimes smoke a pipe on the porch when he got home from work -- plus he thought it looked cool, too. He climbed into the pickup truck after boosting his sister up like before, and buckled her and himself in. 
    "Thanks -- for the pudding," Tom said as Jed put his wallet back in the glove box. 
    "My pleasure, hope I helped out a little, you know, in deciding to take your sister back home," Jed said as he backed the pickup truck out of the restaurant's car park and drove into the street.
    Tom had the strange feeling of being proud of himself, as if a weight had been lifted from his shoulders and he could finally breathe. His mum had always told him that pride was a bad thing, that it made men choose to make the wrong decisions even when they knew what the right one was but, maybe this was different. It felt good; the same feeling he got when his dad said, "good job," after he kicked a rugby ball through the Goal Posts at the rugby park a few blocks from their house. Tom sat in the passenger seat, thinking about how he could explain to his parents where he and his sister had been. They would be furious, of course, whether he told the truth or not. But surely they would understand -- or at least forget after they grounded him for a week or two in the upcoming school holidays. It'll be worth it, he thought, they'll forgive me eventually.
Tom caught a glimpse of blue and red flashing lights in the pickup truck's side-view mirror and bent down to get a better view. Two Police cars pulled into the restaurant's car park a few hundred meters behind them and two Officers piled out and ran into the restaurant.     "We're going the wrong way, aren't we?" Tom said, flexing his brow. "Home's back that way. We live on Linkin Street."
    Jed didn't reply at first; he didn't even glance Tom's way; so Tom said again, "We should probably turn around, don't you think? If we want to get there, you know...uh...before our parents start to worry or something." 
    "Don't worry," Jed said finally, his voice calm without a single waver, "this way's quicker."