Herr Klugmann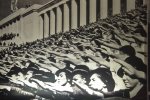 Mon, 02 Feb 2015
2 likes
Herr Klugman , an old Schizophrenic man, used to hearing strange auditory hallucinations sat in his padded cell in his striped shirt and night gown listening to the sound of the radio coming from down the hall; the voice of the Fuhrer making a speech to a rally at Nuremberg.
"If Germany were to get a million children a year", the voice said, "and were to remove 700-800,000 of the weakest people then the final result might be an increase in our strength. ...As a result of our modern sentimental humanitarianism we are trying to maintain the weak at the expense of the healthy. It goes so far that a sense of charity, which calls itself socially responsible, is concerned to ensure that even cretins are able to procreate while more healthy people refrain from doing so, and all this is considered perfectly understandable. Criminals have the opportunity of procreating, degenerates are raised artificially and with difficulty. And in this way we are gradually breeding the weak and killing off the strong".
"Now I know I must be mad", said the old man, too mad to realise the danger of openly speaking his mind, "This surely can't be real. How could a person like that, with such insanely inhumane views, in reality ever become the leader of a country? Sane people would not elect such a madman, I'm certain".
"It is real", said Barbara, a Nurse, sternly; hearing him from the hall and speaking through the window of his cell.
"Well if that is real, then the world is far madder than anything my fevered brain could dream of", he said, "So what hope have I of ever distinguishing reality from delusion? I would rather believe in elephants in brown suede shoes and bowler hats than that lunatic on the radio; at least elephants are kind".
Barbara coughed, nervously,
"Some people will be coming to see you tomorrow, Herr Klugman", she said, "Doctors. Inspectors from the Charitable Foundation for Cure and Institutional Care".
"Oh? What a noble sounding name", said Klugman, smiling, "Is it run perhaps by elephants? I know I could trust any institution run by elephants, they are, as a species generally quite honest; more honest than human beings".
"No", said Barbara, ignoring his remark, "But they will want to speak to you so you must be on your best behaviour, you understand?".
"Yes", said Herr Klugman, "I will try not to bite anyone unless they bite me first".
"There'll be no biting of any kind or misbehaving or speaking out of turn", said the Nurse, sharply, a worried and angry look flashing into her hazel coloured eyes, "Or there will be trouble, understand?".
"Yes", said Herr Klugman, nodding, meekly then adding, quietly, "It was only a joke".
The old man turned, dreamy eyed, towards moving pictures upon the wall of his cell, of an Elephant Fuhrer standing upon a podium, addressing vast grey skinned and large eared crowds, trumpeting enthusiastically and saluting him with their long trunks.
"The goal of all Elephants must be to live in peace as one people, united for the common good", said the Elefuhrer, "To be kind and gentle to all regardless of our differences".
"Very wise", said Her Klugman, nodding, "A very wise elephant, indeed".