Halfway Through the Night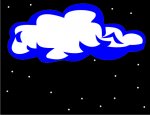 Sat, 14 Mar 2015
inspired by A A Milne's 'Halfway down the stairs … there isn't any other stair quite like it.'  with Christopher Robin and Pooh Bear http://allpoetry.com/Halfway-Down
Halfway through the night I sometimes wake,
a dreamy sort of hour to wonder could I make
that bubbling thought into a rhyme –
a very special time
that's not the day gone by,
nor yet the one to come:
an hour to lie
and think about solutions to perplexities
or great complexities,
and pray a prayer
while lying there
and plan to tackle jobs and junk
that down priorities have sunk
but free of worry,
no hurry
to actually do
an active thing or two.
In the middle of the night is a time
which some think safe for every crime,
a time unseen,
a time to creep
while others sleep,
to steal, or kill
plan schemes of ill
until
they find
that retribution still in near,
the darkness does not blind –
accountability is still in force,
of course,
even in those hidden hollows of the night.
In the middle of the night is a time
when some are shifting grime
and some are caring for the sick
or keeping power and water flowing
and produce lorries toing, froing
– they feel they're living on a  different plane
a different planet, not the same
as all the workers of the day
who sleep the sunless hours away
unaware of all those other busy sights
in black holes of the complementary nights.
[IP: Take an existing myth or poem and repurpose it to provide a new, refreshing and original take.]