A Very Welsh Thing (IP)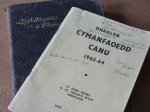 Wed, 01 Apr 2015
'Y Gymanfa Ganu'  [Pronunciation: 'Uh Gum-ann-va Gann-ee' *= The Singing Festival (of Hymns)]
Post-revival Wales:
love for Jesus falters, fails,
faith, doctrinal knowledge fading
– Sunday crowds are still parading
to the chapels with their books
and, yes, how similar it looks
to when they flowed there, Bibles clasped
but now, it's hymnals that are grasped –
delight in harmony of choir
replacing eager hearts on fire
drinking in their Saviour's Word,
with love of hymns and anthems heard
and Psalms unthinkingly intoned
– conducted, practised, mellowed, honed,
for the Festival prepared,
where vast communal singing's shared;
(no thought to meaning of the song:
'Is that a temperance song I sang?! –
I liked the power it gave my lung!').
The preaching seems so vague and boring,
they just enjoy their voices soaring,
united by the bonds of tongue,
and pleasure in a song well-sung.
The chapels emptied, as they found
the 'singing clubs' preferred the pubs,
and fervour in a rugby ground –
they may not care to read a Bible,
but love the songs wrought in revival.
'Cymanfa Ganu'* still are bringing
many to pleasures of 4-part singing.
* pronunciation above, but here, without the definite article the 1st word starts with a hard 'C'. Actually, as in the picture, strictly I should write the plural here which is 'Cymanfaoedd', but that is even harder to pronounce!
[IP: Festival]