Voice (Part 1 of 5)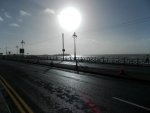 Sun, 10 May 2015
'Hello, Michael.'
Michael Kerrow stopped walking.  Somebody had just spoken his name.  He looked around the busy street that he had been walking along, but no one was looking at him.  A couple of people caught his gaze as he tried to find the source of the voice that he had just heard, but no one gave any signs of acknowledgement or admission.
But he had heard it so clearly.
Shrugging it off, Michael carried on his way.  He reasoned that he may have overheard somebody talking on their phone as they walked past him, and that they had just happened to be talking to someone called Michael.
Could happen, he thought.
'I said hello, Michael.'
This time, Michael stopped walking with such suddenness that a woman walked into him by accident.  She grunted a half-hearted apology and eyed Michael with no small amount of annoyance as she walked around him, but Michael wasn't paying attention to her.  He was scanning the street for who had just spoken.  The street was thick with people; cars and vans were speeding by in each direction, and yet the voice had rang so clear that it felt as if somebody had spoken directly into his ear.
No, not into his ear: his mind.
Michael almost laughed at the thought, but once it was there it didn't go away easily.  Turning around on the spot where he stood, now getting in the way of many more busy people, Michael couldn't see anyone who might have spoken his name.  People were passing him in close proximity, but to have heard the voice as clearly as he did on a street this busy, they would have had to have practically bear-hugged him and pressed their lips to his ear.  That definitely hadn't happened, so Michael began to feel a squirm of unease somewhere in the pit of his stomach.
Looking about him, Michael carried on walking down the street, his eyes darting quizzically to everyone he passed.  He felt it possible that he could have imagined the voice, but why would he address himself in this way, even in his thoughts?
Michael rounded a corner and nearly jumped out of his skin when a man holding a charity collection tin rattled it hopefully in his direction.  Michael performed the guilty charade of checking his pockets for change, even though he knew that he didn't have any.  Realising that he wasn't going to get any donations from Michael, the man sought others on the street to drop a coin or two in his tin.
Feeling a little ashamed at not giving to the charity, the suspect voice was pushed a little further to the back of Michael's mind.  His reprieve was short-lived.
'Are you going to answer me or not, Michael?'
Michael spun around on the spot again, his eyes wide; his body suddenly tense.  He expected to see someone standing behind him, mocking him with whatever silly game they were playing.  There was nobody there, though.  A man was at least a dozen yards further down the road, but it would have been impossible for him to speak so clearly to Michael and be that far away from him by the time Michael turned to face him.  Michael ran a hand through his hair and felt the prickle of sweat creep across his forehead.  He took a second to steady his breathing, which, he realised, was shallow and rapid.
What was going on, Michael wondered, as he looked nervously up and down the street.  He cast his eyes downward and noticed that he was chewing on his thumbnail, something that he only did when he was anxious.  He pulled his hand away from his mouth and stuck it in his trouser pocket.
Then the voice sighed.
'Michael Kerrow,' it said, wearily.  'I'm speaking to Michael Kerrow.  Can you hear me?'
Michael spun around a third time, whipping his head in all directions to try and catch a glimpse of who might be talking to him.  The threatening prickle had become the promise of sweat and Michael suddenly felt trapped and uncomfortable in his clothes.  His mouth felt dry, and his insides felt like they were being put through a mangle.
What was that voice?
Michael could hear other sounds that surrounded him: normal, everyday sounds, but with them came the appropriate volume and distance.  He could hear trains in the far distance, quiet but recognisable.  He could hear the steady hum of traffic all around him, but the voice that was trying to speak to him sounded as if it was coming from inside his own head.
'H…h…hello?' he said, uncertainly.  He instantly felt stupid for entertaining the notion that he was going to get an answer.  He must have been working too hard lately, that was all.
But that wasn't all.
'Finally!' said the voice again.  Michael clapped his hand over his mouth and backed clumsily against the wall of a building.  It sounded as if he had a pair of headphones on and someone was speaking directly into his brain.  'Took you long enough to answer.'
Michael could feel his mouth spreading into a grimace of fright as his hand was clamped across it.  A few more people walked by him, some of them looking at him curiously.  Michael fought to stand away from the wall and look a little more normal, but his knees felt weak.  He blinked and felt the slight sting that told him he had been staring wide-eyed for too long.  His eyes had started to dry out and now that he had blinked they watered slightly.
Michael reached up with one hand to wipe the excess moisture from his eyes, and once he did that, his hand moved automatically to his mouth.  He started unconsciously chewing his thumbnail again, but this time, when he noticed what he was doing, he didn't try and stop himself.  Whatever was going on had startled him enough to allow a little indulgence of this particular nervous tic.
'Tell you what,' said the voice, calm and confident as before.  'If it'll make you feel better, get your phone out of your pocket and talk to me as if I'm on the other end of the line.'  As soon as the voice started talking, Michael bit down painfully into his thumbnail.  He pulled his hand away from his mouth and took a hissing intake of breath, waving his stinging thumb back and forth in front of him.  When the pain subsided, Michael reached up and wiped the back of his hand across his forehead.  He felt the slimy slickness of fresh sweat on his skin, and as he looked he saw that some of the hairs on the back of his hand were now matted and wet.  He was still leaning against the wall and when he tried to stand he found that his legs still felt wobbly.  Looking across the road, he saw an empty bench. Taking a deep breath, he pushed himself off of the wall and lurched into an unsteady walk.  He wondered what he must look like, shambling across the road like a drunkard, but he didn't care.  He needed to sit down.
Michael reached the bench and practically collapsed on to it.  A woman who was also approaching the bench carried on walking, seemingly deciding at the last minute that Michael didn't look like the kind of person whom she wanted to sit next to.  Michael leant back and felt the wooden slats press against his body.  He could feel the dampness of his shirt sticking unpleasantly to his skin.  He'd been sweating more than he realised.  He'd take a shower as soon as he got home.
'Any better?' asked the voice.  'Can we talk now?'
Michael stiffened as the voice sounded again.  He looked up and down the street with quick, darting eyes.  He tried to steady his breathing as his heart seemed to hammer louder and louder in his chest.  He fingered the opening of the inside pocket of his jacket where his phone was, debating whether to indulge this psychotic episode, or whatever it was.
'I'm not going to go away, you know, so you might as well talk to me.'
Michael closed his eyes tight and for a second wished that he was somewhere else; that he was someone else.  He gripped the edge of the bench with one hand and with the other he pulled his phone out of his pocket.  He held the phone up to his ear, and, feeling ridiculous and scared, he spoke.
'Hello?'
'At last!' said the voice.  'So, can you talk now?'
'I…I guess so,' said Michael weakly into his phone.  He had a momentary thought of someone trying to call him while he was pretending to use his phone.  He pulled the phone away from his ear and turned it off.  He didn't much feel like talking to anyone while something this strange was happening to him.  No one else, at least, and he was still arguing with his own mind as to whether he was actually talking to anyone now.
'Good,' said the voice.  'Sorry if I gave you a bit of a scare, but this is all a bit new to me.'
'Erm, what is?'
'Talking to myself.'
Michael frowned in confusion.
'I beg your pardon,' he said.
'Talking to myself,' repeated the voice.  'You do realise who this is, don't you?'
'I've got no idea,' said Michael.  'I'm not actually sure that I'm talking to anybody, to be honest.'  Michael felt strange standing up for himself against what could have been a figment of his imagination, but this strangeness didn't come without a small degree of pride.  He wasn't going to be pushed around, not even by his subconscious.
'Oh, you're talking to someone, alright,' said the voice.  'That I can guarantee you.'
'Then who are you?'
'Michael, I'm you.'
*           *           *
Michael sat frozen for a moment, unable to comprehend what he had just been told.  He could feel his body grow tense: his back was starting to hurt a little from him sitting so upright.  As he took stock of his physical form, Michael realised that he was tensed up in every way.  His free hand gripped the bench with such force that his knuckles looked stony and white, and now that he was paying attention he could feel his phone digging into the palm of his hand.
This has to be some sort of joke, he thought.  Someone's having a laugh at my expense.  Michael wanted this to be true, desperately so.  It was bad enough that he had started hearing voices with no prior warnings or symptoms, but for this voice to have claimed to be him.  It was all too much.
'You still there?' asked the voice.
Michael bit his lower lip and closed his eyes.  He didn't want to face the possibility that he was losing his mind, but however he looked at it, hearing voices was never a good thing.
'I…I'm still here,' he said, quietly.
'Good,' said the voice, sounding just as unaware as before of the torment that it was putting Michael through.  'I imagine this is all a bit weird for you, eh?'
'Just a bit,' said Michael, still struggling mentally with the concept of engaging in an active conversation with this voice in his head.
'Well that makes two of us.'
'What do you want?' asked Michael, keen to try and make some sense out of what was happening.  'Why are you here?'
'I'm not here, or there.  Not really.'
'What do you mean?  Am I going mad?'
The voice laughed.
'No more than the rest of us.'
'What's that supposed to mean?'  Michael resented the idea that he was being made fun of, even if it was by a voice in his head.
'Before I get into all that: are you alone, Michael?'
Michael looked around the street and realised that he'd never felt as alone as he did in that moment.
'Yes.  I'm alone.'
'But are you somewhere private?'
'I'm sat on a public bench, if you must know,' said Michael, getting a little angry.  'Why?  What do you want from me?'
'First thing's first, get yourself home.'
'What?  Why?'
'Trust me, Michael, I've got a lot to tell you, and you'll deal with it a lot better when there's no-one else around.'
'What is this?  Are you playing some sort of joke?  Because if you are it's not bloody funny!'
The voice sighed.
'Believe me, Michael, I wish I was joking.  You live alone, so home is the best place for us to really talk.  Please, Michael.  This is important.'
'Wait.  How do you know I live alone?  Who are you?'
'I told you, Michael.  I'm you.'
'But that's not possible.  I'm me!'
'Listen,' said the voice, its tone sounding a little impatient now.  'I know you didn't wake up this morning with the intention of talking to yourself in this way, but we've no other choice.'
'We?  Who's we?'  Michael felt as if the conversation was spiralling out of control and he was failing to keep up.
There was a pause and then voice returned; this time sounding panicked.
'I've got to go.  Please, Michael.  I know it's asking a lot but I swear to you that I'm telling the truth.  I'm you and you have to trust me.  Get yourself home and I'll contact you again in an hour.'
'This is insane!' said Michael, running his hand through his hair.
'You don't know the half of it,' said the voice.  'I promise I'll tell you everything when you're back home, but for now know this: your future; our future depends on you now.'
'What?'
'One hour.'
The voice was gone.
Michael sat with his phone to his ear for a few moments more, waiting for the voice to sound again.
'Hello?'
There was no answer.
Michael took his phone away from his ear and looked at it, dumbfounded.  He absentmindedly wiped the sweat marks off of the screen that his ear and face had left and then slipped the phone back into his pocket.  Thoughts and questions tumbled and broiled in his mind, all demanding attention.  A gust of wind blew and Michael felt a chill.  He had stopped sweating now, but his clothes were damp and growing cold.  He felt dirty and uncomfortable.  He looked at his watch and wondered whether to entertain the voice and return home.  He felt inside his jacket and made a face as he touched the underarm of his shirt.  Even if he wasn't going to go home and wait to be contacted by the voice, he did need a shower and a change of clothes.
Michael stood up; made sure his legs would support him, and made his way home.