'Loyalty'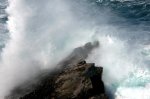 Thu, 04 Jun 2015
As writers and poets is it not our role to bring grace to the table of life? Great writers have the ability to share the fabrics weave over an entire journey in the company of unknown readers. Where I believe great poets share a scene or a moment within that journey. In limited lines, that scene, that moment, must be conveyed to our readers emotionally, seductively, vividly and passionately enough to be truly visualised, felt and found to be of value to them. As writers and poets there is always a humbleness attached to any artistic piece we have proudly penned, but there is a greater sense of love given and returned when that piece, irrespective of whether story or poem, carries the power to say to its readers; "You Own This!" And in response, they genuinely know that they do.
I hope, though not great, this piece can be found to be of some value to my readers. 'Loyalty' describes the daily grace offered by nature in a place where I once lived when young, called Puysegar Point. It is near the bottom of the earth, the most southern point of Fiordland, New Zealand. Wild then still, wild or still, depending on the mood of the ever present wind and great Southern Ocean.
'Loyalty'
The wind in its destructive best
has turned another tranquil sea to raging ocean
It's 'notice-me' energy now transferred
to each wave crashing into the rocks below
Shuddering in shock, land's cliffs stand defiant
yet give up their weakest ground
Earth's loyalty to the elements reflected
in each scar, each grain of dust blown
Yet the relentless wind takes, in self gratification
giving only a passing glance
Arrogantly howling, as it selfishly
betrays all those who would seek its loyalty…
*~ Pearldiver ~
Copyright © 2015 Art of the Diver with all rights reserved.