Unsolved Grenade Attacks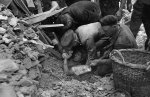 Sun, 07 Jun 2015
The first sign.
It appears ten-and-a-half metres from the flashpoint.
    A foamy pool of red decorated with flecks of bone
    Making one last heartfelt hurrah before it gets eaten into dust.
It's the endpoint of a tributary leading back to a leg.
The leg is sitting by itself on the road.
It's foot remains armoured by a thoroughly worn sandal.
I wonder if it feels lonely without the little girl to whom
It used to belong.
She lived, but her father did not.
They were at market today.
They arrived along this road.
She left in a helicopter for a hospital without enough bandages.
I met him after a piece of patient rebar
   Invaded the space between his fourth and fifth vertebrae.
I slip past the police unseen.
    Oil on the wind.
I am there:
    The suffocation in the rubble.
I am there:
    The vivacious exsanguination from the throat.
I am there:
    The little piece of skull nosing its way into an abbreviated brain.
I am there:
    Hovering over the Jell-O organs making their brave exodus from blasted skin.
I am there:
    Lily-fingered,
    Brushing wild hair off of dead faces.
    Beautiful, powdered, dead faces.
        Wonderful returns on an unfortunately profitable investment.