'Brave'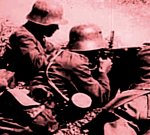 Fri, 26 Jun 2015
This piece was written as a tribute to our World War 1 forefathers on both sides of the tragic madness referred to as 'The Great War.' 100 years have past since the prime of a world's youth and in many cases their fathers, were sacrificed in the call to arms. In this centenary, descendants from all sides of that conflict have attended the numerous memorial remembrance services throughout our modern world, as friends. Perhaps, 100 years on, our descendants will continue to always stand together remembering that they exist only because their forefathers were spared from the horror that was this war. I for one, owe my life to my Grandfather who returned, unlike so many of his friends who fought and died and like their adversaries, were all…
'Brave'      
They told them to be brave
Beyond their fears,
beyond all that could be lost
Be brave, though burning hope
will always have its cost
Yes they were so, so very, very brave
Beyond shaking, unsure hands that tried
to hold on, to be strong, to charge, not justify
Brave in death,
beyond the doubt within their eyes
But for war, but for politicians,
and tears long cried
such cruel, futile acts,
would surely never have applied
Be brave they said,
we each take turns, to die!
In war, young boys to men
all die in disbelief and pain
In twisted broken pieces,
youthful bravery is slain
In tribute to the fallen
of every senseless war
we stand in poignant silence
remembering those who went before
Yet we, can only imagine
what you felt and what you saw
Be brave they told you
time and time again
as they lined you up as targets
not living breathing men
What have we learned from history
when it comes to war?
And all the pain of trying
to survive beyond - As you were before
Be brave, it's all in the fine print
God is on our side
Be brave, be strong
be all you can be, to die with pride
And now they tell me, to be brave
But I know they are really telling me
to be far more than they could be
I see deadly doubt behind their eyes
and shaking of unsure hands that try
to be brave, to be strong, to just defy
the odds to be, far more than they could be
To hold on, to hope, it's flame, to always see
Go now kill or be killed, proud to suffer all
but die with honour - As you bravely fall
Why Lord do you ask, such things of me?
The honour in death I cannot see
when lives are wasted - Taken inconsequentially?
All brave, we were like they, so very brave
to sacrifice all else, we could ever be
Why God, do both sides pray to thee?
For without this war…in happy peace
Who really is - My Enemy?       
 *~ Rob Welsh ~
  (100 years on)
            Copyright © 2015 Art of the Diver with all rights reserved