To Pluto – and Back! (Poetry Monthly)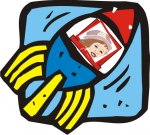 Fri, 17 Jul 2015
1 likes
for children
I look through the window and what do I see?
my home town appears through the smoke, as it clears,
and the houses grow small as away they all fall,
the countryside sinking, a map spread out, shrinking;
then jewels are littering the blackness and glittering.    
Descending quite soon on the dust of the moon,
the peaks standing stark on a sky that is dark;
again we ascend and our journey extend
(imagining lots of cartoons – join the dots –
in the big starry dome!), and we suddenly come
close to Mars, reddish planet – don't stop, land upon it,
through rocks we manoeuvre, reach Jupiter, then further
to Saturn (which has rings like those jumping ball things),
then fly-past Uranus, and Neptune, and last
(and yes, least) in this visiting feast
the planet they scorn – tiny Pluto;
about-turn,
and I'm glad to head home – a wonderful roam
these marvels to see, but the best place to be
is our earth, oh, so suitable for the weather is bearable,
though problems abound they're far less than are found
in those beautiful places I saw.