To Every Picture a Story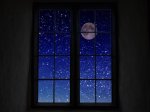 Wed, 19 Aug 2015
1 likes
He sits and studies
the clientele – bums
a cigarette from the barman.
A couple of roughnecks
make love to their pints –
abandon darts for the night.
A moth – orange and brown
studies him, studying them,
and also the light, draws each
to this place.
A different bar –
a different evening;
the same moth – mesmerised
by a single flame.
He sits
slumped in his chair
since yet another
one too many.
The candle weeps wax;
flickers, so dies.
Fancies himself an artist –
a piss-artist more like;
his – the art of the unmade bed
aeons before Tracey Emin.
At chucking out time
dons his leathers...
stumbles to his bike
he and the moth, both,
reclaim their freedom
fly free...in starry, 
starry skies.