Blue Mood Mall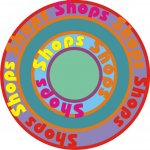 Sat, 22 Aug 2015
Swamping,  dazzling,
echoing chatter and
footsteps batter,
muzak thumping,
people thrusting, bumping,
alluring displays
(plastic pays),
austerity forget
– take 'temporary' debt!
'You deserve a lift!'
– a gift? shop-lift?
fashion unrationed;
no charity shops
or cheap outlets,
to browse and spy
surprise wise buys –
out of one shop into another –
bustling corridor,
no interlude with sky up high,
and cool fresh air a soother:
a foray in the fray,
mind geared up to find
shoes of certain size and fit
display arrays confuse,
refuse to stray
from clear objective,
sensibly selective,
then quit, and flit
to the quiet,
unwind from the stress –
no brawl or riot,
but an alien racket and press.