It's Four in the Afternoon...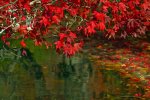 Sat, 26 Sep 2015
the end of September.  The soft-shoe
shuffle of autumn rustles past me – 
ensconced in the yellow, half- light 
of the shed...as yellow as your hair,
and do you still wear that rose?
Bulbs, in sacking, clamour to be dug
with that earthy, musty odour of brown.
An errant shower tap-dances on the roof – 
leaves the sky the bluest of things crazy –
Cohen's, 'Famous Blue Raincoat', 
on my mind. 
I'm writing you now, just to see
if you're better.  Here, a sense of betrayal
fugs the air...even so a kind of rusty richness 
pervades...the last of the Red Hot Pokers –
summer's final missives...
Virginia Creepers a blaze of bronze
against a wall of oak; delve deep
into a crumpled paper bag
of crusted corms, and pray to god
snowdrops will drift in, by and by,
like foam on a high spring tide;
haphazardly thrown – to make a home
of wherever they land.
Sodden vine leaves clog the rake –
smoke from the bonfire – barely blue...
hangs low – suits my mood;
Black Eyed Susans – denuded,
brown stems shudder in dread at the stir
of the wind – under its breath
murmurs an imminent threat of frost.
These are misty, Michaelmas days 
shrouded in the haze; only phantoms
remain of familiar shapes...
apples on gnarled and twisted elbows  
hang on to the bitter end...prey
to marauding hornets and wasps – tipsy ,
as I, with too many rations 
of lilac wine, and cider.
Resentment rears its ugly head, and yet
all things must end to begin again;
to everything there is a season...
in the manner of the grand scheme of things 
makes an oak, a rainbow...or passion.