Spreading their Wings!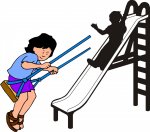 Sat, 31 Oct 2015
Running up with glee,
need a little push,
scared to start, fly free
– slide with whoosh and rush!
Swing, away you go –
'see you soon' 'goodbye',
'now, you've gone down low,
and up again, climb high'.
Swaying on the ladder,
rope steps so unsteady,
lift one foot and shudder,
– but nearly there already.
Looking out at top,
fingers tightly grip
glad to safely stop,
– don't wave in case you slip.
Down now? Nervous giggle
– foothold's hard to find
toes poke round and wriggle,
feels as if he's blind.
Hard to move a hand,
nervous to let go,
coming down to land
way back's long and slow.
Toddler on a toucan –
up and down it springs
showing even he can
push to spread his wings!
[IP:"Going up. Coming down".]