The Journey to End all Journeys (Poetry Monthly)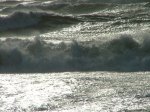 Mon, 23 Nov 2015
With which of us would you bide,
until today; we who bore you here,
sweet child – turn, on turn?  Only now,
the transient tide would claim you
as its own. 
So then, drift…carry high
with the wind, if you will. Float...float...
fly on the shamal – shifts these swirling,
drifting sands – stole you away. Blow,
blow...billowing; a spirit – shining,
silver shimmering.
In which ocean will the wind set you free –
let you breathe again. Shall you know?
Or shall you breathe a rarer air – meld
as one with this constant, ongoing explosion;
to live to die, and be reborn as an ear of wheat,
a squirrel – its tail a mellow flame, a  bird of paradise? 
Yet, for a while at least, to be part of this mighty,
mystic sea, with secrets told… so deep,
eternally yours, for the keeping, they shall be,
and forever ours, for the seeking.