What Am I?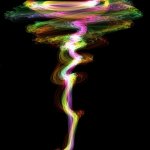 Tue, 01 Dec 2015
I am the song the stars sing...
to their soft-shoe shuffle
the fawn-light...the ambergris
of a forest floor – 
a staccato symphony –
the stuttering of wings; a Sara-Orange-Tip
visiting a wind-flower.
I intoxicate...like rain – drunk
from a loch – tops the purple mountains
I inspire...as does a rock – glimpsed 
through the mist of waves 
as they break
the silence – speaks a thousand tongues
between words...
sudden thunder-drops
sculpting circles in a flute of champagne
I am illusive as moonlight – pools
in a saucer on a sill  
I am dark water – winking
at stepping stones as wild garlic looks on
I am a mirage as the shimmer – confounds 
and befuddles from a windless beach
in high summer...
the pathos of a gull surfs the cirrus
on a cornflower afternoon
a flight of geese across a harvest moon,
the mystery, the magic of the whirl and the swirl
of an out of place tornado...a murmuration
of a million starlings – streams to earth
and is gone
Fireworks – a squib, a banger, a rocket...golden
rain; that catch of breath witnessing a sunset
never glimpsed again
I can climb inside the mind if I so choose...
treading, so very deftly,  its labyrinth of rooms
I am recalled as oft times as forgot...
I am poetry...