My Family and Other Animals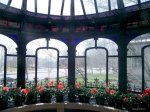 Thu, 14 Jan 2016
Watching the world outside my window
on a cold, grey January afternoon; observing
the heron rearranging its grey shadow in the hope 
of wrong-footing the fish below...
a flight of wild geese, scuds across a rag-torn, 
pernickety sky – all of one mind, whereas
on the ground it's always the survival
of the fittest, argumentative – worse     
than chickens...
pecking order is all...the pack the herd the gaggle
the family. Take my father; his word – law.
The cane, the belt, the cellar...no holds barred 
type of person, yet when mother was ill, cursed 
and fought like crazy, he nursed her till the end.
Which just left me, and my sister; hot-house
plants, us two – named accordingly, Jasmine, 
and, Lily, by a man – placed his precious 
botanical treasures on sills, especially 
the shady, north-facing ones
and in November the orchid, the cyclamen
even the Venus Flycatcher, are bursting
into bloom, denying them all – water, 
food...room to spread their roots. 
Deprivation, the key, a motto 
he swore by. Amazing the difference 
a little legislation...a carefully measured
premature darkness can make; 
and down in the cellar, rats reign supreme, 
where nothing dare breathe...not even
the wine.