Grave news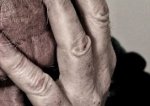 Sat, 30 Jan 2016
Words slopped over the top 
as I took the book off the shelf.
They trickled down my wrist,
followed blue veins,
crossed skin cells, hung waiting, 
turned cold and plopped
at my feet. Gravity,
ambiguous gravity.
Doors slammed, sash windows
leaked and winter entered
our speaking. Syllables
crashed and roared,
soared and fell, cried wet
into absorbent pages.
Whole clauses smelled damp,
mouldered in corners,
crept under our calloused feet.
Sentences, unambiguous, came 
under a bright moon, clutched
tight, still air, tore into soft bedding
and sent goose-down floating
above your dreaming face.
The chilling room creaked
and I woke you as I tried to sleep.
Black wings fluttered against
hard glass. Cold plumage lay
below, for us to find next day.