Old Central Birmingham Library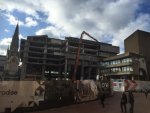 Thu, 18 Feb 2016
Old Central Birmingham Library
the dark decades had us sitting on your concrete steps
we smokers, dreamers, waiting for adventurers.
You were the backdrop to our future
a cave of promise that lulled us
with the quiet echo around your walls –
read this, think this, know this
one day your life will change.
Garish in our market stall bargains
we had been ungainly
gazing at pre Raphaelite beauties
in the Victorian Baroque museum opposite
hoping some Edwardian Renaissance might
rub off - instead we left feeling grubby
but
we were radiant against your brutal strength
your quiet, modest purposefulness
took us forward through
your labyrinthine corridors -
not designed for ease
we had to work to find small nuggets of hope
up and down the creaky escalators
searching for a way out
of our dreary lives.                                         
And now you have been turned back into dust
we fill our lungs with the memory
of struggle
we breathe you in
knowing we too
lack the longevity of noble lines
grateful
for the life you gave us.