T'is the Season...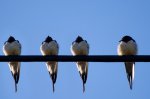 Wed, 27 Apr 2016
1 likes
Dusk fast falling,
and I contemplate the day; 
how I'd seen a confetti of swallows
bagging midges over the fields this morning,
and how glad I am they've returned to their nest
in the barn again this year.
Cinereous – grow the trees,
and in the half-light – think about
the thousands of miles these tiny creatures
travel in their annual migration, and it pains me 
that she no longer shares watching
this small miracle with me...
witnessing them gather 
in their twittering masses
on the power lines when it's time to return
as they dip and dive into the pond...filling 
their tank for the homeward journey
she always used to say.
But maybe, the spirit pays no heed
to mundane pleasures such as these...replete, 
perhaps, in itself; as hard to imagine as to grasp 
I'll never see her again, 
but the swallows
know nothing of this...their instinct
driving them on, as sure as the tug of the moon
on the tide, they will survive, and little
do they care, nor should they...not
in the grand scheme of things
of such a small, ceasing 
to be.