Saint Elmo's Fire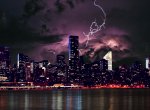 Sun, 01 May 2016
'Dance me to your beauty with a burning violin'...
Cohen sings to a slender, slanting rain; 
roofs and power-lines shine; not a night
for going any place – worst still, away.   
Foot, hard down on the gas, 
DJ switches to Chris Rea; gravel voice 
to the susurrus of tyres on asphalt...
Red pelt of a fox, curled by a freeway;
ain't no time for sweet valediction
till the engine's slowed and wheels 
stop spinning; roadmaps folded
into just-so, little squares...
And in a second-rate motel, every
room is taken, and a broken glass,
lipstick traced – trashed 
a forgotten cigarette smoulders on, 
obstinately, yet in an ashtray.
A guitar covets the coda of a love-song, 
that floats on and on; eloquent as an unmade bed – 
and a girl on a corner in a red trench-coat
bums a light...the air, humid – heavy
with an abundance of thunder. 
'Dance me to the end of love'...she says.